Grocery POS Systems Help Streamline Supermarkets
Modern POS systems offer numerous advantages for both grocery stores and their customers. On the employee side, digital POS solutions offer easy-to-understand interfaces that minimize training time and increase accuracy for all purchases. Software now easily connects with inventory management, allowing managers to track sales and arrange for automatic inventory orders when necessary, keeping up with demand every step of the way.
Grocery POS systems also provide multiple advantages for customers, including decreased waiting times at the register and more complete product information. Touchscreens and new payment-processing systems also make paying for goods easier than ever before.
Grocery POS software considerations
Each grocery store is different and has distinct needs. When shopping for grocery POS software, narrow down the list of software features you need, plus the ones you may want in the future. Be flexible during your initial pricing inquiries since some helpful features that you hadn't considered may be available.
Changing trends and new software solutions have led to several important changes of the grocery POS world. In the coming years, the evolution of point of sale will be influenced by these factors: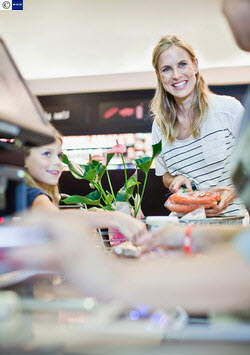 The Mobile World Keeps Growing. Mobile POS continues to make inroads in grocery stores and other retail enterprises as customers enjoy the benefits of paying through their smartphones. Typically these systems work through near-field communication technology, smartphone scans, and phone apps, allowing customers to immediately or automatically pay for their groceries. In some areas, swiping cards is being replaced by waving a smartphone over a sensor.


Automatic Loyalty Programs. Advanced POS systems swiftly recognize customers and log in their purchases. Any loyalty points or loyalty program rewards are automatically added to customer accounts. This makes loyalty programs much easier for customers to adopt - and more fun to use once begun.


Screen-Based Advertising. The latest POS systems sport ad screens around the register that advertise products based not only on promotions but also on customer purchasing history and the groceries being bought. These screens and similar advertising tied to current purchases help make promotions more applicable to customer needs.


Personalized Service. Advanced POS systems lighten the workload for grocery stores. This helps stores save money, but it also gives them a chance to focus more on customer service. Armed with new data, stores are beginning to offer better customer service, production suggestions, and product information, all designed to make shopping a more pleasant experience and grow the company brand.
Common questions
If you are interested in adopting the latest POS technology for your store or want to learn more about point of sale solutions, here are several key questions to ask as you begin your research.
What are the costs of upgrading vs. using a new system?
How do my customers prefer to pay?
Do I have a loyalty program?
How large of a system do I need?
What are my inventory management needs?
Asking questions like these will provide valuable insight on the type of system that will work best for you, and what features your customers will enjoy most. Do not miss the chance to upgrade your system.
Ready to Compare POS Systems Price Quotes?