How a QuickBooks POS System Can Work for You
Written By Eric Michaels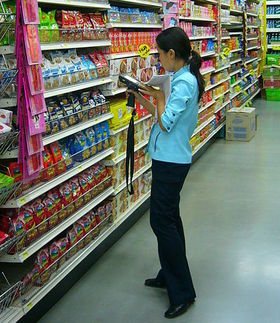 QuickBooks is by now synonymous with accounting systems and simple bookkeeping in general, holding the vast majority of the U.S. market. Those same organizational benefits also apply to the new QuickBooks POS systems, which are useful for retail apparel operations and other businesses. This product fully integrates with accounting systems and delivers seamless inventory tracking.
Basic and Pro POS software
The QuickBooks point-of-sale software is a company's best friend with regard to inventory and customer service, yet every business owner must analyze and compare the features of the Pro and Basic software to find the best fit. While the Pro edition will satisfy the needs of any operation, you might not need all its features for your company, and you would waste time and money getting them.
Basic edition highlights: The Basic software package gives retail business owners the ability to log inventory instantly and track quantities in-house as sales take place in real time. Adjustments are automatically made when items are returned. Customer records also figure prominently: You'll have the ability to see an order history and customize alerts for primary business partners and consumers alike.


Pro edition highlights: Intuit, the company that makes QuickBooks, set up the Pro edition to handle businesses that have more complicated sales and inventory procedures. For example, layaway data can be tracked through bar codes, while invoices will instantly be emailed to customers when an order is placed. You'll have the same easy inventory tracking and customer purchase history as the Basic version, but the QuickBooks POS Pro edition is for companies with more complex operations.
Avoiding inventory loss and clerical errors
The overwhelming advantage of both versions of QuickBooks POS software is the ability to eliminate costly errors in inventory tracking. The system allows employees to leave behind manual entries for good, letting the software do the job instead. Looking at accounting reports - and calculating the real cost of doing business every month - will be a cinch when you have this software in place. However, there are some operations that are better off picking another solution.
The ideal fit for QuickBooks point-of-sale
Intuit makes it clear that its POS software is not designed with full-service restaurants, large grocery stores, gas stations and pop-up stores in mind. These operations would be better served with a different solution. However, retail stores that focus on apparel, specialty boutiques, and cafes are ideal for the QuickBooks suite. Ask BuyerZone suppliers about the features needed for your business when requesting a quote.
POS dealers in your area can quickly size up your business' needs and offer you a quality solution. Fill out a request for a free quote to hear back from trusted vendors ready to break down the options today.
Ready to Compare POS Systems Price Quotes?