Three Must Have Restaurant POS Software Features
Restaurant POS software is designed to improve the front-of-house and back-of-house operations of a dining establishment by logging orders, sales, and transactions into one integrated system.
Restaurant point of sale software makes it easier for the waitstaff to communicate their orders to the kitchen, keep track of tables, and process customer payments. Using the right restaurant POS software also allows managers to generate custom reports for daily transactions and easily monitor sales and orders.
As a restaurant owner or manager, you'll be happy to know that restaurant POS software has come a long way. New software upgrades and features have been introduced to improve both staff and customer experience. A number of restaurants today are modernizing the order-taking process by using tablets for tableside order input or to display a rotating menu of specials.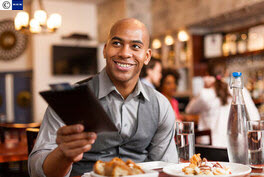 Finding the right POS software for your restaurant concept begins with a bit of research. Understanding how restaurant point of sale software works will help you to hone in on the features you need to boost business.
How restaurant POS software works
Restaurant POS software is specifically designed to capture key information about:
Menu item sales
Customer payments
Total inventory
Dishes served within a given timeframe
This is important data for the restaurant manager who wants to monitor trends, find out which menu items are selling well, and what types of operational changes exist in the timelines of getting food to the table.
Beyond basic functionality, restaurant POS software may also be industry-specific for restaurant concepts like:
Fine dining
Cafe
Fast casual
Quick service
Night club/bar
Chain restaurants
No matter the environment, restaurant POS software makes it easy for waitstaff, bartenders, and kitchen staff to accurately communicate their orders and keep track of open tables. Many POS systems are set up with touch screen technology in the main dining room so that the waitstaff can enter their order immediately after receiving it from customers, which transmits the information directly to the kitchen. The POS system provides a summary of menu items ordered and begins the checkout process so that servers can close out tables quickly and seat new customers.
Managers who make the most of restaurant POS software features can access reports and important operational data to help streamline processes in the restaurant and make improvements with ease.
3 POS features to look out for
Even if you choose a basic restaurant POS software system, your eatery will benefit greatly from improved organization, productivity, and efficiency. But why stop there?
Today's restaurant POS software systems have a number of feature upgrades that can streamline staff communication and enhance each customer's experience, like:
Media display. A quick service restaurant or nightclub can benefit from media display software features to replace standard pole displays used to advertise menu items and specials. Media display software offers split screen advertising that will allow customers to view rotating menu ads while ordering at a quick service concept; a nightclub or bar can use the same media display LCD to advertise appetizers, drink specials, and events.


Menu programming support. Some software vendors will allow a restaurant to personally program their menu as-needed with quick and convenient updates for revolving menu items and seasonal specials. Menu programming support from a vendor may include menu creation, menu structure, and table layout input.


Mobile ordering. What would a modern POS system be without mobile ordering capabilities? In the day and age of the smartphone, tableside or on-the-floor mobile ordering makes sense to expedite orders to the kitchen and cut down on long lines at a register. Leading restaurant POS software providers like Aloha now offer order-to-service mobile POS software that improves customer satisfaction, increases table turns, and ensures more accurate communication with the kitchen or bar.
Selecting the right restaurant point of sale software
Restaurant POS software systems offer a number of benefits for fast food restaurants, fine dining establishments, and even busy cafes.
You can select the right restaurant point of sale software by looking for key features such as:
Integration with reservations system
One-touch access to guest history information
Table status reports
Efficient payment processing system
Automatic troubleshooting to analyze order errors or ticket delays
You can also consider the 3 special features listed above as the "icing on the cake." A restaurant POS software vendor that has all of the basics you require, as well as the extras, may be worth an additional investment to improve your cafe's day-to-day functionality.
Just as importantly, look for a vendor that offers training or support service as part of the package you choose to purchase, which can help to train and educate restaurant staff and managers after the new system is installed.
Ready to Compare POS Systems Price Quotes?