Choosing the Best Touch Screen POS System for Your Business
When shopping for a touch screen POS system for your business, you're typically faced with a myriad of options. Yet many businesses fail to realize that touch screen point of sale systems are designed to be industry-specific: A POS system that works well in a retail setting may not support a bustling restaurant, and vice versa.
Before you buy, it's important to find a touch screen POS solution with key features that best fit the needs of your particular business.
Benefits of a POS touch screen system
There are quite a few benefits that a POS touch screen system will add to your business:
Speed - The touch screen POS system is one of the most popular systems available - and for good reason. It's fast to learn and use. By handling speedy transactions, your business is more productive and can process more sales in a shorter amount of time which adds to your bottom line.


Accuracy - If you run a fast food restaurant, for example, a touch screen panel is ideal. A customer walks up to the register where your employee enters their order onto the touch screen panel. The order is then relayed instantly to monitors in the back where a team views and fills the order. With the right touch screen solution, there are no concerns about poor handwriting or misunderstanding special orders. Everything is laid out in exact quantities and specifications for accurate orders every time.


Training - It's very easy to show your staff how to use the system, even those who may be less familiar with standard computer entry systems pick up the nuances of a touch screen very quickly. Good training is also a benefit if your business has a high turnover rate, or if you hire seasonal staff.
If you're finally ready to purchase or upgrade to a touch screen POS, you're in luck. One of the latest technological innovations to hit the market is a cloud-based touch screen POS. According to Entrepreneur.com, this type of specialty POS "in the cloud" is operated through a touch screen iPad or mobile device.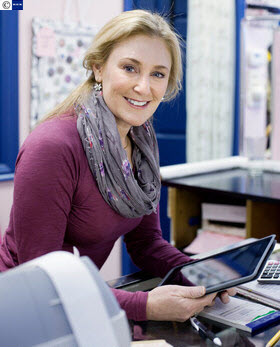 When comparing a cloud-based touch screen POS to a traditional system, the benefits are many and may include:
Real-time updates of live sales data
Web-based reporting
Mobile store management from any location
Instant software and security upgrades
Ease in integration with current system
Touch screen POS types and sizes
In searching for the "perfect" touch-screen POS system, you'll find countless options:
Monitors. Both CRT and LCD touch screen monitors; CRT monitors are known for their durability, while LCD monitors are considered more space-efficient.


Screens. From smaller 12-inch screens to the popular POS 21 touch screen panel size to even larger 22-inch or 23-inch models. A 12-inch monitor may be perfect in some situations, although many businesses are finding the larger monitors like the POS 21 touch screen panel to offer the perfect combination of size and features.


Software. Software vendors are aplenty when it comes to touch screen POS systems. Top vendors may include NCR, LightSpeed, Visual Retail Plus, Retail Pro, and Cegid. Software is often industry-specific and may provide cloud support and mobile ordering.
Food service businesses are obvious candidates for touch screen POS systems. The waitstaff can key in the order, make customization requests, and transmit them to the kitchen with the touch of a finger. Other businesses, such as grocery stores and retailers, can also benefit as it helps process quick sales and transact business faster.
Ready to Compare POS Systems Price Quotes?