Bar POS Software Features You'll Want to Include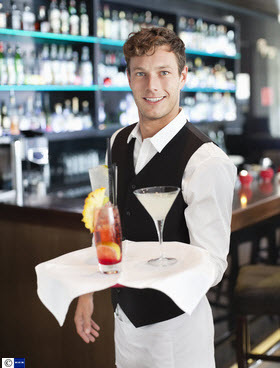 Bar owners shouldn't have to spend time worrying about product shrinkage or lack of inventory. With the right bar POS software, you can avoid these concerns and concentrate on running the business and growing profits.
Bar POS software at a glance
You can handle almost any customer transaction using bar POS software. A full featured POS system for bars can easily display information such as:
Average bar tab in a given night
Number of open tabs
Returns or voids
Credit card processing details
The software also provides comprehensive reporting so you can manage inventory, determine which top-selling items to keep in stock, and track the performance of new products.
5 bar POS software features to boost productivity
POS software technologies are constantly changing. Before you purchase a bar POS system, compare leading software features that could improve efficiency, like:
Liquor inventory control - This one of the most important bar POS software features. It tracks all the liquor, wine, and beer you have in stock and lets you know when certain items are running low. It even tracks how much liquor goes into each drink, so you know how much money you can expect to make.
It also helps keep employees honest - since they know supplies are monitored, they'll be less likely to give their friends extra (or free) alcohol. You will want to look for a POS system that can handle comp tracking for those instances when your bartenders have legitimate reasons to hand out free drinks to customers.
Fast and easy transactions - While every bar point of sale system is different, there are certain features that may stand out. Since it's far easier for your customer to know that a certain drink or appetizer will cost exactly $4 (and not $4.26 to account for tax) you may want to look for a bar POS system that includes a bar tax feature. This automatically reverse calculates menu items to include any taxes.
You can also alphabetize your liquor menu which can help speed up the number of drinks you sell and help you generate revenue more efficiently.
Flexibility - Unlike other businesses, bars and restaurants have the need to keep open tabs. Since customers aren't done buying when they sit down, tracking multiple open tabs allows you to easily add more rounds of drinks to each customer's bill. A bar POS system can also track which tables are being served by certain bartenders or waitresses. This provides accurate reporting when you need it.
Security - Few businesses do a higher percentage of their transactions in cash than bars and restaurants. This puts your establishment at risk for employee theft and shrinkage. A good bar POS system can help curb these problems by requiring employee logins. Employee logins ensure that each employee is ringing up transactions under his or her own name.
Further security options can include the ability to use multiple cash drawers, one for each bartender on duty, to further isolate errors and pinpoint their origins. Using these security features, your establishment can tighten up its bookkeeping and keep better track of income.
Mobility - In this day and age, mobile compatibility is a must. Look for bar POS software that allows bartenders to sell drinks and track customer orders from both a touch screen monitor, as well as a mobile device, like an iPad, iPhone, or iPod Touch. Even better, many software programs with mobile capabilities also offer social media integration - used for the purpose of event promotion and advertising.
Mobile software support means a stronger customer connection. Some mobile bar POS systems may allow customers to pay out their tab at their table or on the dance floor; bartenders can also step out from behind the bar to cash out customers and cut down on long lines on a busy night.
15 bar POS software features to improve sales
Bar POS software offers other features to help streamline operations and track overall sales performance, like:
Liquor control devices (LCDs) - Track the exact amount of alcohol bartenders pour from bottles to reduce shrinkage.
Cash drawer assignment – Prevents theft by assigning cash drawer responsibility to one bartender throughout the night.
Recipe lookup - Provides a "cheat sheet" reference for bartenders who need to look up the ingredients to certain mixed drinks.
Automatic reorder - Bartenders can "Add Round" to automatically add another round of drinks onto a tab with the touch of a button.
Speed ordering - Quick ordering of popular bar drinks using "Favorites" buttons.
Data import and export - Downloads reports into your word processing or spreadsheet software for your personal bookkeeping efforts.
Email list maintenance - Helps build your customer loyalty efforts by sending customers emails about limited offers, new product releases, and special events at your establishment.
Gift card management - Adds gift card capabilities to your bar POS software to support your brand and bring in repeat business.
Schedule promotions - Automatically manages price changes for limited time promotions like "happy hour."
Barcode readers - Easily scan barcodes on beer and malt beverage bottles to save time.
Employee scheduling - Determines the right number of employees you need for certain shifts based on your sales history.
Customer management tools - Help manage open bar tabs, check split requests, and gratuities.
Food service integration - Processes food orders on the same screen as drink orders.
Menu management - Toggles between different liquors so you can accurately track the amount of liquor that goes into certain drinks.
Detailed order histories - Can be used to encourage "bar regulars" and promote customer retention.
Bar POS software will vary in price, depending on the core and add-on features you select for your system. A standard POS software package used on one computer may start as low as $299, up to $599 for a premium package. Inventory reporting, vendor ordering, and drink recipe software add-ons may start at $399; office reporting software add-ons may start at $199; employee scheduling or timekeeping software add-ons may start as low as $99.
Ready to Compare POS Systems Price Quotes?