Coffee Shops & Sandwich Shops Serve with Speed Thanks to Fast Food POS Systems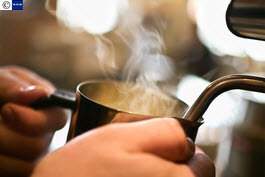 Coffee shops and sandwich shops are among the most profitable and easy-to-start small businesses. However, if you are considering opening such a business, make sure you choose the best point of sale (POS) system for your needs. Purchasing customized POS terminals designed specifically for sandwich and coffee shops will speed customer turnover and make day-to-day tasks easier for you and your employees.
The benefits of a fast food POS system
Yes, fast food and fast casual restaurant concepts, like coffee shops and sandwich shops, are growing rapidly throughout the US. Fast food chains are estimated to grow by roughly 2% per year, while coffee shop chains experience growth at up to 10% annually.
If your business has a toehold in this booming marketplace, improving customer experience can help to support yearly growth. Installing the right POS system can boost daily productivity, among other benefits like:
Quick processing of cash payments. Since customers are most likely to use cash in a fast casual restaurant concept, a POS system will be attached directly to a cash drawer for speedy change-making with each transaction.


Improved order efficiency. Handwritten tickets in a bustling coffee or sandwich shop are simply unacceptable. If you have a line out the door, you need a reliable POS system that will input each order with the correct modifications and send the ticket directly to the kitchen or coffee bar without delay.


Multiple store management. A fast food or coffee chain can be easily managed with a web-based POS system. An integrated online system will control customer orders, track inventory, handle food ordering, and run daily, weekly, and monthly reports - for all locations.
Fast food POS system features and technologies
Most importantly, choosing the right system will make your customers happier, giving you the edge over your competition. With a coffee shop touch-screen POS system, you can quickly and easily customize orders to suit the taste of each customer. Substituting regular coffee with decaf, milk with soy milk, adding a shot of espresso - whatever changes your customers want, the price of each order is automatically adjusted without increasing the waiting time at the counter.
A food-service focused point of sale system can also allow you to check out sandwiches and other food items, issue and redeem gift cards, and process cash, debit or credit card payments. The most advanced coffee shop POS software packages feature integrated time clocks, allowing your employees to clock in and out and assisting you in managing payroll. Similar functionality is available in fast food POS systems.
Other innovative fast casual and fast food POS features include:
Live menu editing, including daily specials and price changes.
Automatic menu item scheduling.
Menu item holding for a set time.
Promotion management to support combo or value meals.
Staff messaging and communication through POS terminals.
Online customer ordering with a complete menu.
Many of today's fast food POS systems have advanced with the times to provide mobile support for tablet and smartphone devices. As an example, a tablet can be used as a secondary POS terminal in a coffee shop or sandwich shop; it also provides the added advantage of on-the-go order taking to cut down on long lines. Select fast food POS systems can run via smartphone apps to allow staff members to take orders anywhere in an eatery.
Last of all, don't forget to look for a point of sale system that can automatically report sales, inventory, and payroll data to accounting software such as QuickBooks. This will significantly reduce the risk of errors and will ultimately save you time and money, even if you outsource bookkeeping.
Ready to Compare POS Systems Price Quotes?