A New POS Inventory System Improves Efficiency in Any Business
A POS inventory system is a tool businesses use to get organized in a number of ways. Every type of organization can go through periods when inventory is a mess, and these times drag down operations and profits, both in the short and long term. On top of this income drain, poor inventory systems bring down employee morale and make your entire operation less efficient.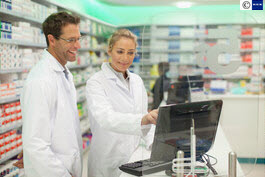 Here are ways you can solve this problem with a point-of-sale system for inventory, and how easy it is to implement one in any business.
POS Systems and your company's inventory
For some businesses struggling with inventory concerns, it's often not clear how a POS system can help. There are three main areas where a POS system makes improvements:
Knowing what's in stock in seconds. Instead of wandering through storage rooms or checking other areas for updates on product control, a POS inventory system will be able to tell you what's in stock through a quick click. This level of efficiency is impossible in an old-fashioned system.


Tracking losses. Running reports on missing items and finding out how much inventory has gone missing also becomes easier when you have an automated system in place. You add an item to inventory - with a bar code in most cases - and then you'll know exactly how much went out of your operation, at what price. It's the best way to track losses for accounting.


Understanding what sells well. Knowing what you have in stock is an excellent way to decide what to order next. POS systems help you save by ordering only what you need for upcoming periods in your business. Ordering wisely helps cut down on waste and brings profits up.
Budgeting and saving valuable employee hours
Budgeting your company's expenses of course includes factoring in employee hours. When you have the latest POS inventory systems at your fingertips, you can stay away from costly overtime hours and other unnecessary expenses, which has a big impact on your budget. Workplace morale is another area that improves considerably when you have top technology that keeps employees from becoming frustrated by outdated systems.
Entry-level systems cost as little as $1,300 with software and hardware included, while more advanced systems cost between $1,800-$2,700.
Mobile payment and POS systems
Today's retail owners looking for mobile payment options will get a head start when purchasing a new POS system. Many systems include apps for mobile devices that allow employees to ring up purchases on tablets or company smartphones. There are so many ways to keep lines moving and offer employees another way to have a good experience in your business; mobile payment options are only one of these methods.
Retail operation owners have the tools to revolutionize their place of business by making a small investment. Between improved employee morale, better inventory tracking, and lower costs, a new POS system can present a terrific solution.
Ready to Compare POS Systems Price Quotes?