POS for Taxis: The Key to Modernizing Your Fleet
Thanks to innovative technology, we are gradually becoming a cashless society. This dependency on debit cards, credit cards, and mobile apps, leaves many businesses scrambling to accommodate easier methods for purchasing. The taxi cab is no exception. Thanks to blue tooth technology, taxi drivers seeking to modernize their fleet, have joined the world of mobile point of sale (POS).
How it works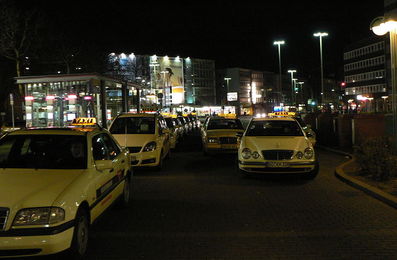 American Express and Verifone have joined the cause for Taxi POS, installing their systems in New York City taxi cabs. For credit card members seeking to spend their reward points on everyday purchases, it's a great solution.
Currently, Verifone's devices are in more than 7,000 New York City taxi cabs, processing close to 200,000 payments every day. In addition to POS, they recently launched a taxi payment app, Way2Ride. This convenient, independent app allows the customer to get in the cab, tap to pay, and exit the cab when they arrive at their destination.
Pricing
The cost of modernizing an entire city fleet of taxis, from GPS to credit card payments, can cost as much as $4,100 per car. Features like an electronic sign indicating if the cab is in service, and accepting credit cards, are included in this price.
While many cab drivers and owners fight the modernization of these convenient cars, the benefits are sure to outweigh their concerns, over time.
Benefits
Many benefits can be realized from implementing a POS system for taxi drivers. A streamlined approach to what has historically been a cash-only business has made improved changes to this industry.
Better tips. An increase in gratuities was realized by this group of taxi drivers in New York who originally fought proposals for POS systems. Tip percentages tend to be higher when using a POS system, giving drivers a morale boost and increased efficiency throughout their shifts.
Safer environment. Many taxi drivers deal with the fear of being robbed of cash on the night shift. A POS systems can drastically decrease the amount of cash drivers have in their cabs.
Increased business. Customers who are short on cash and know that your taxi cab is equipped to accept credit and debit card processing, will be interested in hailing your cab. Tourists and out-of-town visitors are more likely to have only credit cards on hand.
Like it or not, POS is here and it's in your cab. Embracing this technology will allow you and your drivers to increase sales, tips, and customer satisfaction. When you're ready to modernize your fleet, be sure to contact BuyerZone for the right contacts in your area.
Ready to Compare POS Systems Price Quotes?