What is the Best Magnetic Lock?
A magnetic lock is often called a mag lock and is constructed from an electromagnet and an armature plate. The opening of a home or office door will be installed with a magnet on the inside to prevent the device from being tampered with. The armature plate for the magnetic door lock will be installed on the face of the door so that the magnet can work efficiently with the plate.
A magnetic lock may be used for security in a number of businesses, like:
Jewelry stores
Convenience stores
Laundromats
Apartment buildings
Hotels
Offices
Many small businesses are drawn to magnetic locks as a basic security solution since they are affordable at less than $500; magnetic locks are long-lasting as they function without moving parts and are considered virtually indestructible.
How does a magnetic lock work?
The magnetic lock will then be connected to an electrical source to create a strong magnetic attraction. This will hold the magnetic door lock system tightly in place for secure protection.
A magnetic lock will be powered in one of two ways:
With an independent battery pack.
Through a building or home electrical system.
A mag lock can also be powered with DC power through the use of a converter. Most office buildings will equip a mag lock system with a fail-safe mechanism, which will cause the door to remain unlocked in a power outage. This will enable office workers to quickly exit a building in an emergency.
If a mag lock is equipped with a DC current, it will run at 12 to 24 V. Smaller magnetic door locks for cabinets use a 300 pound magnetic pull, while heavy duty mag locks for home and office security use a 1200 pound magnetic pull.
Electric strikes up security for magnetic locks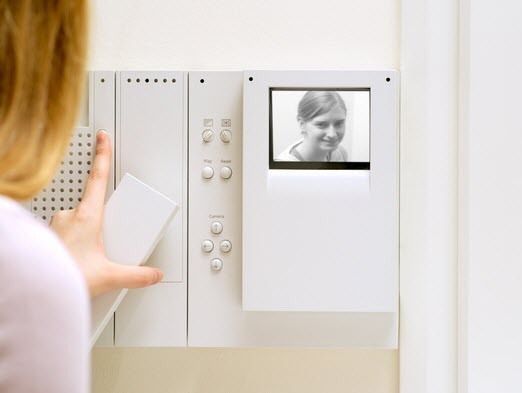 An electric strike is a popular feature for a magnetic lock. Commonly used in apartment buildings to "buzz" someone in. REX Features
An electric strike is a popular feature for a mag lock, used to "buzz" another person in to a door that is securely locked. Electric strikes are available at 12 to 24 V or higher and use AC or DC current - in some cases, both.
The most common type of electric strike for a mag lock is fail-secure, meaning that the door will stay locked from the outside, even in the case of a power outage. For this reason, an electric strike provides an added level of protection since security cannot be breached in a power outage. A door equipped with an electric strike will be fitted with a panic bar activation system for door release in an emergency.
If a person wishes to enter a building and does not have a key or code, they will buzz for entry. The buzzing sound is created by the AC current from the electric strike to alert the person inside the home or office that someone is at the door.
The person inside the building can then open the door by unlocking the magnetic door lock system to allow entry. A DC electric strike is much quieter and will only make a small clicking sound to alert that someone is at the door.
Choose the right security protection for exterior and interior doors
For a reliable security system that is tough to crack, industry insiders recommend an access control system with both electric strikes and mag locks on exterior doors, especially at entry points. On interior doors, both security methods aren't necessary; a magnetic lock can be used to restrict access on an interior room or closet without the use of an electric strike.
Magnetic locks can be a trustworthy security feature for homes and businesses alike. However, the use of a mag lock is not recommended in an area with frequent power outages since the lock may be disabled without a power supply.
Ready to Compare Access Control Systems Price Quotes?