Decisions, Decisions: Choosing Smoke Alarms and Installers
A smoke alarm system is a vital part of a business' security system. Commercial smoke alarms not only alert you, your employees and your customers if there is a fire during business hours, but they also contact a monitoring service who can dispatch help no matter when a fire breaks out.
To get the most protection from your smoke alarm system, you will need to select the right solution for your business. What's more, you will need to have them properly installed.
Smoke Alarm Basics
There are several varieties of smoke alarms that you can purchase for your business: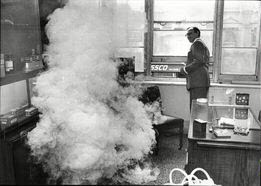 Image Courtesy of Rex Features
Photoelectric: This type of alarm uses optical sensors to detect the presence of smoke. This basic unit is often used in residential housing as well. The price range on these types of alarms can cost $20-$70 depending on the level of functionality, style, and brand.
Ionization: These types of smoke detectors are "active" smoke detectors that physically scan the air for smoke particles. These detectors are a good all-around smoke detector but are best suited for larger, open areas. Typically, these units are not any more expensive than the photoelectric models and range from $20-$70.
VESDA or air-sampling detectors: Use a physical detection system to trigger its alarm. These detectors are the cream of the crop of smoke detectors. The term VESDA encompasses a broad set of detectors from in-duct detection systems to open-air models. Prices on a VESDA solution can run from $75 per unit to upwards of a couple of hundred dollars depending on the solution you choose.
Choosing the type of smoke detector that is right for you depends on the environment in which it will be used. Qualified smoke alarm dealers can help you evaluate your choices. Often, a mix of types in different locations provides the best combination of protection and value.
Connecting to a security system
A smoke alarm system needs to be an integrated part of your overall security system. Sounding an alarm when smoke is present is just part of the job. Most businesses are required to have fire alarm systems that connect to a monitoring service 24 x 7 to call authorities to when there's a fire.
During business hours, the first priority is getting employees and customers out of danger; after hours, the monitoring service will send help immediately to limit your losses as much as possible. Don't overlook the choice of a monitoring service as you're doing your evaluation of installers.
Selecting an installer
You have three options when it comes to the installation of your smoke alarm:
1. Install the alarms yourself, which is only an option if you're installing secondary smoke alarms and have extensive experience in electronics. The down side is you will still be required to obtain permits and schedule an inspection upon completion. Also, the costs can be higher than one might think when you factor in efficiencies that are sure to come with not having as much current experience as a professional installer.
2. Purchase the components directly from a manufacturer, then hire a licensed and bonded electrician or alarm installer with experience installing smoke alarms and security systems. However, many companies won't guarantee their equipment if it is installed by technicians who aren't authorized to install the smoke alarm system. There is also the question of electrician versus a low voltage (data) installer. Typically, low volt installers are less expensive than electricians, but this might not always be the case. Obtaining as many quotes as possible from both is highly recommended. Cabling alone can run into the thousands for larger systems.
3. Use an installer recommended by the company you purchase your equipment from. They have the experience and technical knowledge to make sure the smoke alarms you selected are installed properly, and will test them thoroughly before leaving. While this is a great solution, one must also take into account that there could very well be a discount associated with using a recommended installer. Getting multiple bids on the project before committing to a sponsored contractor is still recommended.
Lastly, consulting with businesses that use the same building type or perhaps are in the same business sector as your own is a smart idea for getting the lay of the land. Comparative shopping and researching into your specific needs are the two most important steps to purchasing and installing the best fire security solution for your business.
Ready to Compare Fire Alarm Systems Price Quotes?