The Basics of Industrial Fire Alarm Systems
An industrial fire alarm system is a required part of many companies' security systems. If your business is open to the public or employs a minimum number of workers, you may be required by law to install a fire alarm system. Knowing the minimum requirements is crucial to picking out a new system.
If you are in the market for a fire alarm system, it helps to know the role of monitoring services and the types of systems that are available.
Fire Alarm Monitoring Services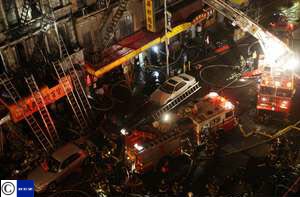 Choosing the best industrial fire alarm system for your business is only the first step towards complete fire protection. While the alarm system itself and the quality of the installation are important, the monitoring service that you choose to respond to any problems is critical. Monitoring services continuously watch your commercial or industrial fire alarm system for signs of trouble. A 24-hour monitoring is essential to the safety and security of your business.
A standard fire alarm monitoring service may be Underwriter Laboratories (UL) certified and should ideally provide features such as:
Monitoring staff for fast, informative customer support.
Downloadable fire alarm product support manuals.
User-access online account maintenance and report updates.
Fire alarm security video verification.
Fire alarm signal test results via email or text message.
Email updates of alarm monitored emergency signals every 24 hours.
If price is a concern, many monitoring services offer small business packages that cost less than $50 a month for commercial fire alarm monitoring. Small business packages may include existing telephone line fire alarm monitoring at $25 per month or newer cellular fire alarm monitoring at $50 per month.
Selecting an industrial fire alarm system
When selecting an industrial fire alarm system, there are two basic types to consider: conventional fire alarm systems and addressable fire alarm systems. Knowing the difference in function and pricing might be just the thing to help tip the scales in favor of one over the other.
Conventional fire alarm systems are hardwired directly into an overall security system. When activated, the monitoring service is notified immediately that there is a problem, but the system doesn't know exactly which sensor or alarm has been activated.
While this is the less expensive option, the drawbacks are clear; the entire system is activated when fire or smoke is detected. When the entire system has been activated, sprinklers are turned on throughout the facility and all exit doors become open and activated immediately. These systems might seem inexpensive by comparison until one realizes the water damage that could take place over a relatively small, controllable fire. Typically, one of these system costs around $.75 to $1.25 per square foot of coverage depending on the size of your building, materials used, and types of alarms installed.
Addressable, or "intelligent," fire alarm systems are installed on a loop circuit with each detector or unit on the loop having its own IP address, much like a computer network. When a unit is activated, the monitoring service knows exactly where the problem is in your building, allowing them to give the fire department specific locations. Addressable systems cost more, but in the case of a fire, the extra information can make a big difference in stopping a fire more quickly.
Additionally, these units can determine in which area sprinklers are to be activated, so a backroom fire will not result in the soaking of the warehouse, for example. The price range on these systems can vary substantially as there are many more options to choose from than with a traditional fire alarm and suppression system. The price tag on an addressable fire alarm system can run from $1.00 to $3.25 per square foot for parts and installation.
Keep in mind however, that sprinkler heads come standard with a chemical switch that will release water whether the system tells the sprinkle to activate or not. These chemical switches will turn the sprinkler on, even if the main alarm has gone offline. They will also activate if jarred or broken by workers.
Wrapping Things Up
Cabling for these systems is governed by the National Electrical Code (NEC) and the units themselves should be UL approved. While these are both the bare minimum installers must adhere to, this does not mean you only have to meet the safety minimum of these two regulatory guidelines. Local regulations could be much more stringent and must be followed.
In some cases, something as seemingly small and simple as all cabling being in conduit can add substantially to the price of an installation. As always, make sure to get multiple quotes for comparison and familiarize yourself with your industry and local regulations governing fire alarm and suppression systems.
Ready to Compare Fire Alarm Systems Price Quotes?