4 Steps to Hiring the Right Fire Alarm Installer
When buying a fire alarm system for an existing business, hiring the right fire alarm installer is essential. The best professionals will not only minimize the amount of cosmetic damage and repair work needed afterwards, but they'll also get you up and running quickly. If you're ready to install a fire alarm, then you need to know what to look for to find a good fire alarm contractor.
Step 1: Check state and local requirements
The first characteristics to look for in a smoke alarm installation professional are those that are required by local and state laws.
Most states mandate that fire alarm technicians and other security system installers have: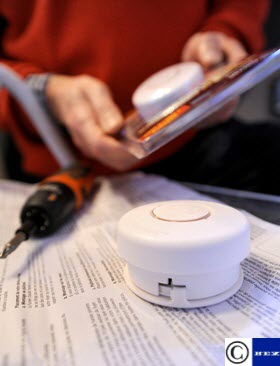 Specific training
Current licensing
Proper identification
A certain number of CPE (Continued Professional Education) credits completed each year
Look at potential installers' websites for professional licenses, certifications, and other qualifications. You can also check your state's requirements directly to ensure that you hire a licensed and trained technician.
For example, a security fire alarm installer in the state of New York must be at least 18 years old and have passed a written examination. The installer must also file a licensure application and provide proof of a minimum of two years' experience in installing, servicing, or maintaining fire alarm systems in the state.
Step 2: Consider manufacturer-recommended fire alarm installers
Often, the manufacturer you buy from can recommend an installer. These professionals have already been screened for competency and in many cases, have been specially trained to install your specific fire alarm system.
However, you don't want to accept an unqualified recommendation at face value. Ask the monitoring service or manufacturer:
How their fire alarm installers are selected.
What qualifications and training they have.
If they meet state and local requirements for fire alarm system installation technicians, per the recommendations above.
Step 3: Ask for personal recommendations
Personal recommendations can also help you to find installers who are qualified, responsible, and will get the job done quickly and on budget. However, you will need to take a personal recommendation as just that - a recommendation. You'll still need to talk with the installer to get a feel for how they work and what experience they have, and, of course, you'll need to verify their credentials.
After receiving a recommendation or referral, you can do your homework to check an installer's credibility by:
Asking an installer for three past client references.
Requesting physical verification of licensing and credentials.
Inquiring about further education or additional vocational training.
When interviewing installers, it's critical to be wary of an installer that asks for complete payment in advance. Although a deposit may be required, paying for full installation before work is complete is never recommended; payment should be made once services are rendered.
Step 4: Compare multiple fire alarm installers
Getting detailed price quotes from multiple fire alarm installers is the best way to judge value and reliability.
Compare estimates based on more than just price. Look at:
The level of detail provided.
Time estimates.
The installer's commitment to getting the job done on time and with minimal disruption to your business.
As you embark on the task of comparing fire alarm installers for your business, remember that slow and steady wins the race. While it may be tempting to book the cheapest installer you come across, comparing all of the factors listed above will ensure that your business is protected in regulation-compliant fire alarm installation - without cutting corners.
Ready to Compare Fire Alarm Systems Price Quotes?