Introduction to Fire Alarm Systems
In fire protection, nothing is more important than the safety of your employees and customers. Property and equipment can always be replaced; lives cannot. That's why your business must have a professionally-installed fire alarm system to ensure every employee and customer walks away from a fire emergency unharmed.
In purchasing a fire alarm system for your business, you will be subject to numerous codes and regulations. Local authorities and national regulatory organizations like the National Fire Protection Association (NFPA) make life safety their top priority. They require all commercial fire alarms to comply with specific building codes and occupational health requirements that ensure maximum safety.
Please note that even if the codes in your jurisdiction require expensive equipment there is no skimping on fire alarm essentials. The good news is that a properly installed fire alarm system can save you money on your business insurance.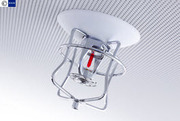 Unfortunately, understanding exactly what kind of system you need can be difficult because fire alarm requirements vary from one jurisdiction to the next. You'll need to speak with your local authorities and a reputable licensed seller to gain a clearer picture.
This BuyerZone Fire Alarm Systems Buyer's Guide will help you:
Learn how fire alarms work
Understand the different codes your system must follow
Prepare for a fire alarm installation
Set expectations for what you'll pay
When you're ready, we will also connect you with the top fire alarm systems sellers in your area - free.
---
The first step in the process is to learn how the specific components in a fire alarm system work. This not only enables you to choose the best system based on the requirements of your location, it also ensures you don't overpay for extras you don't need.
---
Fire Alarm System Components
Unlike other security systems such as monitored alarms or video surveillance, you won't get to pick and choose which components you want when buying an fire alarm system. Instead, your local authorities will determine exactly what devices you need based on local and national codes.
How fire alarm systems work
Commercial fire alarm systems are triggered by smoke particles, flames, significant changes in temperature, or manual pull stations. They connect to central monitoring stations that notify authorities when the alarm has been activated. Audible and visible signals alert people to evacuate the building while sprinkler systems help suppress the fire until authorities arrive.
Conventional vs addressable fire alarm systems
Your fire alarm system may be either conventional or addressable. With an addressable fire alarm system each connected device has an identifying "address." When there is an emergency or malfunction firefighters and technicians can find the exact source of the problem. Conventional fire alarm systems, on the other hand, group many devices into a single zone -- the entire floor of your building, for example -- necessitating a sweep of the whole area when there's trouble.
Fire alarm system devices
The central component of a fire alarm system is the fire alarm control panel (FACP). The FACP acts as the brains of the system, storing information about your business so the fire department can retrieve it when there's a fire. It is vital that the FACP be protected from electrical overload by a well-grounded surge protector located at least three feet away from the panel.
The FACP communicates with detectors that sense heat and smoke, sirens and strobe lights that alert people to evacuate, and flow valves that control the sprinkler system.
In addition to automatic fire alarm devices, you'll need to install manual pull stations at every exit so people can activate the alarm at the first sign of smoke or fire, and fire extinguishers that feature clear instructions on the label.
If required by code, a conventional or addressable fire alarm system may also need an annunciation system, a panel that tells authorities which zone or device was set off and where it's located. Large venues like shopping malls or sports arenas may need emergency voice alarm communication systems (EVAC) that provide audible evacuation instructions over professional-grade speakers.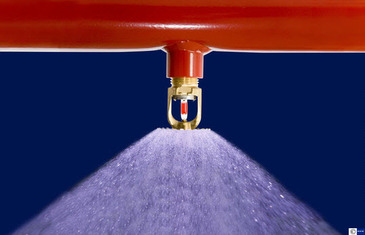 Sprinkler systems
The most important addition to your fire alarm system is a sprinkler system. Fire officials consider sprinklers the most reliable method for quickly suppressing fires until authorities arrive. (See why.)
Many municipalities require all commercial buildings to have a sprinkler system, and most buildings constructed after 1985 have them. Your fire alarm system installer can quickly and easily connect your fire alarm system to existing sprinklers. However, if you need a complete new sprinkler system, prepare for added headaches and expenses -- it can take several months and cost hundreds of thousands of dollars in addition to the alarm.
Fire suppression systems
While sprinkler systems use water to extinguish flames, you can't risk floods in areas such as server rooms or paper archive storage areas. In these cases, fire suppression systems are the most effective fire protection. Fire suppression systems use inert gases or chemical agents to control smoke and put out fires.
Additional fire alarm features
There are many other components such as elevator recall, HVAC shut off, and door controls that may be required by code or can simply be added for maximum safety. It is best to speak with a reputable fire alarm company for direction on which features are most important for your business.
---
A fire alarm system ensures the timeliest response as well as the greatest chance of reducing serious injuries and costly damage. But it's important to know who's doing the monitoring.
---
Fire Alarm Monitoring
When the equipment in your office detects fire or smoke, the central fire alarm monitoring station plays a critical role in protecting your employees.
Your fire alarm system will need to be connected to the central monitoring station via two separate, dedicated phone lines or an AES radio frequency. Another emerging technology is monitoring via the Internet.
When your alarm has been tripped the control panel sends relevant details to the fire alarm monitoring station, which in turn notifies the fire department. Some monitoring stations will also contact designated personnel within your organization. Because of their significant role, your monitoring station must be dependable and fast-acting.
Furthermore, your central monitoring station should frequently activate and test all of your devices and connected phone lines. They are required by law to maintain accurate logs of activity and system functionality in case authorities want to review incident details.
Who operates fire alarm monitoring stations?
While larger companies usually have their own central stations that simultaneously watch over thousands of businesses and homes, smaller fire alarm companies often license the services of third-party monitoring stations.
You can learn more about a particular monitoring station by checking with your state regulatory board or the Better Business Bureau. Also, the independent Underwriter's Laboratories (UL) sets standards for monitoring station equipment and procedures -- companies that meet their guidelines provide maximum safety and reliability.
All central stations must contact authorities within 30 to 60 seconds of the alarm going off. And much like your fire alarm, they must have a reliable backup source — either a second station, or a backup generator with 10-15 days worth of power on reserve.
In some cases, you may not need fire alarm monitoring service for your system: certain municipalities require you to connect directly to local fire departments. Your fire alarm seller should know which setup you'll need.
---
Selecting a fire alarm system is slightly more complex than other purchases. That's why it's a good idea to consult a professional seller who can factor in the specific requirements of your property and tell you exactly what you'll need to comply with local laws, building codes, and safety regulations.
---
Meeting Fire Alarm System Requirements
To get a fire alarm system that meets all local and national requirements, start by contacting a representative of your local authority-having jurisdiction (AHJ)--typically the fire marshal. That person will visit your space and tell you what you need to comply with local and national codes, and whether you need a sprinkler system.
The AHJ will provide instructions assuring that your building meets all applicable codes, including the oft-changing NFPA-72 (the "bible" for commercial fire alarm installation), the Americans with Disabilities Act (which requires clear access to warning devices for people with disabilities), and the Occupational Safety and Health Administration (which establishes rules for employee well being).
Codes differ from municipality to municipality so it's a good idea to work with a fire alarm company that has experience working in your jurisdiction. After all, you can't get approval for a fire alarm until you meet all the applicable rules and regulations.
Assessing your fire alarm needs
Here are some of the major things the AHJ will assess at your facility to determine the appropriate fire alarm system setup:
Overall size: Fire alarm devices can only cover a certain amount of square footage - the larger your space, the more devices you'll need.


Exit routes: Each exit door and stairwell must be equipped with a manual pull station and clearly illuminated so people can spot them during an emergency.


Building specifics: What kind of materials is your building made of (brick, steel, etc.)? What floor are you on? Where are you located? The AHJ may set specific guidelines based on your building makeup.


Occupancy requirements: Locations that regularly hold large numbers of people may need more signaling devices.


Materials handling: If your business handles flammable materials, you'll need additional safeguards in place, as well as specific employee training.
Safety considerations
Employee seating: Employees must be located as close as possible to the nearest pull stations.


Fire suppression equipment: Having fire extinguishers or sand buckets on hand can help control a fire until help arrives. Just make sure to train employees to use them properly.


Team leaders: Your HR department should help find a CPR-certified staffer who can arrange regular fire drills and ensure everybody evacuates safely.
It's important to note that you must adhere to the AHJ's recommendation for a compliant system, even if it costs more than you expect. Beware of fire alarm companies that offer a low up front cost estimate knowing the system won't pass muster with the AHJ. You're better off working with a company that is open about costs from the beginning.
Installation
Once you understand the requirements, you'll need to choose a fire alarm seller who will perform a site survey and develop blueprints based on his findings and the AHJ's information. The AHJ then reviews the blueprints and either signs off on them or notes what changes need to be made. Keep in mind that the blueprint assumes only the minimum standard for your municipality. As long as your setup is compliant, you're free to add other components to your system as needed.
In addition, your fire alarm seller and AHJ may help you create a detailed evacuation plan and company fire protection document. These documents detail the evacuation procedures for a fire emergency, as well as how to help elderly and disabled people out of the building, which equipment to shut off before evacuating, and the appropriate safety location to gather at.
Can fire alarms work with other protection systems?
Most municipalities insist that you keep fire alarms separate from other security devices such as monitored security systems or video surveillance systems. This requires you to set up a separate phone line that will only connect to your fire alarm.
However, some local authorities will allow you to include fire alarms as part of a larger system if they override all other devices. For example, if you have an access control system that shares wiring with a fire alarm, the system should disable all door locks when a fire is detected so everybody can evacuate the building.
---
Choosing the best seller can make the process of buying a fire alarm system a lot easier, and the system itself substantially more effective.
---
How to Choose a Fire Alarm Seller
Fire alarm sellers can range from large corporations with their own sales forces to resellers installing systems on behalf of larger companies to independent companies and start-ups.
Whether the company you work with is large or small, your fire alarm seller must be certified by NICET (National Institute for Certification of Engineering Technologies) which indicates that they fulfill strict requirements for safety and installation. They should also be fully licensed to install fire alarm systems in your region and provide all-inclusive services that include site assessment, installation, wiring, and monitoring service.
The "best deal" isn't always the right choice
Start by getting quotes from three to four different fire alarm installers. The first company you speak with may offer a good deal, but it's important to meet with several companies to find out who offers the best balance of security, service, and cost.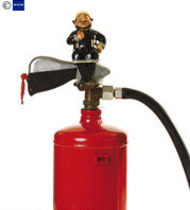 The best fire alarm seller may be one you've already worked with. If you currently have a monitored security system and are happy with the service, contact them and ask if they are licensed to install commercial fire alarms. In most cases, these sellers will already be familiar with your business so they can begin making suggestions and start working right away.
Reputable fire alarm companies will always visit your site in person or review an official blueprint to determine the best system for you. Never work with a seller that offers a proposal before they see what your office looks like.
It's usually best to work with an experienced fire alarm seller since they typically have the clearest grasp of code compliance and frequent code changes. While you may get lower rates by working with a less experienced seller, it makes sense to spend a little extra on a proven company that will be there for you long after they install your system.
Another aspect to investigate is customer service. In addition to the direct attention you need while making the purchase, it should be easy to contact the seller if there's a problem. A few things to consider:
Do they offer 24 x 7 x 365 customer service?
Do they handle the central monitoring in-house, or use a third party provider?
Can you always reach a live service rep on the phone?
Are repair technicians readily available?
How often do they inspect and test the system to ensure functionality?
Finally, get references from each seller. Find out why a company chose a particular seller and ask such questions as:
Did they install quickly, in the timeframe they guaranteed?
Were they readily available if you had any problems?
Did they comply fully with your AHJ?
Did they provide monitoring services directly? If not, were you able to contact the monitoring station they worked with?
Was the evacuation plan they created easy to understand?
Did they provide sufficient training for you and your employees?
If you ever experienced a fire, did the central station quickly dispatch authorities?
Do they regularly test and maintain the system?
Watch out for "trunk slammers"
Like home security companies, reputable fire alarm installers fight an ongoing battle with so-called "trunk slammers" — unlicensed sellers who work out of their homes or cars and offer cheap systems to unknowing buyers before quickly disappearing. They sell proprietary equipment at a cut rate, sign customers to long-term contracts, and sell the signed contracts to seedy alarm companies. You won't know who to contact if there's a problem and won't be able to use this equipment with another company.
Worse, trunk slammers don't follow code regulations: they just want your money. If you work with them, you risk compromising employee safety and getting in serious legal trouble. If you're unsure if you're dealing with a licensed fire alarm seller or a fly-by-night trunk slammer, you should check with regulatory organizations like the Electronic Security Association (ESA) to see if the company is legit.
---
Before you get on the phone with a seller, make sure you know what you should expect to pay. We've compiled a list of pricing estimates for the latest fire alarm systems.
---
Pricing fire alarm equipment and monitoring
It's very difficult to pinpoint the exact costs of fire alarm equipment. Your price will vary widely depending on local code requirements, the size of your building, the amount of equipment you need, and how long it takes for a seller to install everything.
Another element that could impact pricing is whether you're working with a new or existing building. It's far less expensive for builders and electricians to include fire alarm equipment when putting up a new building than to add an alarm to an existing structure.
Here's one quick way to see what other buyers are paying: take a look at detailed fire alarm pricing information from other BuyerZone users.
Estimating fire alarm equipment costs
A rule of thumb for fire alarm equipment costs is $1 to $2 per square foot of office space for a basic setup in a rural location. In metropolitan areas or for systems with multiple high-tech devices, this rate increases to $3 to $5 per square foot. Sprinkler system installation can push your costs as high as $10 to $25 per square foot or more.
As an example, a small retail shop owner with 3,000 square feet of office space may pay $5,000 or more for 3 to 4 pull stations, smoke and heat detectors, and audible and visual alarm devices. It's possible this could get set up within 2 to 3 weeks.
In contrast, a 25,000-square foot manufacturing facility may require hundreds of alarm devices to properly alert staffers of a fire emergency, and an emergency voice alarm communications (EVAC) system to provide instructions for an orderly evacuation. This design could cost as much as $250,000 to $750,000 and take up to a year to properly install.
Since fire alarm equipment prices can vary so widely from state to state and business to business, check with your seller to get the most specific pricing information.
Central monitoring fees
Once your fire alarm equipment is installed, you'll need to pay monthly monitoring fees. These will vary based on your system, location, and contract.
To get monitoring service, you'll need to sign a contract with your seller. Most sellers require a minimum three-year obligation to provide you with the best rates. While you can sign on for a longer term, we don't recommend it since you won't be able to switch providers or take advantage of lower prices in the future. If you must break the contract before it ends, you could pay penalties of 75% to 100% of the remaining fees.
Other fire alarm costs
Your fire alarm system can include many different costs, so make sure your seller provides all of the details in writing. There shouldn't be any surprises since they should specify the devices you need to satisfy codes when they assess your worksite. However, if codes change during installation, the seller will have to make the appropriate adjustment to your contract.
All fire alarm equipment should include a parts and labor warranty for at least 90 days from the date of installation. To maintain coverage after your warranty expires, you can usually buy an additional maintenance and repair agreement for about 10% of your total alarm costs.
This agreement covers service requests and repairs during the life of your contract. Without a maintenance contract, you could pay $50 to $150 per hour for labor and plus the cost of replacement parts each time there's a problem.
Some municipalities require state monitoring and electrical permits before a seller can install a commercial fire alarm. If these costs aren't built into your contract, you'll pay a fixed rate of $50 to $200, or 0.4% to 0.5% of the total project value.
Payment alternatives
If the costs are more than you expected, you may want to consider leasing your fire alarm equipment. Leasing allows you to spread your payments out over time. At the end of term, you can either purchase the equipment for a nominal fee or at fair market value.
A final note about fire alarm equipment pricing: If you rent office space, the building management is required to provide adequate fire protection. However, your business may need to comply with specific codes that require additional alarm devices. Check with your local fire marshal to find out if the building's fire alarm is sufficient for the type of business you run.
Fire Alarm Purchasing Tips
Look local. While there is nothing wrong with working with a national company, a local seller should certainly have a solid grasp of your jurisdiction's codes.
Do your homework. Be sure to investigate any company you are considering hiring to install your fire alarm system. Check with state regulatory boards, the Better Business Bureau, and be sure to ask for references.
Be present during installation. The amount of care your fire alarm company puts into installing your system can tell you a lot. If you open the FACP and the wires look like a pile of spaghetti you're going to find that future maintenance will cost more in both time and money.
Get the full quote. Make sure the prices you're quoted are sufficient to cover a system that will get approved by your AHJ - and that your seller will be on the hook for any changes required to nail down that approval.
Ready to Compare Fire Alarm Systems Price Quotes?