How to Know If You Need a Monitored Alarm Upgrade
Alarm-system technology has come a long way in recent times. From smartphone alerts to heat and flood sensors, the days of missing alarm signals and losing contact with your monitoring service provider should be over. However, many businesses and homeowners are experiencing difficulties with security systems, and some are unaware of the affordable options that exist. Here are the five warning signs it's time for a monitored alarm upgrade for your security system.
1. You Have No One-Touch Remote. It's no longer necessary to punch in an alarm code and run out the door while the system activates. Still, many homeowners are going through this ritual on a daily basis. One-touch alarm controls can be carried on a key chain, allowing you to activate or disable an alarm while you hop in your car or pull up to the driveway. It's the modern way.
2. Surveillance is Not on the Menu. Homeowners have so many options for surveillance these days. From multiple exterior cameras to interior and CCTV systems, there are solutions for every budget. There is no need to consider surveillance a difficult item logistically. You can control the cameras from a computer and watch the footage anywhere in the world with an Internet connection. It's a very popular monitored alarm upgrade.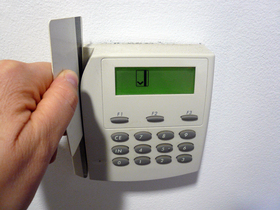 3. Different Sensors Are Not Integrated. When you have smoke detectors throughout your home but they are not connected to your central alarm system, you run the risk of being caught unaware in a fire. Talk with your monitoring service provider about bringing every aspect of your fire alarm into your central controls. The same holds for carbon monoxide sensors, heat sensors, flood sensors, and every other device you're utilizing.
4. The Backups Are Not in Place. Backup controls add peace of mind and real protection when your primary line of communication goes down. Monitoring services should have a cell phone number on file so they can contact you when a landline or Internet-enabled phone line isn't working. Criminals count on a security service to break down when the phones die. Make sure you have a backup plan in place.
5. Smartphone Controls Are Nonexistent. Nearly every modern security system allows for controls on a smartphone. That includes alerts via text message, monitoring the different sensors, finding out if motion detectors are working, and even controlling the position of surveillance cameras. Smartphones are the main tools at our disposal today, and they should be used to increase the level of security in your home or small business.
These telltale signs point to the need for an imminent monitored alarm upgrade. Be sure to take action before you let your system become obsolete.
Ready to Compare Monitored Alarm Systems - INACTIVE Price Quotes?