What to Consider When Buying Large Facility Security Systems

BuyerZone has been helping businesses buy smarter for over 15 years, with free purchasing advice and help finding the best companies for over 150 different purchases. The following Large Business Security Guide will offer advice on monitoring services specific to your size.
Large Business Security Guide
Large Business Security Guide
Are you thinking about implementing or revamping your security strategy to include a broader, more effective office security system at your workplace? These questions can help you define and locate the best alarm/security system for your company without missing key elements.
Hardware Questions
How many points of entry does your company have? If you have a small office with just two doors and no windows that open, your security needs will be focused and simple. But if you have many doors or an older building where windows open, then you have multiple points of entry and need to have a more complex system with several different types of sensors. You may want to seal off some of these entry points to make it easier to manage security. Remember that large, easily accessed store windows can be broken for access by more desperate thieves.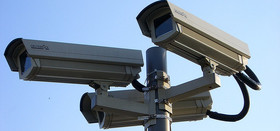 How large is your business space? If you have a large business space with plenty of shelves, aisles, or desks, your monitoring needs will be a little different than for small spaces. Single sensors and one-direction cameras work for small spaces and halls. Dome cameras and sensors focused on specific entryways are easier to manage for large areas.
Where is your location? Do you have alleyways or small parking lots that make it easier for criminals to gain access? Are you in an area more susceptible to damage or vandalism? These considerations should dictate your outside security systems and the need for outdoor cameras or alarms. These are not always necessary but can be a boon in more risky locations.
Software Questions
What level of security do you need? What do you need to protect and how do you need to protect it? For example, if you want to protect valuable electronics, then after-hours security is very important. If you want to protect data and prevent employee theft, indoor monitoring cameras may be more important. On the other hand, secure doors and security cards are the best solution for some companies. Consider fingerprint security, voice recognition, password protection, and other options as well.
How much direct control do you want? Do you want to have a hand in how your system works? Do you want to make changes at a moment's notice? Some systems allow you to use your phone or computer to view video feeds and control locks or cameras remotely for more responsibility. These office security additions may cost extra, but they can also give you the immediate decision-making abilities you may want.
Do you have multiple branches? If you have multiple branches, you should consider the ways that your various office security systems can integrate and how they will be managed. With multiple locations, scalability and central monitoring become much more important, so look for vendors with large-scale solutions.
These questions and others like them will help you evaluate the many commercial security systems on the market and make the smart decision for your company.
Ready to Compare Monitored Alarm Systems - INACTIVE Price Quotes?