Big Businesses Have Big Reasons to Get Monitored Alarm Systems
Large Business Security Guide
Reasons to Protect Investments
Large businesses have plenty of things to do and worry about, but they may be overlooking one major item: security. Introducing a monitored alarm system as part of a security package makes sense to protect a business' property, so owners and managers can concentrate on running the company. A security system also makes sense to lower business insurance costs, reduce exposure to losses, and keep employees, property, and information secure. Integrated fire alarm systems also make packages a necessity for any business owner focused on the future. Here are the four big reasons you should add monitoring service to your business alarm system:
Legal protection for your business. If you do not provide protection for customers, you could face legal troubles when a crime takes place at any company location. Business owners should recognize the public relations problems that will arise when legal troubles make it to the press, not to mention the effect it would have on employees, when a lackluster security system is exposed. The best way to avoid these issues is by providing top-notch protection in every location.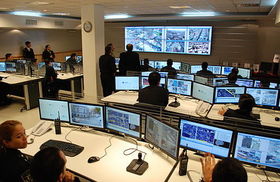 Promoting a secure environment. One of the best ways to deter crime in your place of business is to make it known you have a quality alarm system monitored by a professional security company. Simply posting signs mentioning this fact, as well as displaying cameras and motion detectors, serves your purpose adequately. Customers will be aware your business is protected, while criminals will realize the challenges your monitored alarm system presents.
Keeping track of customers in case disputes arise. Larger businesses can be vulnerable to scams and lawsuits when it's clear your firm has revenues worth targeting. Security surveillance equipment can provide an added level of comfort should there be a question of what happened on the premises. Security teams monitoring your company workplace can provide the video of the day and time in question, which may help the authorities identify a criminal or thwart a scammer.
Lowering business insurance premiums. Business security systems do much more than prevent crimes and respond to issues in the workplace. In most cases, they allow you to integrate the fire alarm that serves as the point of contact between your company and emergency services. Once you have the fire alarm equipment and monitoring service tied together, you provide a superior level of protection. This precaution will allow your business to save on overall insurance premiums, much like homeowners do when upgrading a security system.
Larger businesses face increased challenges in security. To make sure your company is not vulnerable to lawsuits, break-ins, and risks to valued customers, add the next level of security protection with monitoring services.
Ready to Compare Monitored Alarm Systems Price Quotes?