How to Choose a Business VoIP Phone Service
In the US alone, there are hundreds of business VoIP phone service providers to choose from. At face value, many vendors appear to offer the same standard product, service, and features in a phone package.
As a business owner, how do you wade through the details to choose the right VoIP service for your company? By searching for a provider that meets specific criteria, you can rest assured that your money will be well spent in a communication system that improves productivity in your office.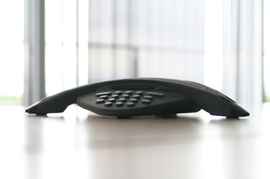 5 guidelines for selecting the right business VoIP service provider
Don't shop based on price alone. Although it may be tempting to choose the cheapest VoIP system for your company to cut down on overhead, you want to invest in a solid phone system that will support company communication for years in the future. While price is a factor, it's critical to look for a VoIP package that will cater to your office size, without downgrading any important features. Which leads us to:


Determine your company needs. Each business is entirely unique. To find the right VoIP service for your company, determine in advance exactly how many phone lines you will need for all employees, taking into account special features like remote extensions for telecommuters. A VoIP service can then provide a better price quote based on the size of phone system needed, as well as its intended daily use.


Research equipment. VoIP service providers may offer vastly different equipment from one vendor to the next. For example, a number of VoIP services can be used through a PC, while other VoIP packages will operate through a specialized VoIP phone system. For a larger office, a VoIP phone system may be necessary to replace a traditional in-office PBX business phone.


Shop for specific features. Instead of letting a VoIP vendor sell you on the features that they think your company needs, shop for a VoIP provider based on key features that can improve your business's productivity. These features may include faxing, voicemail, and 800 numbers within a monthly subscription. VoIP providers may also offer advanced technology to convert VoIP voicemail to e-mail or text for remote workers away from the office.


Look for the extras. Many VoIP providers will be happy to throw in a little something extra for free in order to gain your business. For example, while some vendors may charge a set fee of $50 per user, others will waive additional fees when installing a system for the first time. When in doubt, compare price quotes amongst vendors that you can use as a bargaining chip to get the best deal possible for the features you desire.
Steps to Getting VoIP Service
Getting service is pretty straight forward; calling your VoIP service will render pricing pretty quickly. Typically, when ordering VoIP service, the more stations, or phones you have, the less expensive the service per line. Another potentially cost impactful variable is whether your business will have VoIP phones. While some business VoIP sellers will offer free ATA adapters this is not true for a majority of the VoIP service sellers. Some high end services might offer phones instead of ATA adapters, but the cost is sometimes passed on in the subscription.
Regardless of whether you will be using ATA adapters or true VoIP phones there can be some startup costs associated with your new VoIP service. You will most likely have to deploy QOS (quality of service) software on your network. This means an evaluation of your current bandwidth. In the end this could mean implementing a VoIP PBX system may require upgrading network equipment and your internet service.
Costs can run between $30 a month for one phone to $19 for 100+ users. While most services are now unlimited minutes, this does not mean one does not have to make sure there is no limit on minutes, so make sure you know if a plan has usage limits before you purchase. International calling can be an issue as well. Make sure you have an international plan as these costs can add up quickly.
Last but not least, before installing a VoIP phone system in a business, make sure to take it for a test drive to check call quality. There's nothing worse than spending the time and money to switch over to a VoIP system, only to find that inbound calls are unreliable or difficult to understand.
Ready to Compare VoIP Phone Service Price Quotes?