Large Businesses Can Benefit from VoIP Phone Service Features
Compared to a traditional PBX phone system, a VoIP business phone is cheaper and provides the same cutting-edge features, along with quite a few extras. What's not to love?
A corporation hoping to upgrade their phone system to a cost-effective yet productive alternative can research leading VoIP features in advance to find the best system for their business's size and industry.
Top VoIP phone service features: new technologies benefit large corporations
Standard features available with a business VoIP phone system are extensive, to say the least. Basic VoIP phone features may include: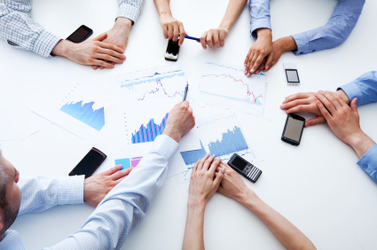 Caller ID
Voicemail
Call blocking
Call waiting
Call forwarding
Fax
3 way calling
Last number redial
911 service
411 directory
The good news is that these basic features are already available with a traditional PBX phone system, making employee transition to a VoIP phone system seamless and convenient. On top of that, more and more enhanced VoIP features are being introduced on a regular basis to improve inter-company communication.
Software enhancements are available to improve productivity, track call volume and any number of other functions as well. Though these solutions can add a bit more to startup costs, generally, they will not add any cost to your monthly rates.
Through the use of licensed or open source software integration, one might add these typically non-standard features as well:
E-mail/voicemail integration. Employees can enjoy the accessibility of checking voicemails without using a physical phone. E-mail notifications can be set up automatically every time that a voicemail is received; a .WAV voicemail file will be attached to an e-mail message so that the recipient can listen on the spot and forward the message to other employees.


Find-me alerts. Employees concerned about missing an important call can be designated an alert that allows specific callers to reach them wherever they are.


Desktop call control. Many corporate VoIP phone systems are fully equipped with desktop software that will allow users to control and manage calls through their PC with the click of a mouse. This functionality can be used to schedule conference calls, allow for simultaneous rings, or update find-me alerts.


Line unavailable forward. Since VoIP technology depends upon a reliable Internet connection, if Internet is out, so is VoIP phone service. In this unfortunate event, it can cost a business a number of important client phone calls; at this time, the use of line unavailable forward is critical to forward a call to any external number if a VoIP line is down.


Customized caller ID. Beyond basic caller ID, a personal contact list can be used to customize an employee's caller ID to display a name for each contact number, similar to the use of a mobile phone.
Additionally, many VoIP service providers now offer the attractive feature of both unlimited local and long-distance calling plans within a business VoIP phone system. For businesses with multiple locations throughout the country and nationwide clients, this is one essential feature that will help a company to conserve costs and save money on monthly phone expenses.
Ready to Compare VoIP Phone Service Price Quotes?