VoIP Phone Service Benefits for a Large Company
By Sylvia Rosen
VoIP, otherwise known as Voice over Internet Protocol, is an efficient, economical communication tool for large businesses or small companies that anticipate growth in the near future. Business VoIP communication relies on an Internet connection to route both incoming and outgoing phone calls without the use of a traditional telephone line.
How remote VoIP service can benefit your business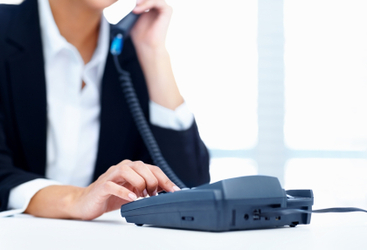 This technological feature can be used by both teleworkers and traveling employees. Remote VoIP connectivity will allow workers to manage calls from their PC, no matter where they are located, offering a more reliable workplace communication solution compared to cell phones or Skype.
Likewise, a company equipped with remote VoIP for teleworkers can vastly improve their levels of customer service by ensuring smooth communication. Whenever a client or customer calls a company to reach a specific employee, remote VoIP technology will enable a customer to access the right person immediately, without delay or the need to leave a voicemail.
This spur of the moment communication support is critical to address company issues as they arise and deal with important customer concerns in a timely manner. Additionally, this is one more feature that will support workplace productivity by allowing employees inside and outside of the office to communicate more effectively regarding urgent matters.
VoIP phone service benefits: integrated company communication
For a large corporation, forgoing a traditional phone line altogether can provide several notable benefits, starting with:
Multi-office collaboration. For a major corporation with multiple offices located throughout the US, VoIP phone service provides a cost-effective way to route internal calls through one computer network.
This seamless integration will allow several offices within the same company to collaborate by using a single phone system, supporting more effective inter-office exchange while minimizing communication errors.
Unified communication. Larger companies can greatly benefit from the ability to connect a VoIP phone system with other forms of communication media. For example, company cell phones can be synced to a VoIP system with voice over wireless LAN mode to reduce cell minutes used on the company dollar.
It's also easy and convenient to combine VoIP with cHompany e-mail accounts, allowing employees to access individual company voicemail boxes through their e-mail provider. These technological enhancements will greatly improve workplace productivity and make it almost effortless for employees to communicate with both coworkers and clients.
Simple reconfiguration. A large office can save money with the use of a VoIP system compared to a traditional PBX business phone whenever an employee moves offices. With the use of a traditional business phone system, moving offices would require a PBX reconfiguration with potential rewiring issues. The simple move could cost up to $400.
With a VoIP phone system, an automatic changeover is provided as individual phone lines are registered with a MAC address when connected to the server.
User-friendly operation. Across-the-board, employees will appreciate the ease of use in a VoIP system. Advanced features allow calls to be quickly transferred to out of office employees; VoIP voicemails left at the office can be accessed from any remote location and may not require an individual password.
These technological upgrades can again help to improve inter-office communication and improve workplace efficiency.
Last but not least, a large corporation shouldn't underestimate the benefit of mobile VoIP connectivity. Today, a number of mobile apps have been developed for VoIP business systems to allow even greater access for employees. In essence, a mobile phone can serve as an office extension with advanced features that include extension to extension dialing, call forwarding, and much more, providing one more cost-effective way for employees to communicate.
Ready to Compare VoIP Phone Service Price Quotes?