Choosing the Best Aerial Lift Dealers
Any aerial lift dealer can sell you a piece of equipment. But how can you be sure you're getting the right machine for your business needs? The best aerial lift dealers are those that take the time to learn about your business. And that's a process that extends far beyond just sales. Here's a quick checklist of the things to be on the lookout for when evaluating various aerial lift dealers.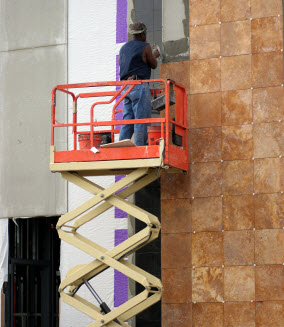 STEP 1: Do some background research.
Even within the aerial lift niche, there are a variety of different lifts, including boom lifts, scissor lifts, and even models that can be mounted directly onto a work truck. Be sure you know what type of lift is best for your application. Scissor lifts are generally less expensive than boom lifts with similar operating heights and can often accommodate more workers. But they also require a relatively flat operating surface. Boom lifts are better for reaching over obstacles or getting to hard-to-reach areas on roofs or the sides of tall buildings.
The best aerial lift dealers will have a wide range of boom lifts, scissor lifts, rough terrain lifts, and other equipment for working at varying heights. So start the process by taking a look at your facility and its grounds, evaluating the obstacles your employees will have to contend with.
STEP 2: Cast a wide net.
To locate the best aerial lift dealers, your next step is to submit a free request for quotes through our quote request tool. Then talk to at least 4 to 6 aerial lift dealers to become familiar with the products and services they offer, determining which one provides the best mix of quality, service, and cost. They'll ask how and where you plan to use your lift, what applications you'll use it for, how high you need it to lift, and how much you can afford to spend.
When providing a quote, a professional dealer should include:
A range of new and quality used aerial lifts
Lifts from several manufacturers
Proof of knowledge and certification related to OSHA requirements for aerial lift operation
Guarantees and estimates in writing
All delivery and maintenance cited costs up-front
There's a huge gap between the needs of an industrial paint crew and a welding team. So when you're evaluating dealers at this stage, add weight to those who have experience in your industry. Though not absolutely necessary, a dealer who's sold a number of lifts within your line of business will be well-versed in the specifics of your trade, saving you money by providing the right equipment for the job.
STEP 3: Visit the dealer's facilities.
Once you've narrowed your list, take an afternoon to visit the dealers you're considering. Ideally, the ones you've selected are relatively local, within a couple hours drive, as this typically ensures a greater level of service (a critical aspect we'll get to in a minute).
Visiting the facility provides two benefits. First, it allows you to try the aerial lifts yourself. Take the opportunity to check out extras like larger or extendable platforms and ask any questions you might have about performance. Second, it also provides the opportunity to see how the staff interacts with other customers and view the showroom and parts inventory. Does the operation look professional? Or are the facilities in disrepair with clutter lying around?
STEP 4: Ask about service.
One of the major benefits of an aerial lift is their return on investment. With proper maintenance such as lubrication, hydraulic fitting, parts replacement, and similar upkeep, the machine will practically last forever! So ask about the service packages and what they include.
Also, make sure you ask about breakdowns. Do they come to you for quick repairs? If your lift needs to go into the shop for more extensive work, will they pick it up and return it? Or do you need to transport it yourself? The qualifications of their technicians should factor in as well. How long have they been on staff? What kind of training do they have? How quickly do they work? Be sure to find out exactly what and what is not covered by the service agreement you're considering.
STEP 5: Check references.
The surest way to make a safe purchase is to go with the provider who has an established track record. The dealer should be more than happy to provide a list of their best customers. But you can still learn a lot from these people. When speaking to them, ask:
How long have you been a customer? How many aerial lifts have you purchased?
Did you get the right lift for your application?
Has the dealer done a good job with maintenance?
How quick was their turnaround for repairs?
Did you ever have to call on them off-hours? How quick was their response?
Did they provide training for your operators?
Would you buy from this dealer again?
What could the dealer improve about their operation?
Ultimately, the best aerial lift dealers are those that treat your business like a partner, learning what types of lifts your company needs and finding you the appropriate match.
Ready to Compare Aerial Lifts Price Quotes?