Choosing a Scissor Lift: Dealers Make the Difference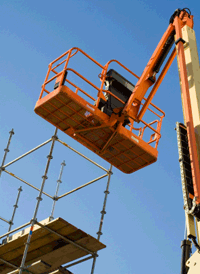 Cut Costs Using Scissor Lifts
Scissor lifts are designed to help workers reach inaccessible areas and work spaces, and are used for many types of construction and maintenance projects. Whether you're running a manufacturing plant or an industrial warehouse, a scissor lift can make the process of transporting and lifting heavy materials easy and efficient.
Scissor lifts are also known as "man lifts," "platform lifts," or "lift tables. Man lifts are a specialized type of aerial lift designed to transport people only, not large loads. These are often more compact and lighter than conventional scissor lifts. They are powered by electricity and hydraulic systems for smooth operation up and down. They are named for the shape of the supportive braces that propel the platform upward.
Features
Scissor lifts offer several benefits for work above the ground, offering a sturdy and supportive structure when it is necessary to reach and move between different elevations.
Some of the key benefits of scissor lifts include:
Non-tread tires for smooth operation
Easy joystick handling
Extended deck systems for greater reach
Hoisting and lifting multiple people
Accommodating heavier loads
Easy storage with fold-up structure
Multiple height options; can reach heights of up to 100 feet
Adjustable platforms for easy corrections while raised
While a new scissor lift may be the preference, consider that used scissor lifts offer all these benefits at a reduced cost. If you're only going to use the lift occasionally, a used lift is a great way to save money. On the other hand, if you plan to use the lift every day as a central part of your operations, it may better to spend a little extra on a new scissor lift to get the stronger warranty protection.
Optional equipment
Scissor lifts provide lots of support and are an excellent extension to mid-range lift activities. Work above the ground creates various demands and needs to accommodate. Manufacturers have released a myriad of scissor lift accessories for contractors to choose from to address those requirements. These additional components, when properly installed according to safety standards, make certain activities much easier and can convert a standard lift into a customized piece of invaluable equipment.
Extensions: Extensions attach to the scissor lift deck and make it larger than the original size. They often extend the platform sideways to provide more room to move, which is especially handy when workers need to reach past a wall or similar obstacle. Extensions come in many sizes and can add at least several feet onto the deck size for companies that need it.
Racks and Carriers: Racks, carriers, and similar components attach to the sides of the scissor lift and make it easier to carry building components up to the spaces where they are needed. Workers can store heavy parts like metal pipes, large panels, or unwieldy tools. The goal is both greater safety and the maximization of all available lift space. Secure bracket mounting is key to proper rack or carrier accessories.
Positioners: Positioners are related to racks but perform more singular tasks. Workers use them to hold especially large beams or pipes in place during installations. They act as levers and vises, carefully putting materials in place that workers would not be able to lift otherwise. Positioners are useful for mid-range duct work installation and similar projects.
Workstations: Workstations are some of the most varied scissor lift accessories. Basically they are workbenches installed on the deck, but the benches come in many different packages depending on the work. Maintenance packages offer plenty of tools and spare parts for factory repair, often including welders. Electrical work has a separate package with the tools, tests, and materials needed for electrical projects and wiring. A similar package is available for plumbers, too. Plenty of general workstations with outlets, compartments, and tool holders also exist for broader construction purposes.
Power Modules: Power modules help add new electrical abilities to the lift. These scissor lift accessories can help generate power for tools on the deck without the need for dangling wires, or convert between DC and AC power for both tools and lift energy requirements.
Nighttime Packages: Nighttime packages include an array of spotlights and bank lights so workers can see what they are doing in the dark, an ideal situation inside darker factories and tunnels, or during late-night construction projects. This is one of the simplest accessory packages available, but offers some of the most value for workers who need extra visibility.
How to select a used scissor lift
Investing in used scissor lifts cuts costs on an otherwise high-priced piece of equipment. However, you will still need to use the equipment for years to come so best value is more important than lowest price. There are several features to consider during your selection process.
With a variety of customizations available, including work heights, weight capacity, gradeability, and rough terrain capability, some lifts are far better suited to specific tasks than others. As a business owner, nobody knows your industry better than you. The scissor lift dealer you contact should be able to assist you. You will need to be able to provide information or discuss options on:
Height. Most scissor lifts can reach heights of 20 to 50 feet, not as high as some telescoping man lifts or boom lifts, with lifting capacities between 500 to 2,500 lbs.
Weight. The measurable strength of a scissor lift is the size of the platform and weight it can support. And you may not find the same lift-heights you would in other types of aerial lifts. Is weight more important than height? Or vice versa?
Fuel . A scissor lift can be powered by gas or electricity. Diesel or gas-powered scissor lifts - often called rough terrain scissor lifts - are great for outdoor use, but can't be used indoors. Electric scissor lifts are quiet and emission free, making them a better choice for use in warehouses or other indoor locations.
When selecting a used scissor lift outside of a new equipment dealership or at a new used dealership, consider all of the above, and when you make a selection ask for the maintenance records that include lubrication, hydraulic fitting, parts replacement, and similar upkeep. A quality dealer or personal seller will have them on hand to prove the reliability of the equipment and justify their asking price. If he or she cannot produce them, it is a good sign to keep searching and make another selection. Due to a somewhat limited range of motion and the environments they're typically operated in, scissor lifts are known for their ability to retain their value extremely well. Though they require regular maintenance that includes lubrication, hydraulic fitting, parts replacement, and similar upkeep, they remain a strong investment far into the future.
Ready to Compare Aerial Lifts Price Quotes?