Aerial Lift Drive Systems Usage and Pricing
Boom and scissor lifts come with a variety of drive system options - each engineered to provide the ultimate maneuverability, productivity, and safety in practically any work environment. From asphalt and polished cement floors to rocky landscapes and steep exterior gradients, aerial lift drive systems are responsible for some of the biggest gains in production and represent a critical concern when comparing models.
Here's how the four primary systems compare.
Aerial Lift Drive System Comparison
Type
Working Height
Weight Limit
Power Source
Estimated Costs
2 Wheel Drive
10' - 38'
500 lbs.
Electric
$33,000 - $72,000
4 Wheel Drive
33' - 56'
1,500 lbs.
Diesel
$40,000 - $75,000
Track Drive
36' - 48'
500 lbs.
Diesel / Electric
$31,000 - $40,000
Trailer Mounted
31' - 70'
1,530 - 7,700 lbs.
Electric / Diesel / Bi-Energy
$13,500 - $40,000
2-wheel drive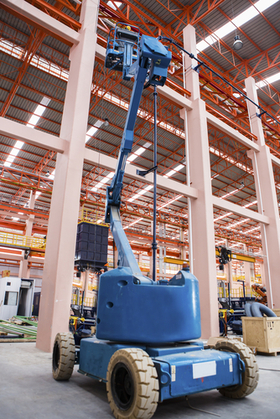 Though commonly found indoors or on smooth loading pads and similar warehouse applications, a 2WD boom lift can also be paired with all-terrain tires that enable it to tackle the outdoors and a gradient of up to 35%.
This type of drive system is typically electric-powered, which means it packs less of a punch than a diesel engine. It's a fact that's often reflected in weight limits, as well as height capability and available degree of movement (telescopic boom vs. standard). However, recent models provide an oscillating axle that extends the reach and functionality of these smaller-class machines. They further compensate for lower weight limits with decreases in charge time and extended runtimes. Plus, the design is often narrower than that of their diesel counterparts, enabling 2WD scissor lifts to easily pass through most standard doorways.
Further capitalizing on the electric design, many 2-wheel drive aerial lifts feature a drive system that's powered through just two hydraulic hoses and four hydraulic fittings. By minimizing the number of hoses, the 2WD design not only increases operational safety, it also cuts maintenance costs by reducing the potential for leaks and replacement parts.
Find it used: It's worth noting that 2WD models can be had for as little as $4,200 and as much as $18,250.
4-wheel drive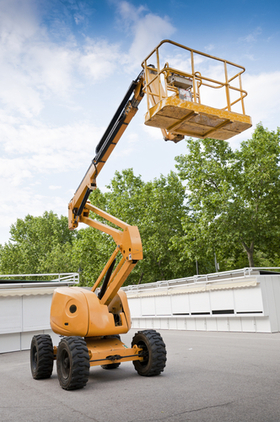 A 4WD boom lift and similar 4-wheel drive machinery is standard on many construction and industrial jobsites. Without getting too deep into the specifics of exactly how a diesel engine can outperform an electric model, there are a few key considerations to keep in mind - especially when it comes to rougher terrains and traction control.
On the whole, a 4WD aerial lift is created specifically for applications that require elevated workspace and maximum lifting capacity. To ensure safety, stability, and performance in the widest possible range of conditions, recent 4WD machines incorporate hydraulic leveling jacks as well as four-wheel drive and positive traction control that enable them to reliably perform on a gradient with an inclination or declination of up to 45%. Plus, the diesel design provides a greater degree of efficiency, often reducing the time required to raise or lower the lift to less than a minute.
Find it used: In the used category, 4-wheel drive units start around $7,500 and cap out around $32,000.
Track drive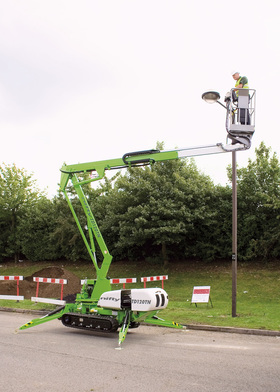 Combining the capabilities of trailer-mounted and self-propelled booms, track models offer the most traction on a variety of terrain. Built with treads like a mini-tank, these drive systems use hydraulic outriggers for quick setup and smooth, reliable operation.
Often diesel powered with 4-wheel drive, track models provide a wide range of functionality and movement through telescopic booms, fly-booms, and platform rotation. The track design also enables them to easily navigate extreme gradients - often up to 60% - and many offer the option of rubber-free urethane tracks, enabling them to be used indoors or on applications with easily marred work surfaces.
Find it used: Used models can range between $19,000 to $27,000 on the small end and up to $120,000 for a 440-lb. capacity, 17 hp model with a reach of 70 feet.
Trailer mounted / tow hitches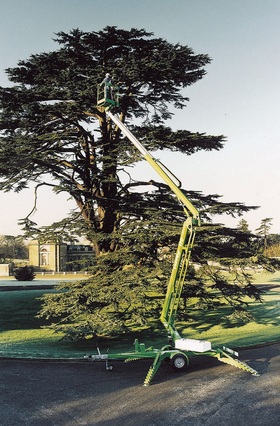 It sounds simple enough. And quite frankly, it is. A towable boom lift enables you to complete many of the same tasks as an electric or diesel-powered model but without some of the logistical hassles associated with transportation - not to mention machinery fuel costs. The compact nature of their design enables them to be placed in tight spots, and often right up against a structure, with a substantial up-and-over clearance that easily positions the boom over walls, buildings, and other obstructions.
Often using hydraulically-powered outriggers, trailed mounted boom lifts are easy to set up and level. Plus, many come equipped with traction drive, a feature that allows a single operator to maneuver and reposition the lift on-site and by themselves. This makes them well-suited to applications that include tree trimming, holiday decorating, construction, exterior and interior painting, as well as general facilities maintenance.
Find it used: If you don't want to go all-in on a new towable lift, look for used models in the $13,500 to $27,000 range.
Ready to Compare Aerial Lifts Price Quotes?