JLG Industries Combines Aerial Lift Manufacturing with Education
JLG Industries has been manufacturing an assorted range of aerial lift equipment since 1969. In that time, they've dramatically broadened their offerings, developing machines that serve a wide variety of specialized industries. They now produce one of the world's leading lines of aerial lifts, with brand name systems that include SkyPower, SkyWelder, SkyCutter, and SkyGlazier.
Combining versatility with performance, JLG lifts are engineered for the toughest work environments at the highest elevations. Some of the most popular types (and corresponding JLG prices) include:
JLG Product Offerings
Type
Lift Height
Machine width
Max Lift Weight Capacity
Estimated Cost
Engine Powered
20' - 63'
6'4" - 8'2"
500 - 1,000 lbs.
$48,500 - $155,000
Electric and Hybrid
20' - 44'
4' - 8'
800 - 2,250 lbs.
$30,000 - $42,000
Scissor Lifts (Engine/ Electric)
24' 46'
2'6" - 7'10"
800 - 2,250 lbs.
$22,000 - $45,000 (engine), $13,000 - $30,000 (electric)
Towable Boom Lifts
19' - 30'
4'9" - 5'7"
500 lbs.
$20,000 - $28,000
Telehandlers
18' - 55'
9' - 13'
5,511 - 12,000 lbs.
$42,000 - $170,000
Development for broad range of industries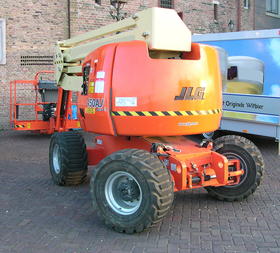 One of the interesting aspects related to JLG is that they've focused their product development on a number of different industries, a few of which are somewhat underserved elsewhere in the marketplace. The standard industries you'd expect are all there: warehouse and distribution, industrial, general construction, agriculture and landscape, and commercial and retail.
But it's the products developed for specialty niches that reveal the depth of JLG's commitment to the widest possible application of their machines. Some of the more specialized industries they cater to include:
Aviation and aerospace: JLG scissor lifts are engineered to accommodate an extensive range of weight capacities, enabling a number of workers and their equipment to safely perform everything from hangar maintenance and material loading to pre-delivery and flight-line inspection. Plus, with articulating booms, the areas of an aircraft that were once problematic to reach and service are now easily accessed through machines that fit into almost any space.


Demolition and heavy construction: JLG boom lifts, JLG scissor lifts, and telehandlers all have the capacity to safely and efficiently perform a broad range of construction jobs, including heavy-duty tasks like bridge removal, reconditioning, and building demolition, as well as more delicate jobs like the removal of glass panels.


Entertainment: Telescopic booms are essential to a variety of stage and screen productions for their ability to hang sets and lights from some of the highest locations. But the entertainment industry isn't limited to just theatre, film, and TV alone. Stock pickers and aerial work platforms are also commonly used within concert and sports venues and theme parks to hang signage, replace lights, and decorate for themed events and holidays.


Mining: Similar to the needs of heavy construction, the mining industry relies on a number of different aerial lift platforms and JLG telehandlers for the maintenance and construction of mining infrastructure. Machines are used to access overhead conveyors, processing facilities, and in the general servicing and construction of buildings around the site.
Product and safety training
With a mission statement that includes a desire to be "more than a manufacturing company," JLG has made a notable commitment to providing a high level of training related to the service, safety, and parts involved with their products. Courses are focused on optimizing productivity and minimizing downtime to provide the maximum ROI for each purchase.
Known as the JLG University, classes prepare attendees with the knowledge and best practices related to the machines themselves and also reportedly teach the tools that will enable attendees to effectively train additional employees – making it highly valuable to those who are responsible for training staff within their company.
The trainings are offered in three different formats to suit both geographic limitations and time. Available formats include:
Traditional classroom setting: In-person instruction located at JLG training centers and dealer locations throughout the United States.
E-Learning: a self-paced option that's delivered electronically via the web without an instructor.
Online: Also delivered through the Internet, this option includes an instructor who delivers the training and course material electronically.
Upon successful completion of one of the above listed options (with a passing grade of 80% or better), attendees are qualified to perform periodic inspections, prescribed maintenance, and warranty repairs on the types of JLG equipment addressed within the seminar.
JLG also offers a three-day safety training course in which operators can get their qualifications updated on AWPs and telehandlers while gaining the necessary skills to provide operator training to employees within their respective companies.
Ready to Compare Aerial Lifts Price Quotes?