Niftylift Provide Top Notch Aerial Lifts with Safety in Mind

Niftylift is one of the largest manufacturers of cherry pickers, boom lifts, access platforms, lift platforms, and work platforms in the world. They sell their products throughout Europe, the US, Middle East, Far East, Australia and South Africa.
Niftylift has a model for a variety of jobs; whether you need a small lift for interior work such as holiday decorations in a shopping mall or a bigger lift for washing windows outside a large building, Niftylift provides durable, quality cherry pickers and booms. More importantly, the company is well-known for providing safety options like their proprietary SiOPS(r) system.
SiOPS
Anyone who has ever worked a lift knows that accidents can happen. Occasionally, an operator can become trapped between the machine and surrounding objects which can force the torso onto the controls. If this contact engages the wrong control, the results can be fatal.
Niftylift's proprietary SiOPS(r) system was developed so that when it senses the operator has been forced onto the controls, it immediately ceases action. This is extremely important because the foot pedal acts like a clutch on a four wheel drive. When it is depressed, the operator is allowed to move the machine both forward and backward by pressing a lever. If the operator keeps his foot on the pedal and his torso hits the lever, the machine can inadvertently move causing injury to the operator and damage to surrounding property.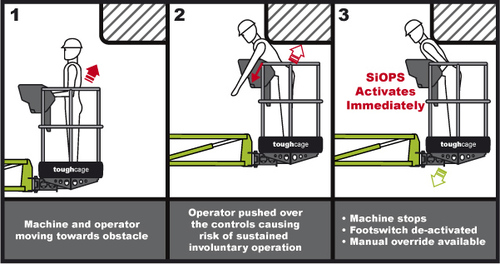 Photo courtesy of Niftylift
Hybrids
Niftylift has built three specific models of self-propelled, hybrid boom lifts that range from a maximum height of 45 feet to 85 feet. The benefits of a hybrid model are largely in cost of operation and lower emissions. Fueled by diesel, each hybrid model can automatically utilize its electric motor to boost power whenever necessary.
Each model runs on a smaller engine which reduces fuel consumption. The units have an exhaust purification system that reduces CO/NOx, particulates and noise emissions.
Another benefit is that these hybrids are suitable for indoor as well as outdoor use because they can run solely on battery power. All hybrids include the SiOPS(r) system.
Products
Trailer mounted cherry pickers
Trailer mounted cherry pickers are available in working heights from 30 feet to 69 feet. They have user-friendly proportional controls and include features such as telescopic booms, platform rotation, traction drive and more.
This type of machine is ideal for businesses that have to move their cherry picker from site to site. Power options available include: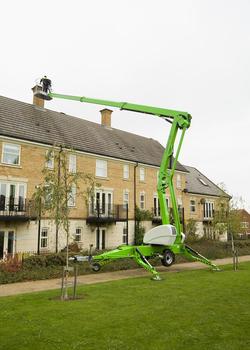 Battery
Mains
Gas
Diesel
Bi-Energy (battery plus diesel)
Cost:
New 2013 TM34: $14,380
New 2014 TD34T: $41,000.
Used 1998 TM34's listed as low as $6,000
Used TM33: $9,750
For your customized quote, use our free quote request tool.
Self-propelled cherry pickers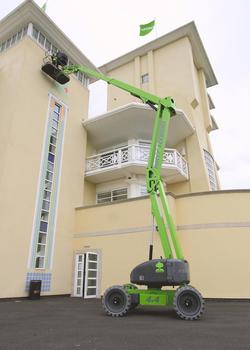 Self-propelled cherry pickerscan run on mains, gas, diesel, and hybrid. The hybrid is their most efficient, economical and environmentally friendly power source. These also offer telescopic booms, platform rotation, and traction drive.
Each model is compact and easy to move. They can be driven from the platform in any boom position which can save time and add to efficiency.
Popular models include:
The Height Rider 10: Features a tight turning circle and has a working height of 33 feet. You will see this unit in many restricted areas like warehouses and factories.


The HR28 Hybrid 4x4: has a working height of 92 feet and has all the energy conservation that the Hybrids offer.
Self-drive boom lifts
Self-drive boom lifts combine all the features and conveniences of the trailer mounted and self- propelled cherry pickers. Driven from the platform while stowed, four-wheel drive chassis options maximize traction and hydraulic outriggers allow fast setup.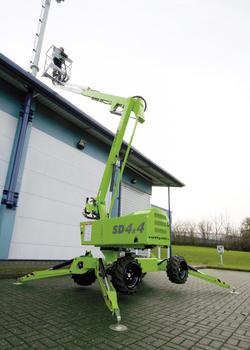 Models are available with work heights from 49 feet to 69 feet.
Cost:
SD64: $400 per day/$1200 per week depending on your location. This does not include transportation to your site.
Rental of a brand new SD64 for $1,200 per week or $3,600 per month
For your customized quote, use our free quote request tool.
Niftylift track drive booms
This unit is primarily diesel powered but also allows the use of mains power for booms operation once the machine is set up in position. Working heights range from 40 feet to 56 feet.
This type of cherry picker is designed to travel over uneven terrain similar to a tank; it offers maximum traction on steep gradients.
Static base boom lifts
Static base boom lifts were developed specifically for contractors to remain in compliance with 'working at height' regulations in the steel industry. It sits on a steel sled that has lifting points that allow it to be craned into position quickly and easily.
Their low weight allows them to be used at a much earlier stage of construction than a standard self-propelled unit. Reliance on waiting for the slab floor to achieve sufficient load bearing strength can be removed by using a static base boom.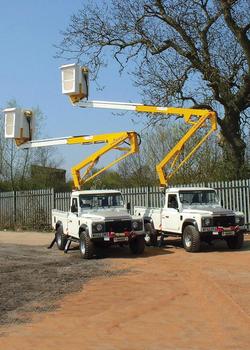 Vehicle mounted boom lifts
Vehicle mounted boom lifts have extra safety features installed. With working heights of 30 feet and up, safety interlocks prevent these models from being used when incorrectly set up and will not allow the vehicle to be driven while the Power Take-Off is still engaged.
You will see regular use of these units by utility companies including:
Electric
Cable and telephone companies
Billboard painters
Niftylift training program
Niftylift offers an International Powered Access Federation-approved (AWPT) course which is suitable for anyone who operates a Mobile Elevated Working Platform. After completing the one- to two-day course, the participant will receive a Powered Access License which is recognized around the globe. This license is valid for five years. When the license is received, the 'graduate' will also receive a logbook, an Operator's Safety Guide and an AWPT certificate.
Classes are held at Niftylift's home base in Milton Keynes, UK or at your premises as long as there is the appropriate machinery for the training course content. The AWPT training program for platform operators meets OSHA requirements and is based on the IPAF training program.
Niftylift's compact and low-weight articulating booms offer maximum performance and reliability. Innovations like the SiOPS(r) system and Hybrid technology give their cherry pickers, boom lifts and work platforms an advantage in terms of safety and environmental consciousness.
All images are photo courtesy of Niftylift
Ready to Compare Aerial Lifts Price Quotes?