Choosing the Right Time for Commercial Cleaning
Several factors can influence what you deem to be the best commercial cleaning time for your business, institution, or organization. Scheduling, energy consumption, security issues, and even the availability of public transportation for workers will weigh in your decision. Selecting a specific time to clean may even affect and enhance your employees' productivity.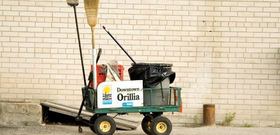 Here's a quick rundown on the advantages and disadvantages of nighttime and daytime cleaning services.
Nighttime Cleaning
Advantages: Traditionally, institutions and offices are cleaned at night. When cleaning takes place while employees and clients are at home, workers are free to move furniture at will, without the need to worry about third parties' safety or convenience. Whereas daytime cleaning jobs will have to be mindfully planned around safety and schedule considerations, tasks that take place at night can be accomplished at any time outside of business hours. For this reason, cleaning crews may be able to accomplish tasks at a faster pace. Additionally, workers can use noisy cleaning equipment without disturbing employees.
Disadvantages: Nighttime may not be suited to you if you're looking to save money. Cleaning that takes place in the evening can be much more expensive than the daytime alternative. You may find that your options are scarce. Daytime cleaning's rise in popularity, service workers' preference for day shifts, and the unavailability of nighttime public transportation can make for an unreliable or simply unavailable evening workforce. If you require regular cleanings, daytime workers may provide this benefit.
Daytime Cleaning
Advantages: Hiring a cleaning crew to perform their services during the day can reduce your building's energy consumption, which can save you money and support green initiatives. This is because daytime crews are able to use the lighting and air conditioning that's already on during business hours to complete their tasks. If your business deals with confidential data, using daytime services can further help protect this information and improve the overall security of your building. You also have the potential to reduce accidents on your property.
Disadvantages: When workers performing cleaning tasks during the day, the noise and physical processes may distract your employees. Similarly, the cleaning of regularly used common areas, such as bathrooms, waiting areas, or break rooms, may pose some degree of inconvenience for workers and clients alike. If your staff has not been allowed to incrementally adjust to the presence of cleaning services during business hours, these distractions may result in lower productivity rates.
Ready to Compare Commercial Cleaning Services Price Quotes?