Keeping a Gym Clean Should be No Sweat
Consumers choose a gym membership based on a variety of personal factors, such as location, price, and their own lifestyles. But of all the ways to attract members, one major factor will always repel them: a dirty facility. People go to the gym to get healthy. So it's a tough sell when equipment, countertops, and the changing rooms all look like they could potentially make them sick.
For some people, one good case of athlete's foot or a staph infection is enough to make them look elsewhere.
Who cares?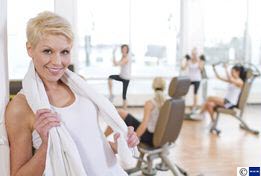 The average gym member visits your facility twice a week. That's a lot of time, considering most people have few precious non-working hours to spare. So you need to make the facility as inviting as possible.
Though many of your members have begun to use their own disinfectant wipes and sprays on high-traffic items like treadmills and cardio machines, other equipment that includes dumbbells, free weights, mats, and balance balls are often overlooked. At the same time, high-touch items like handrails, tables, keyboards, vending machines, phones, and drinking fountains are also potential risks for transmitting infections.
All business owners need to demonstrate that they're taking extra steps to keep patrons healthy. According to the International Health, Racquet and Sportsclub Association (IHRSA), gym cleaning is a big issue for gym goers who feel as though they're being exposed to health issues. Don't give anybody room for doubt about the cleanliness of your facility or you may lose some customers in addition to keeping new members away.
What's the solution?
Outsourcing your cleaning needs to a third-party cleaning service is one of the easiest ways to make sure your facility always meets standards for health and cleanliness. Cleaning staff should have regular schedules that keep the facility in good condition at all hours. Just remember to avoid having them perform services around peak gym-usage times, typically between 5 p.m. to 7 p.m. on weekdays.
Professional gym cleaning services often include:
Towel service
General waste removal
Exercise studio/classroom wipe down and sanitation
Routine equipment wipe down and sanitation
Kitchens and snack area
Carpet cleaning
The service should follow stringent rules for cleanliness, as the demands of a fitness facility are higher than standard commercial cleaning for offices or a retail center. Locker and shower rooms, especially, need cleaning and disinfecting on a regular basis. Another critical part of a cleaning service's job will be to keep hand-sanitizers stations, paper towel/disinfectant stations, and all soap dispensers in the shower rooms and rest areas well-stocked.
A special service should also be contracted to manage your pool, spa, saunas, and steam rooms.
Ready to Compare Commercial Cleaning Services Price Quotes?