How to Choose Janitorial Contracts for Commercial Cleaning
Every commercial cleaning contract is vastly different, depending upon the terms and conditions offered by a cleaning company. To get the highest level of service at the best price, it's important to research your options and investigate a variety of janitorial contracts before signing an agreement.
So we've gathered the following tips to help you choose the right cleaning service contract to meet your needs.
What is a commercial cleaning contract?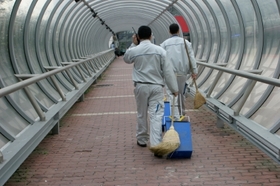 A commercial cleaning contract details the amount of work that needs to be done during a specific time period, as well as the typical services that will be offered. Depending on your facility and even certain areas within your facility (i.e. public- or street-facing areas), specialty services such as pressure washing for the exterior of a building and carpet steam cleaning may need to be added into a janitorial contract. These services will incur an extra charge.
What does "right to cure" mean?
A basic cleaning service contract will include a "right to cure" period. If at any time you're unhappy with the service provided, you can ask for a cleaning service to redo the work or receive a credit to your bill, provided the work was sub-par. If a company continues to provide sub-par service, a business can often get out of their cleaning contract without penalty thanks to this clause.
To protect yourself from potentially bad service, read prospective janitorial contracts very carefully to ensure the "right to cure" clause is included.
How can I make sure the contractual items I can't see are getting done?
If your contract includes mopped floors three days a week, you should be getting the service whether they visibly need it or not. To ensure that a commercial cleaning company is living up to its contract, and your standards, many business owners recommend installing security cameras throughout an office.
This precaution also has the added measure of protecting your company from any legal repercussions should a sub-contractor be injured on your property, further assisting with an investigation if items are stolen or damaged. In the case that you need to use your "right to cure" clause to end your contract prematurely, video surveillance will help protect you from any legal action.
Is it necessary for a janitorial contractor to be licensed, bonded, and insured?
Yes. With just basic janitorial supplies and chemicals, a vacuum, and a cleaning crew, anyone can own a janitorial cleaning "business." But without any guarantees, that's a business you'd want to steer clear of. A legitimate janitorial company should be able to provide proof of business license, adequate worker's compensation, liability insurance, and commercial auto insurances (for employees that travel to and from in a company vehicle). In addition, they should be bonded to prevent loss in case of damages to your office environment or equipment.
How long are typical janitorial contracts?
The average janitorial contract lasts for one year. Depending on your specific business needs, a longer contract of 2 to 3 years can be secured. Before signing an agreement of that length, compare quotes from several providers until you find the most affordable rate with the best service in your area. Most commercial cleaners will provide a free evaluation and quote prior to drawing up a contract, enabling you to compare rates from several providers.
What should you expect to pay for a standard janitorial contract?
You also have the right to negotiate your services and pricing. This negotiation is necessary to ensure a commercial cleaning company will offer you the fairest price for the services you agree upon.
Expect to pay between $20 to $45 per hour, $40 to $90 per cleaning (for a 3,000 square foot facility), and $400 to $600 per month, depending on the specific services you need as well as your geographic location. Remember, cheaper isn't always better. So make sure you balance quality of service against cost.
Ready to Compare Commercial Cleaning Services Price Quotes?