School Cleaning Services That Make the Grade
Clean school environments lay the foundation for organized minds, which can result in higher student and faculty performances. Hiring a commercial school cleaning service can help you address issues of air quality and toxicity at your institution, and keep you in compliance with federal laws.
Advantages of commercial cleaning services
While your janitorial staff might adequately clean and maintain your school, there may be no substitute for the services provided by commercial cleaning professionals. Thorough and intimately familiar with campus environments, these cleaning services understand the tasks that need to be performed for all schools, and are prepared for your specific environmental challenges, whether your institution is public or private. They may also be able to contribute to green and energy-efficient initiatives your school district has implemented.
Air quality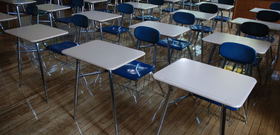 Mold is one of the most common sources of breathing problems today, and mold is common in many buildings. Both faculty and staff can be affected by its presence in classrooms, though children may be especially susceptible. By hiring a professional service to clean your school, you can reduce health problems, such as asthma, and cut down on sick days for both students and staff.
Thorough cleaning can also help combat traces of radon, organic compounds, and volatile organic compounds within your school. Dirty filters or more serious heating, ventilation, and air-conditioning issues can produce unhealthy air. If your building is older, you may benefit from cleaning services that specialize in facilitating the removal of airborne irritants.
Toxic substances
Asbestos, mercury, and lead are toxic substances commonly found in schools, and these substances can pose significant health risks. Their removal can be mandatory, and their safe disposal can depend on the expertise and skill of professionals. Commercial school cleaning professionals are capable of performing this type of cleanup. They may even be able to address potentially hazardous chemical exposure on the exterior of schools, like the unchecked use of pesticides.
The Law
Keeping a school clean and tidy is about more than just superficial housekeeping. Several laws govern the environment that a school should offer to its students, including those that pertain to cleanliness and hazardous materials. Both the interior and exterior of a school need to comply with laws set forth to protect the health and minds of children. When searching for a commercial cleaning solution for your school, vet potential services for their familiarity with these mandates. In addition, the Environmental Protection Agency provides clarification about these laws, information about cleaning programs, or tips on how to make your school clean and green.
Lower costs
In light of diminishing budgets, one of the emerging trends in education is the outsourcing of janitorial services. In the United States, the starting salary for a school janitor is between $22,000 and $45,000, capping out around $105,000. Add to that base salary additional expenses that include payroll tax and benefits like insurance, 401(k), vacation and sick pay, and you've got a final cost that could easily top $130,000 per year for a single janitor.
In contrast, outsourced janitorial services are billed hourly and offer services that can be contracted daily, weekly, or even monthly. Costing between $20 and $45 an hour, depending on what you need done, professional services may bill you for 3 to 4 hours a day to empty waste baskets, clean bathrooms, and sweep the hallways. This adds up to a total annual cost that falls between $20,800 and $46,800 - well below the top salary a permanent janitor would need to be paid.
Outsourcing janitorial services can help you control operating costs and channel as much of the budget as possible toward the education of your students.
Ready to Compare Commercial Cleaning Services Price Quotes?