Hospital Cleaning Best Practices
Traditional hospital cleaning methods such as mopping, dusting, scrubbing, and vacuuming are here to stay. But many hospital and health care facilities are moving toward new technologies and approaches to keeping their centers clean. Moreover, regulatory agencies such as the Occupational Safety and Health Administration have come up with stiffer standards to ensure patients get a comfortable and safe hospital stay.
With the issuance of stricter regulations, the use of protective personnel equipment such as clothing, gloves, aprons, goggles, and alcohol-based hand rubs is even higher now. However, patient needs and demands are driving cleaning providers to explore new options.
Here are a couple of the most popular currently on the radar.
Standards that prevent infection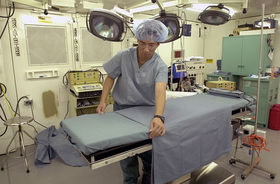 Compared to cleaning other facilities, hospital cleaning is an entirely different story. Protecting lives is the main goal, and patient comfort the direct benefit. Specialized cleaning means paying attention to every detail and using specific methods to clean different types of rooms or areas. For instance, an operating room needs meticulous cleaning and lots of disinfectant applications, while a hospital hallway needs shiny waxing.
Healthcare Associated Infections (HAI's) remain a cause of death in hospitals across the country, 75% of which are estimated to be completely preventable with proper cleaning procedures. With many states now requiring hospitals to release their infection rates, cleanliness is becoming a determining factor for many people on whether they opt for treatment at your facility or somewhere else.
When comparing hospital and medical facility cleaning services, look for those who adhere to established standards by names you trust, including:
Association for the Healthcare Environment (AHE)
Association for Professionals in Infection Prevention (APIC)
Association of periOperative Registered Nurses (AORN)
Centers for Disease Control (CDC)
Green cleaning
At this point, 100% green cleaning is not possible, as medical facilities still need chemical disinfectants to kill disease-spreading microorganisms. However, using greener and more sustainable cleaning initiatives whenever possible can contribute to a healthier patient environment. For instance:
Soap and water are best for hand-washing
Color-coded microfiber cloths and floor pads significantly reduce chemical use
Vacuums with special HEPA/ULPA filters provide cleaner air
Specialized chemical-dispensing systems ensure accurate dilution
Creating cleaner hospitals is part of the Healthier Hospitals Initiative, a nationwide group of more than 600 medical facilities that have pledged to revise both their facilities and the way they're maintained to ensure their operation is safer for the patients and more environmentally friendly. Under this commitment, facilities that used to clean surfaces with disposable alcohol wipes now use non-alcohol, non-bleach wipes treated with chemicals that have been found to be gentler. They only use bleach to cleanse hard-to-kill bacteria in rooms after patients check out or in rooms with patients who have infectious diseases.
When considering a green cleaning service, compare the products they use to the list of nontoxic products approved by Green Seal, the sustainability certification agency.
A hospital that looks clean is great, but one that actually is clean can save lives. Cleaning hospitals is a crucial task that requires all employees to follow best practices to prevent health-associated infections among hospital staff, visitors, and cleaning crew, and most importantly, provide the best patient experience.
Ready to Compare Commercial Cleaning Services Price Quotes?