What You Need in a Commercial Warehouse Cleaning Service
Hiring a commercial warehouse cleaning service can end up saving money for your business. It might seem impossible that paying a service to clean when you can have one of your workers push a broom around could save you money. But there is a lot more to properly cleaning a warehouse than just sweeping the floor. Your workers are probably not trained to safely take on some of the cleaning tasks, such as rafter cleaning, and there are liability issues to consider as well.
What they should provide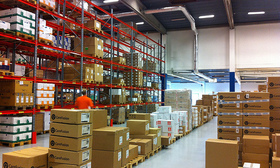 Regardless of what your facility produces, stores, or functions as, a large warehouse has an endless number of exposed nooks and crannies that attract dust, grime, and debris. To combat that build-up and keep your facility clean and healthy for employees, warehouse cleaning services use specialized equipment that's designed for these specific applications, including backpack vacuums, commercial HEPA-filtered vacuums, heated pressure washers, and power scrubbers.
With this equipment, there are a number of areas a professional warehouse cleaning service typically focuses on:
Overhead maintenance. Cleaning should address ceiling and all support structures and beams, rafters, duct work, lighting, conduit, and piping.
Walls. Service aspects should address all exposed wall surfaces as well as any conduit, fixtures, motors, doors, and electrical panels.
Floors. This would seem like an obvious aspect, but there are a number of specialized processes used to clean a warehouse floor, including a heavy-duty citrus degreaser that gets up more grime that other cleaning solutions and cleans within the tiny divots and pockmarks that tend to form on a warehouse floor.
Heavy machinery. Unlike standard janitorial services, warehouse cleaners are accustomed to the mechanics associated with industrial machinery, including racks, conveyor belts, and assembly lines. Using a combination of machine-friendly brushes and vacuums, they can effectively clean the surface without accidentally throwing the machine out of alignment.
Business license, bond, and insurance
Ask if the cleaning company and its employees are insured, or bonded. Look for written proof of this in the contract as well. With the enhanced potential for physical injury that's often present in a warehouse environment, this ensures your property will be covered against damage or theft by cleaning crew workers.
Make sure the service carries worker's comp to cover the cleaning crew. That way, if a cleaning crew member gets hurt on your property, the liability for medical expenses will fall to the cleaning service and not your business.
Provide MSDS for the commercial warehouse cleaning crew
You probably already know about laws requiring you to provide safety information to your workers, but did you know you also need to provide that information to outside workers who come into your warehouse?
You will understandably not want to give away any company secrets, but you do need to provide material safety data sheets, or MSDS, to the cleaning crew. This is because the crew will be interacting with the contents of your warehouse. These data sheets give workers legally required access to information needed to safely clean spills.
Ready to Compare Commercial Cleaning Services Price Quotes?