Office Coffee Services Introduction
If you're looking for an inexpensive, low-maintenance benefit to offer your employees, a coffee service may be right for you. A coffee service seller can supply your office with a variety of hot beverages at reasonable prices and state-of-the-art brewing equipment for little to no cost. Supplies are delivered as often as you'd like, and delivery technicians will even clean and service the equipment.
The benefits of coffee services are two-fold. Obviously, employees get to enjoy their favorite beverages whenever they want, (usually) free of charge. In addition, a coffee service helps motivate employees and increase their productivity.
A 2006 study by the National Automatic Merchandising Association (NAMA) showed that 79% of office employees with access to complimentary coffee and other hot beverages are more productive and feel appreciated by their employers. And you prevent downtime and lost labor by keeping workers at their desks rather than in long lines at the local coffee shop.
From small law firms to large manufacturing plants, all kinds of businesses can benefit from coffee services. Overall cost can be a deterrent, though: prices can range from six to 60 cents per cup, depending on the quality and the brand of coffee. This can add up: coffee services for a 50-person company, for example, can cost several hundred dollars per month, depending how much everyone drinks.
Any business with more than 20 people is a candidate for office coffee services. If you have fewer than 20 employees, you're probably better off buying a small coffee maker and a few pounds of coffee from the local supermarket.
This BuyerZone Office Coffee Service Buyer's Guide will take you through:
The various services and coffees available
How to determine if it's right for your business
How much it will cost
After learning about the options and cost, we can provide you with free custom quotes from multiple coffee service sellers in your area.
---
Start your search by familiarizing yourself with the most popular coffee brands listed below, as well as some preferred non-coffee alternatives.
---
Brands and Flavors
Coffee service sellers can often provide cold beverages, snacks, spring water, or even pre-packaged meals. However, their main focus is coffee and its related offerings. Today's office coffee options include far more than the standard black coffee of the past: gourmet coffee, Keurig K-Cup machines, name-brand coffee like Starbucks and Dunkin Donuts, and much more.
Coffee service flavors and gourmet brands
As the name of the service indicates, coffee is the primary focus. Most sellers offer regular and decaffeinated coffees from local and national manufacturers. You can select from a variety of flavored, gourmet, or even organic brands for an additional cost. Some brands you can expect to find:
Green Mountain
Starbucks
Peet's
Wolfgang Puck
Lavazza
Dunkin Donuts
Luzianne

Javarama
Barnie's
Alterra (formerly Flavia)
Caribou
Highland Estates
J. Traders
Many sellers also provide the creamers, sweeteners, and stirrers for employees to make a cup suitable to their individual tastes.
What about employees who don't drink coffee?
For individuals in your office who don't drink coffee, there are plenty of other non-caffeinated options. Options include teas (Luzianne, Luzianne iced tea, Golden Leaf, TAZO, Bigelow, Celestial, and others), hot chocolate (Nestle), juice (apple, orange, cranberry, V8, and others), instant coffee (Sanka), and of course, water. You can sometimes add instant soups and oatmeal as well.
Equipment: K-cups and More
Coffee services sellers typically provide the brewing equipment you need at no charge. Brewers can cost hundreds or even thousands of dollars, but you don't pay anything extra – you simply return the equipment if you discontinue the service.
However, you may need to order a certain amount of product each month to be entitled to the equipment. In lieu of a minimum spend, some sellers will rent the equipment for a monthly fee.
The type of equipment you get varies from company to company. Most of the industry uses coffee brewers with standard glass carafes or vacuum/thermal pots. Some brewing systems connect to your water line for a constant source of hot water. This can add to your startup costs, as you'll have to pay for installation as well as replacement cartridges every few months, but it can really simplify and speed up the coffee making process.
However, the high-end market is shifting towards single-cup dispenser units that make cups of coffee from individual fractionated packs ("frac pacs") or the Keurig-specific "K-Cup."
Why are K-Cups and other single-cup systems so popular?
Keurig machines are attractive for businesses small and large for several reasons:
They allow coffee to be made on an as-needed basis, which means that entire bags of coffee beans aren't wasted to fulfill the caffeine fix of only one or two employees.


They also provide consistently fresh cups of coffee in a wide variety of flavors and brands


Single-cup brewers are very fast – it can take less than a minute to prepare each cup.
However, they're also more expensive – K-Cups can cost four to five times more than a standard cup of coffee – and you can't brew coffee for several employees at once. To offset some of the expense, you could add a coin-operated mechanism and charge employees a small fee per cup, but employees may look outside the office to meet their caffeine needs if they're expected to pay.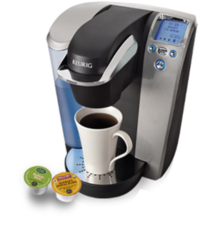 Photo courtesy of Keurig.com
K-Cups are also available in a range of gourmet blends and flavors. These are just some of the most popular brands for K-Cups:
Wolfgang Puck
Green Mountain
Caribou Coffee
Dunkin Donuts
Starbucks K-Cups
Like a good cup of joe, the coffee services industry is small but strong. And that makes your choice easy and hard at the same time, with fewer choices all offering great service.
Comparing Office Coffee Sellers
The office coffee industry consists of a few national companies that will service large U.S. businesses and smaller companies that work directly with local businesses of 20 or more employees. National coffee distributors can offer years of experience to advise you on an optimal setup, but are usually more expensive.
The smaller "mom and pop" outfits can offer a more personable relationship since they have a community presence, as well as potentially lower prices, but they might not have access to the best equipment or certain premium coffee blends.
You can also sign up for office coffee services online, which can provide considerable price breaks. However, your choices of brewing equipment through an online seller may be more limited, and it may be difficult to arrange terms that work for you.
Taste tests
Since the taste and quality of your coffee will be a top priority, it's important to sample the various coffees available before making a decision. Office coffee sellers will not only provide free samples, but also may host "coffee tasting parties." This allows your employees to test different coffees - and other beverages - and determine what they like. Best of all, the seller uses the brewing equipment you would get so you know what to expect when you brew on your own.
Comparing costs
Obviously, cost is an important consideration, but you should try not to get too caught up in choosing the seller with the absolute lowest prices. One seller may offer the best price, but the money you save may pale in comparison to the problems you may get from poor equipment, low-quality beverages, or unhappy employees. You should put an equal weight on customer service and quality when making a decision.
Stock and availability
How quickly do you need to get office coffee services set up? You can be ready to brew the first pot as soon as the next day. It depends on how quickly the coffee seller can get brewing equipment from the warehouse.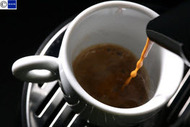 If it's a popular model, it may not be in stock and the seller will have to special order it. This can take one to two weeks before you receive your first delivery.
References
References are the best way to determine if an office coffee seller is worthy of your business. If possible, try to get references from your area. You can also get details in person about the buyer's experience with the seller. Make sure to ask things such as:
Do they offer a large variety of coffees?
How quickly do they respond to problems?
Did they try to sell you anything you didn't want or need?
Are orders delivered on time? Do they ever miss deliveries?
Do they offer both live and online customer service?
If you are unsatisfied with a product, do they replace it for free?
Did the seller explain to your staff how the equipment worked?
Are the delivery technicians friendly and helpful?
Do you have online access to your account?
Is it easy to revise or cancel an order?
Do you get advance notice of price changes?
Establishing a relationship
Regardless of the type of office coffee seller you work with, you want to create a strong relationship with a company that provides prompt and friendly service and offers flexible service terms. Every seller differs in their offerings so it's important to speak with several sellers to find the one that offers the best mix of price, quality, and service.
---
Before you get on the phone with a single seller, it's important to know how much you can expect to pay and how those prices are determined. While some costs are relatively fixed, others may be negotiable (or even included as part of the service with some sellers).
---
Office Coffee Service Pricing
The general rule of thumb for office coffee service pricing is $60 to $120 per employee per year. You must be comfortable with these costs to determine if it's right for your business. The last thing you want is to take the perk away from employees because you discover you really can't afford it.
Take a look at prices for office coffee services as reported by other BuyerZone users to get an idea of what other businesses are paying.
The cost for office coffee service comes primarily from the actual beverages. A case of 24- or 48-count pre-ground coffee bags (1.75 or 2.2 ounces each) costs about $20 to $40 per box. Expect to pay more for larger quantity cases or premium coffee blends. Cases of individual Frac Pacs for single-cup brewing systems can range from $30 to $60 per 42-count case.
Expect to pay about $5.00 for a 24-count box of assorted teas or 100-count box of regular or decaffeinated tea. A box of hot chocolate costs $10 to $15 depending on the quantity. Cases of instant soup can range from $10 to $50.
Consumables may be included as part of your office coffee service agreement, but if they aren't, the additional cost is minimal. Small quantities (50- to 250-count) of cups, lids, creamers, stirrers, sugars, and artificial sweeteners will cost an extra $5 to $20 per month. Expect to pay more for larger quantities (250-count and more).
You can also get competitive pricing on supplies such as napkins, tissues, plastic cutlery, first aid items, or even over-the-counter medicines. Prices for paper products can range from $15 to $100 or more, depending on quantity. Medicine prices can range from $5 to $20, depending on the quantity and brand. Expect to pay anywhere from $5 for a 100-count box of adhesive bandages to $50 for a first-aid kit.
Most office coffee service sellers include shipping or delivery charges as part of the service. If applicable, these fees can be either a fixed dollar amount or a percentage of the total amount spent for the month. If you want a special order outside of your typical order day, you will pay a nominal charge for shipping.
If you don't commit to purchasing a certain amount of coffee each month, you may be able to rent the brewing equipment for $40 to $50 per month. Check with the individual office coffee service seller to see if rentals are offered and if the monthly fees also cover regular maintenance.
Contracts
Some office coffee service sellers may require you to sign a contract to get service. The contract details the equipment, products, and delivery terms for the duration of the contract, usually one year. The agreement automatically renews unless you cancel it, and you may have to pay a penalty if you cancel service before the year is up.
However, most office coffee service sellers don't require contracts because they know customers dislike being locked in to long-term agreements. Instead, sellers require minimum orders each month to keep the equipment.
Minimum orders will vary significantly from seller to seller. Some sellers consider one case of coffee to be the minimum, while others require specific dollar minimums of $50 to $100 or more. If you don't reach these minimums each month, you may be charged a fee; in some cases, the seller may cancel your service altogether.
Some sellers don't require a contract or minimum orders. They do still need you to have a certain number of employees regularly using their products to be assured that your orders will justify the cost of sending a delivery technician to your office.
Office Coffee Service Buying Tips
When you've settled on a budget and are ready to get on the phone with sellers, take a minute to review these final suggestions compiled from some of BuyerZone's leading office coffee services.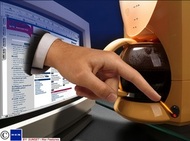 These tips can help you in selecting the type of service your employees will be most excited about. They also cover an aspect of customer service that will be critical if people aren't able to get their morning dose of caffeine.
Coffee vending. Some office coffee services vendors can equip your office with a coffee vending machine. Even though employees pay for anything they buy, it can still be very expensive to maintain. To be cost effective, coffee vending machines should only be considered by companies with 100 or more people who will access the machine daily such as hospital waiting rooms or hotel
Seek staff input. To determine if office coffee services is right for your business, ask your employees. Find out how many of your employees would use the equipment and products, and if there are specific items they want. This not only helps you decide if it's worth the effort and expense, it shows that you value their input.
Instaservice. If there's ever a problem with the brewing equipment, the office coffee services vendor should schedule immediate repair work or order replacement equipment so you're not without coffee service for long. Also, if you think you may "outgrow" the equipment, a vendor should provide an upgrade as part of your service.
E-billing. Try to find a service that provides electronic billing and invoicing. Electronic invoicing lets you see exactly what you received and how much you paid for every item delivered. Also, electronic signature capture for each delivery can eliminate confusion about whether or not an order was delivered.
Glass or thermal containers? Thermal containers keeps coffee hot and fresh for up to eight hours, but you won't be able to see how much is left. Glass pots let you see exactly how much coffee is left, but they only keep coffee fresh for four hours and can easily crack or break.
Ready to Compare Office Coffee Services Price Quotes?