Types of Cubicles for Sale
When browsing through office cubicles for sale, you will find a variety from which to choose. Your purchase will depend on the quantity you need, the style you want, and, of course, your budget. Be prepared to do some extensive comparison shopping, as the deals you will find will vary widely from location to location.
Keep in mind, when shopping for used or discounted cubicles for sale, that your purchase may not entitle you to liberal return policies. Be certain about your selection before making a final payment. Do your homework, and make sure you know exactly what you need:
Measure the space you have available
Consider the office equipment that will be used in the cubicle
Make your purchase once you are sure that it is the right choice
When purchasing a refurbished cubicle, be sure to get a complete list of the repairs made, to give you a better idea of what to expect.
Bullpen Cubicles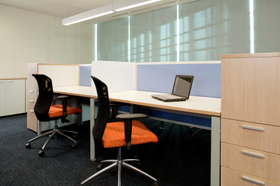 Privacy cubicle panel stations, or bullpen cubicles, are comprised of groups of desks, usually two or three, with small, often see-through partitions between each work area. These work spaces are generally larger than call center cubicles and can have both shared and individual work spaces.
A bullpen cubicle, often made from the same material as traditional cubes, but is usually constructed of a see-through hard plastic. Bullpen cubicles are not as large as a traditional cubicle, and offer limited space for storage. Most areas within a bullpen cubicle can be reached while sitting in a desk chair. Bullpen cubicles are popular because of their simple construction and space-saving design. These privacy style panel stations vary in price, starting in the $4,700 range.
A bullpen cubicle can easily be arranged in a circle pattern, beneficial for groups of four to five employees who are working together. This work space design eliminates the standard rows of desks. The open-circle format allows for easier communication between co-workers.
Reasons to Consider Bullpen Cubicles:
Training. Two or more people who share the same work space, with no partitions, can communicate with little or no interruption to other office staff.


Team-based work Collaboration is made easy, allowing each employee to see the work of others, in addition to facilitating communication. Privacy is limited in this open space.


Reference area. This shared space can be used for general computer access, sending e-mails and research. Computers contained in this bullpen are could be connected via office intranet.
Installing a cubicle bullpen can provide a space-saver in your office, while promoting teamwork.
Call Center Cubicles
Call center cubicles, made up of interconnecting, movable walls, allow for a customized design layout, to meet your needs. With dividers set at the proper height, call center cubicles can provide operators with their own type of noise barrier. These cubicles are built with durable materials and are certain to survive modest wear and tear. These cube solution, mid-height space savers start at $3,369 up to $7,799.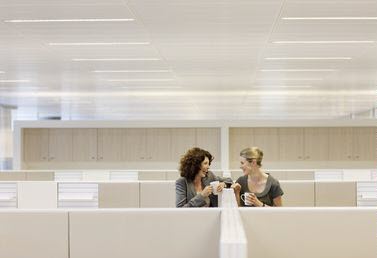 Quad cubicles are great for large call centers with open space. REX Features
Call center cubicles provide a variety of options, in designing your office space. To create a line style, simply line up the cubicles in a row. This line configuration works well when positioned against a wall, or in an open space, facing one another. In this configuration, the cubicles are set up with work spaces side-by-side, in a long row. The amount of workspace will depend on the available wall panels, as well as necessary equipment you plan to use within each call center.
A quad cubicle creates a "plus sign" by joining the cubicle wall panels. This design, provides four equally sized workstations. The wall panels used in a quad cubicle design, will determine the amount of space available for each cubicle. Quad cubicles are ideal for large call centers in an office setting with a lot of open space.
When looking to fill a large open space with cubicles for call center operators, the most popular design is a combination of line cubicle and quad setups; connection configurations. To get the most out of your call center floor space, you'll want to configure your idea on graph paper, first, in order to figure out which call center cubicle configurations will work best. Line cubicles work best when placed along a wall and should connect in the center of the space.
In addition to straight line cubicles, circular cubicles are also available. These cubicles connect to one another to create circular configurations rather than square or rectangular. This type of cubicle design works well near a corner, or a tight space, allowing for room to walk around the cubicle configuration.
Reception Stations
When you're ready to purchase reception stations for your office, start by assessing your office space and furniture requirements. Take into consideration the exact requirements of your administrative staff before you start.
Once you know the floor plan of the space you wish to use for reception stations, you can decide on the best fit. A designer will be helpful to provide more detailed measurements later in the purchasing process. Knowing the basics, when you begin to shop, can help vendors understand exactly what you need.

Determine the expectations of your administrative staff.
How will they be used?
Do they require private space for conversations, or a larger work area for tasks?
Will the space be used to conduct meetings with other employees?
Will they require a built-in storage system or separate filing cabinets?
These factors will determine the size, wall height, and surface of the reception stations you choose. Purchasing a reception stations for your office, can take some time. When buying a cubicle from a vendor's available stock, you can expect to be set up within one week. When buying from a dealer, who can help you customize your new or re-manufactured reception station, expect it to take anywhere from three to six weeks. Depending on the size and and height of the station you choose, expect to pay at least $795 for a reception station.
Ready to Compare Office Cubicles and Systems Price Quotes?