Introduction to Office Cubicles
Commonly known as "systems furniture" or "modular systems workspaces" by sellers, office cubicles sometimes have a less-than-stellar reputation among workers. Often viewed by employees as constricting and impersonal, they actually serve a number of valuable business purposes.
And now, with modern architecture and design, workstations can be infused with a high degree of "cool," promoting health, happiness and productivity in any office space.
Thanks to the flexibility and modularity of today's cubicles, you can mix and match a wide range of layouts and extras to provide all your employees with the comfort and workspace they need. But the process of locating, evaluating, and choosing cubicles can get a bit tricky. After all, it's not the type of purchase you make every day. That's why it's best to work with a seller who specializes in quality systems and can help you to design a cubicle floor plan that's appropriate for your space, business, and employees.
If you're starting from scratch and furnishing an entire office, you may want to purchase your systems furniture separately from desks, conference tables, and other furnishings. In fact, these pieces can often be found through different sellers and, in doing so, provide a far greater selection of colors and styles. But for hardware compatibility and cost-savings you should definitely buy all your cubicles and accessories from a single source.
This BuyerZone Systems Furniture Buyer's Guide will teach you what to look for and help you choose a systems furniture vendor. Once you have a general idea of what you need, we'll put you in touch with office cubicle sellers in your area - free of charge!
---
Before you jump in, here's a brief history of the office cubicle, providing some insight to its original inspiration and intent. In a hurry? Jump ahead to Planning For Purchase.
---
A Brief History
Cubicles enable your company to house a large number of employees, maximizing the extra space that's taken up by traditional offices. Although a cubicle system does expose workers to additional noise, it dramatically limits the volume in comparison to an open-air floor plan.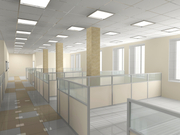 In doing so, you can divide large, noisy office spaces into private work areas and group individuals by department to further promote efficiency. This grouping also provides an added benefit: enhanced cooperation among employees.
Originally designed by architect Robert Propst, the office cubicle layout was known as an "action office" for its ability to promote a free-flowing exchange of ideas. Propst discovered that a substantial portion of the collaborative innovation that took place in a traditional office occurred when people were walking around or using the restroom.
By removing the doors and floor-to-ceiling walls, Propst found he could boost productivity while still providing enough privacy for tasks requiring concentration – an insight that would alter the interior design of office buildings throughout the world. In fact, it's estimated that more than 40 million Americans are currently spending their workday in this type of office environment.
Thanks to the flexibility and modularity of today's cubicles, you can mix and match a wide range of layouts and extras to provide all your employees with the comfort and workspace they need. But the process of locating, evaluating, and choosing cubicles can get a bit tricky. After all, it's not the type of purchase you make everyday. That's why it's best to work with a vendor who specializes in quality systems and can help you to design a cubicle floor plan that's appropriate for your space, business, and employees.
If you're starting from scratch and furnishing an entire office, you may want to purchase your systems furniture separately from desks, conference tables, and other furnishings. In fact, these pieces can often be found through different vendors and, in doing so, provide a far greater selection of colors and styles. But for hardware compatibility and cost-savings you should definitely buy all your cubicles and accessories from a single source.
---
The first step in buying any piece of furniture is to figure out who it's for, what purpose it should serve, and how it will fit into your existing space. Office furniture is no different, but it has some additional considerations due to office floor plans and the diversity of the individuals who will use the furniture over time.
---
Buying Office Workstations
Purchasing workstations for your office isn't like buying furniture at an office supply store. For one thing, cubicles from leading manufacturers are built to last for decades. So to ensure you're getting a system that will pay off in the long-run, specialized cubicle sellers work with you to design a system that's tailored to your business needs – a feature that's especially valuable when considering future growth down the road.
Do your homework
Before you start talking to cubicle suppliers, you'll need to prepare some basic information about your business, office space, and employees. Pay close attention to the following three critical factors.
Factor #1: The floor plan
First, you'll need to know the floor plan of the space you're looking to furnish. If you can get a scale drawing of your office, that's ideal. If not, simply measure the office yourself to get a rough idea of your available space. Don't forget to include immovable structural objects in your plan such as support beams, water pipes and electrical wiring that are often enclosed within drywall to conceal their presence.
There are office-wide considerations as well. Copiers, printers, and any other shared resources need to be accessible without being a distraction to employees seated nearby.
In most cases, you'll wind up working with a designer who can take more detailed measurements. But knowing the general dimensions you're working with will greatly improve your initial conversations with potential suppliers.
Factor #2: Your employees
Next, consider your employees. You'll definitely need to know how many employees need workstations. But what those employees do in their day-to-day function is equally as important. Cubicles for a department of telemarketers are quite different from cubicles for a group of computer programmers.
Talk to your employees about their needs: do they spend more time on the computer, on the phone, or doing paperwork? How important is it that they easily converse with co-workers? Do they routinely hold small meetings in their cubes? These considerations influence the size, wall-height, and surfaces of the workstations you're going to choose.
Factor #3: Your business
Modern cubicles have been designed to accommodate a wide variety of environments. In particular, they cater specifically to interaction among employees – ranging from open layouts that foster innovation and creativity to more private, enclosed spaces for loan offices, banks and similar locations that deal with confidential or sensitive information.
Start early
Shopping for systems furniture isn't a quick process. Whether you're buying new or pre-owned systems, you can expect an average of three to six weeks between placing the order and delivery. If you choose "as-is" office workstations a seller has in stock, it can take a week. If you place your order at a busy time, it can take 10 weeks or more.
---
With a firm understanding of your requirements and spatial limitations, you're ready to start pairing them up with the types of office cubicles currently available. This is a critical first step when factoring in the growth of your business.
---
Types of Modular Office Furniture
The scope of selecting modular furniture (yet another term for cubicles) is a lot more involved than you might think.
For one thing, it's very important to stick with a single brand. While many brands may look similar, they use completely different hardware and panels. As a result, they're almost never interchangeable. This means that as your business grows, all future cubicle purchases will be based on your first decision… unless you want to start from scratch.
Two main types of modular furniture
Systems furniture is available in two main designs: panel-mounted and freestanding. Most cubicles originate from the panel-mounted design, with wall panels that serve as the basis of the system. A panel-mounted design has desks, filing cabinets and other components mounted directly onto the panels. Freestanding components use separate panels that are placed around furniture.
In addition to construction, each design has unique advantages.
Panel-based systems:
Offer greater design flexibility
Can be equipped with internal power options
Feature slightly taller components to provide greater privacy and noise reduction
Freestanding systems:
Are easily installed and reconfigured
Provide more convenience when rearranging your floor plan or relocating employees from one space to another
General features to consider
Pay particular attention to flexibility. Will the system be easy to reconfigure in a different space if you move your office? How are the cubes arranged: in traditional rows, "bullpen" style where several co-workers share a larger enclosed space, or in staggered or diagonal layouts?
In addition, modular furniture is designed to last. So be sure to check the system's durability. The warranties – which range between a minimum of 5 to 10 years – can provide a good indication of the expected lifespan. And because it will function as a highly noticeable aspect of your office for quite a while, make sure the seller you choose is committed to carrying this line. Doing so ensures the availability of parts and service.
Sizes
The most common cubicle sizes are 6' x 6', 6' x 8', and 8' x 8'. These provide enough room for a computer or two, printers and peripheral devices, paperwork, and often a single chair for visitors. Cubicles can be as small as a 2' x 4' call-center workstation or as large as a 12' x 12' manager's cube that includes space for several people to meet.
In addition to the size, you'll need to decide on a height for the walls. Heights range from 34" to 85", with 66" in height being the most common. The ones you select will depend on how your employees like to work and your business needs.
Going taller, 67" or 72" walls create more privacy but can also reduce light and make collaboration more difficult. At lower heights, 42" walls make it easier for employees to work together but provide little privacy or help in reducing distractions. Many people like being able to stand up and talk to co-workers but have privacy when they're seated. In general, 54" walls are good for that type of interaction.
BUYING TIP: A professional furniture systems seller can analyze your specific business needs and provide the ideal design, layout, and wall height to maximize workflow and productivity.
---
It's important to consider which of the following features and design options should be incorporated to promote the optimal work environment for every employee.
---
Cubicle Furniture Features and Design
A common reason companies opt for cubicle furniture is to reduce noise. But more and more, they're also relied upon to provide the "face" of the company, making them an essential branding component when it comes to your corporate image.
But whether your goal is to create a trendy feel through high-end design and luxury components or provide a basic workstation that can be shared by a number of mobile employees, each cubicle is constructed of the same basic components listed below.
Fabrics and color palate
Aesthetics are important. Leading cubicle furniture manufacturers provide a range of colors and patterns for fabrics and work surfaces, allowing you to choose a look that's right for you. In some cases, "plain" can be OK and even save you some money. But nicer fabrics will benefit your business image far more in comparison – an aspect that's doubly important if you have a steady stream of clients or customers routinely traipsing through work areas.
BUYING TIP: If looks aren't that important, you can save money by choosing less popular colors or overstocked fabrics. In addition, many vendors now provide "non-directional" fabrics that are free of visual design and can be installed in any direction – a "green" solution that saves greatly on overall cost.
Power and data connections
Regardless of the type of walls you choose, you'll most likely need electric power and data network connections for each cubicle. Available as "base feed," with power that comes from a wall outlet or "top feed" where wires are dropped down from the ceiling, the option you select here can make a big difference in the cost.
If your cubes are next to walls or existing overhead power sources, you may be able to save some money by simply adding wall outlets or "utility poles" (non-structural columns that conceal wiring).
Storage and other add-on components
Various storage options are available with cubicle furniture, including filing drawers, wheeled pedestals, wall shelving or cabinets, and free-standing bookshelves, many of which have the option to include locks. Sometimes these are configurable by your employees, allowing each person to set up their cube the way they see fit.
Other modern organizational tools include:
Wire managers that keep cords from becoming tangled
Built-in task lighting that attaches beneath a shelf or wall-mounted overhead storage cabinet
Whiteboards and tack boards to create personal reminders and engage with coworkers
Windows to break free of the "closed-in" feel
Coat hangers
Some systems even go a step further by allowing the entire work surface to be raised or lowered. Your vendor can give you more details on exactly what extras are available from each manufacturer. In most cases, you'll be able to add them later with little or no extra expense.
Modern ergonomic design
The look and style of the workstations you select will have a tremendous physical and psychological impact on those who use them. These factors have been shown to dramatically impact the collaboration and productivity of the modern workforce – a group that's far more adept at multi-tasking than previous generations.
One of the most significant movements in systems furniture design is the move toward ergonomic support. This includes monitor stands and extendable arms that enable each individual to customize the height of their screen for optimal visibility. But it's much more than just that.
Leading the way toward making the workplace more enjoyable, healthy, and productive, ergonomic enhancements also include: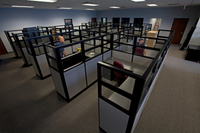 iPad and laptop stands
mouse pads and wrist rests
keyboards, keypads, and mice
document holders
anti-glare and privacy filters for monitors
Get design help
The systems furniture vendor you choose will provide help with all of the decisions mentioned in this section. Most will create a computer layout of your office, allowing you to see what various setups will look like before purchase. Doing do enables you to experiment with style as well as cost and make necessary changes without spending a dime.
If you have a large business, you may want to consider hiring your own interior designer to work with the vendor you select, especially if your office gets a lot of visitors. Either way, expect your designer and vendor to ask lots of questions about your office environment, your employees and their jobs, as well as your plans for future expansion.
---
There are a host of cubicle panel upgrades that can provide additional privacy, storage, and even a more pleasing look. As the following options prove, the look of your office cubicles is only limited by your imagination.
---
Cubicle Walls Come with More Designs and Features
Cubicle walls are another versatile component that enables you to create a variety of designs, both in terms of style and construction.
In addition, many quality systems furniture sellers are highly focused on environmental design. This practice provides a range of options in the construction of wall heights, often leaning toward lower walls that not only promote collaboration but also permit significantly greater levels of natural and artificial light to pass freely throughout the entire workspace.
Offering varying degrees of visual and acoustic privacy, cubicle walls come with an extensive range of adaptability, enabling them to be customized to any need. Options include:
Panel-mounted – Used to create a more "permanent" feel, these walls are bolted directly to the other components of the cubicle, including the desk and any filing cabinets or shelving. They often come with built-in power and networking capabilities, providing a plug-n-play workstation.
Free-standing – As the name implies, this type of wall can be thought of as a "screen." Popular for the versatility they provide, free-standing cubicle walls are not attached to the rest of the cubicle components and are great for employees or work groups who routinely remove barriers for meetings or presentations. As a result, they can be used in combination with other construction designs.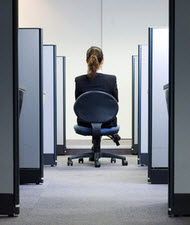 Frame and tile – One of the most significant developments in modern systems furniture, the frame and tile design enables you to maximize your purchase and make your workstations as adaptable as possible for future expansion or office restructuring. If a system of workstations can be thought of as a puzzle, the frame and tile design breaks the board into even smaller pieces, allowing you to replace a single wall panel should the fabric become torn or soiled.
This is in contrast to the older monolithic design, where wall panels are not interchangeable without replacing the entire run. And if you're curious exactly how much this design might save you, the cost of replacing a frame and tile panel could be as little as $100 (plus installation), compared to thousands of dollars to replace a single monolithic wall.
Acoustic – Designed for noisy work environments, acoustic cubicle walls feature thicker material and additional layers of foam, cork and other sound-absorbing materials in their construction. Created to block the noise often found in a telemarketing organization or busy office, they're typically available in steel, aluminum, and fiberglass and also come in panel-mounted or free-standing designs.
Smooth Surface – When you want a modern, sleek look, smooth surface cubicle walls are hard to beat. They feature surfaces that are made from plastic, vinyl, laminates, or dry-erase surfaces, allowing them to be cleaned easier than their fabric counterparts and stay "clean-looking" longer.
Transparent – Give the illusion of open spaces and transparency while still blocking noise and providing a degree of privacy to your employees with transparent cubicle walls. Though they provide little to no sound-proofing, they allow far more light into the work area.
Steel frames – Professional sellers will tell you that steel frames are far superior to their wood counterparts for one simple reason: lasting durability. Designed to be far more resistant to the everyday wear-and-tear that includes vacuuming, getting kicked, and similar causes of potential damage, steel frames not only look better over time, they are also substantially less inclined to break, crack, or fall apart.
Electric – Available as pre-wired or open-panel to allow in-house electricians to custom-wire them, electric cubicle walls include conduits that run electricity through the panels, providing a cleaner look when compared to standard walls that often require the wiring to be top-fed through a conduit from the ceiling.
---
If you're setting up a temporary facility or simply need a workstation without any of the fancy design considerations mentioned above, you may want to factor used and refurbished office cubicles into the mix.
---
New and Used Office Furniture
There are several levels of used office furniture. And remanufactured cubicles are at the top. Truly remanufactured cubes are indistinguishable from new. But due to the process of cleaning, repair and storage, they're almost as expensive as their new counterparts.
That's because used office furniture – including cubicles and all accessories – is completely taken apart and inspected. Metal frames are sanded and painted or powder coated. Fabric is completely replaced and missing components are supplied. Parts such as pedestals, acoustic padding, and shelves are often installed brand-new.
Where used workstations come from
Generally speaking, the systems furniture food chain starts with very large companies buying systems directly from manufacturers. As they go through layoffs or office moves, they sell those systems back to the manufacturer or to sellers. The sellers then turn around and sell the remanufactured cubicles to small and mid-sized companies, either "as-is" or refurbished.
As-is systems furniture
As-is workstations can be purchased for less than half the original cost, and often much less. But in doing so, you give up the ability to choose exactly what fabrics, finishes, and other customizations you want.
The seller will sometimes clean the cubes, repairing any significant damage and supplying missing pieces, but in many cases will not – thus the name: "as-is." You can save significant money this way, especially if you don't particularly care what the cubes look like or even if they match. But you won't get the same type of warranty on these systems… if you get any warranty at all.
Refurbished cubicles: sometimes as good as new, sometimes not
Buying re-manufactured or "pre-owned" cubicles isn't like buying a used car. You're not limited to just what's on the lot. Similar to buying new, you'll be able to pick a specific brand and model and select the fabrics and colors you like.
Re-manufactured cubicles typically come with the same warranty they had when they were new and even lifetime warranties in some cases. Plus, custom re-manufacturing jobs like this can often be turned around more quickly than new orders due to the pre-built frames. But the workmanship and improvements that go into these units will drive up the cost.
One major consideration to keep in mind regarding refurbished systems furniture: refurbished products may not qualify for LEED certification, a requirement for government buildings and other structures in certain cities. This is one of the primary reasons to use a professional systems furniture vendor. They will typically be very familiar with the building codes and any environmental compliance issues impacting your location.
---
Though many sellers offer universal consultation, there are a number of criteria to be aware of when comparing office cubicle sellers.
---
Choosing an Office Cubicle Seller
Unless you're buying hundreds of cubicles, you won't be working directly with a manufacturer. In most cases, you'll be working with an independent office cubicle seller who carries systems from a number of manufacturers. Some office cubicle sellers are dedicated reps for particular manufacturers and some specialize in a brand or two but carry several others.
BUYING TIP: Stick with one brand to ensure cost-effective compatibility for future purchases. It's a good idea to choose a seller that supports a brand that's been around for a while and shows stability.
The systems furniture market provides various classes of used equipment. As a result, many resellers are also partially manufacturers. They have extensive factories for disassembling, cleaning, painting, and reassembling systems. Others vendors are purely resellers. Once they determine your needs, they'll check with multiple vendors to find what you want, whether new or remanufactured, and come back to you with the best price.
Professional seller checklist
Evaluating cubicle sellers is like making any other purchase. It's always best to compare a number of potential vendors side by side to see how they stack up. Quality sellers will typically possess the following traits:
An open-door policy: take a tour of the seller's facilities, if possible. Check out the manufacturing areas, customer service department, and warehouse to get an idea of the size of the operation. Not every cubicle seller has a showroom. But take advantage of those that do. Seeing different types of cubicles in person lets you make direct comparisons of brands, sizes, and extras. Viewing disassembled cubes in a warehouse won't give you the same opportunity.


Reputation and longevity: "street cred" matters in systems furniture. Even a small- to mid-sized company can expect to spend tens of thousands of dollars on a cubicle system that should last 10 to 20 years. It's not worth saving a few thousand dollars by doing business with a company that might not be around in five years or be able to provide the ongoing support you need.


A consultant, not just a supplier: a good office cubicle seller will take a consultant's approach to your business. They'll work with you to address problems, explain their proposals, and even offer you tips on how to get more for your money. Dealers who simply try to sell you as much as possible or pressure you into unnecessary upgrades should be avoided.


Local offices and warehouse facilities: you may want to focus on local sellers. Due to their size and weight, systems furniture components are quite expensive to ship. So unless you get an excellent deal or are buying hundreds of cubicles that will be shipped in cargo containers, you'll usually wind up paying more for systems located outside your area.


References. Quality sellers will be more than happy to provide a list of their happiest customers. While not every reference may be applicable to your industry, having at least one reference that's close is always a good sign, especially when contracting design services. When checking references, inquire about all phases of purchase and installation.
Some questions to ask potential office cubicle sellers:
What happens if the cubicle systems don't work as they're supposed to?
Who does your installations? (You're likely to get somewhat better service if they have their own installation teams, as opposed to third-party contractors.)
What brands do you specialize in and how did you choose them? How long have you carried them? And do you anticipate this brand or specific line being discontinued in the near future?
How much of your business is based on referrals?
When can you do installation work – early, late, or on weekends?
How long will it take to install? And will the installation disrupt day-to-day operations?
Some questions to ask the referrals provided by potential office cubicle sellers:
How was your overall experience dealing with the vendor?
Were there any problems with purchase or installation?
Did they help you design your office layout? And were you happy with this aspect of the service?
Have they been responsive to your inquiries post-purchase?
Did you purchase any pre-owned or refurbished cubicles or components? And if so, were you happy with the quality and appearance of all the components (cleanliness, no damage, etc.)?
---
Before you settle on a particular seller, review the pricing data we've compiled. It provides an average range that will help you avoid sticker shock, and also show you some of the points that are negotiable.
---
Office Furniture System Pricing
The sticker price for a quality office furniture system can be surprisingly high. That's why it's important to remember that it will last for decades and your employees will use it all day, every day. Saving a hundred dollars per cube will have minimal impact on your business in the long run. But getting quality equipment that will keep your employees happy and efficient will make a big difference.
Bear in mind that these prices are just rough guidelines. In most cases, you won't be quoted a price per cube. Instead you can expect to get a quote for your entire setup. The more specific the breakdown, the better – because an office furniture system is so modular, you should be able to add and subtract line items as you negotiate the pricing. See what other BuyerZone users paid for Systems Furniture.
General costs
For a standard order of average sized cubicles (usually around 10 workstations), expect to pay anywhere from $1,000 to $2,500 per unit, including installation. Prices for deluxe systems start at $2,500 and can range up to $10,000 or more, depending on the cost of materials and add-on enhancements you select. Fabric is by far the primary contributor to the cost of a modern workstation, with finish and size also impacting the price.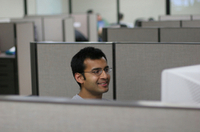 Delivery and installation can add to the price tag as well. So have your seller include those costs along with the systems.
Also, be sure you know the delivery rules in your building. Union buildings will require you to use union members for unloading and delivery. Other buildings may have strict rules about when you can unload. Both of these situations can dramatically increase delivery costs so be sure to have your seller account for them if applicable.
Discounts
There are significant economies of scale involved with systems furniture. And this is where design consultation through a professional seller comes into play. As soon as you put two cubes back-to-back, you've already saved one wall. And every additional cube means extra cost savings.
Some sellers report the ability to provide discounts based on quantity, with a 10% discount taken from standard prices for the purchase of 30 to 50 units and up to 15% for purchases that include 100 or more workstations. But other sellers report an even more significant factor that comes into play when attempting to impact cost: materials.
Professional sellers with established ties to the industry have the ability to reportedly offer up to 70% off standard pricing, with a discount of 50% to 55% being common. How? By minimizing the materials used in construction.
Often provided under a "green" label, these environmentally-friendly products deliver the exact same level of quality and durability as other systems furniture but use substantially less raw materials in the manufacturing of each workstation. As a result, the seller is able to deliver high-quality LEED-certified workstations that provide a modern look while adhering to the standards set forth by the U.S. Green Building Council.
Warranties
Whether new or pre-owned, cubicles should be durable – and warranties should back that up. Look for a minimum warranty of three years on parts, but expect anywhere from 5 to 10 years. Lifetime warranties are common in the industry simply because they provide customers with a sense of security and don't cost sellers much. Problems are rare and repair costs minimal.
Most warranties typically do not cover damage as the result of normal wear and tear, negligence, abuse, accidents, or shipping damage. In addition, panel fabrics may be covered under a separate warranty that's often less than the other components – three years is standard.
If the seller performs your installation, they may provide a one-year warranty (or more) covering labor as well. If you hire your own contractors or use in-house personnel, you most likely won't get warranty coverage on the construction.
New vs. "pre-owned"
Some sellers will have "as-is" pre-owned cubes for as little as $300. But keep in mind, "as-is" is exactly that. These workstations typically have not been cleaned, repaired or refurbished in any way. In addition, they come with no warranty or guarantees. But if you need something quick, cheap, or temporary, they're a great way to go.
Buy vs. lease
Due to the expense of buying an office furniture system, you may want to consider leasing instead of buying. If applicable, most sellers will offer you lease information up front. If you're a recent start-up, don't have the available capital, or just need a cubicle setup on a temporary basis, this can be a good solution. But the costs will vary wildly depending on the size and add-ons included in each cube.
The range starts at $50 per month for a bare-bones cube and goes all the way up to $1,000 per month for high-end designs. However, there's an extensive selection in the $300 to $600 range.
Some sellers even provide financing in-house and rent-to-own programs. You may also be able to take advantage of the fact that lease payments are business expenses, taken from pre-tax income instead of after-tax profits. However most businesses still treat cubes as a capital expense.
The financial advantage to purchasing is that you'll own the cubes. When you're done with them, you can often sell them back to the same company that you bought them from and recoup at least part of your costs or apply them to an upgrade on a new style.
Professional seller vs. office supply store
With a quick Google search, you can find new cubes for $400 to $1,500 on the web. But you'll have to pick them up or have them shipped and then install them yourself. In addition, you'll have no warranty and typically won't be able to integrate them with existing cubicles or any systems furniture you add later on.
For a long-lasting solution, it's worth spending a little extra to purchase from a reputable seller. In fact, many specialized sellers can actually end up saving you money in the long run when compared to standard office supply companies.
Office Furniture Systems Buying Tips
Know the brand names. Get to know the major brands in the office furniture systems industry. Names to start with include:
9to5
ESI Ergonomics
Fixtures
Global
Haworth
Herman Miller
Highmark
HON
Indiana

Knoll
Maverick
Maxon
National
Office Chairs, Inc.
Office Master
Steelcase
Teknion
There are others worth investigating as well. Do some research to see which best fit your needs.
Don't rush into things. Time spent researching systems furniture is well-spent. Look at it as an investment in your business. Ask questions, consider multiple options, and make the right choice the first time.
Plan for the future. When purchasing and designing your layout, consider your plans for growth over the next 1 to 5 years. Buying extra office cubes now and leaving space for the next set can reduce disruption and installation costs later.
Go minimal on storage. With the shift toward digital storage, considerably less space is required in terms of filing cabinets, overhead bins, and shelving. When consulting with a professional seller, make sure to mention the level of technological adoption in your organization. Doing so can save big bucks… and a lot of floor space.
Get to know your seller. Building up a relationship with your systems furniture seller can pay off. If they know you'll be coming back every time you need more cubes, you may get better prices on smaller orders.
Start with CAD. Providing your supplier with a CAD (computer assisted drawing) file of your office will greatly speed the design process. You can often get one from your building management or landlord and simply email it to your seller.
Ready to Compare Office Cubicles and Systems Price Quotes?