Buying Construction Work Time Clocks
On the construction site, time is money. Tracking hours worked is just as important as it is in a fixed location workplace. However, there are additional considerations with construction jobsite time tracking. Construction work time clocks must be portable and able to stand up to the rough treatment that can't be avoided on constructions sites.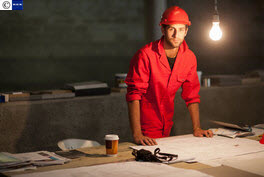 Beyond managing labor and productivity, a construction boss must also comply with state and federal labor law legislation. Choosing the right time clock will make it easier to track employee hours in the field. If legal issues arise in the future, a construction company can trust their time clock to provide detailed records of daily hours, lunch times, and regular breaks to assure compliance.
If you're looking to buy a construction time clock for your business, options are many. Start by considering the different types of time clocks available, as well as any special features you may need to improve jobsite performance.
Construction work time clocks: Basic and advanced options
1. Battery-powered time clocks
The first concern for a jobsite time clock is portability, so look for time clocks that operate on batteries if a steady source of electrical power isn't available. These are great for construction sites where electrical power is unreliable or supplied by overworked generators. These battery-powered construction work time clocks will keep accurate time for up to six months with common household batteries. An additional benefit is that most are small enough to be easily moved for safe overnight storage.
While the battery operated clocks may not be the most rugged models available, their small size means you can keep them in a relatively sheltered place, like the back of the foreman's van, for example. With today's modern technology, some of these are tiny handheld devices.
2. Wireless time clocks
Newer wireless time clocks are designed to send jobsite updates hour on the hour. This type of wireless support can help cut down on costly overtime before it occurs. A construction boss can also use wireless technology to manage employees on-site from a remote office location.
Wireless time clocks provide a convenient, accurate alternative to battery-powered time clocks in that they can automatically record and track employee labor patterns every hour without the need for physical clock in/clock out records. And just like a battery-powered time clock, a wireless time clock is designed to save you money since it is transportable. It can reduce unnecessary fuel costs when shuttling workers to and from a main construction office to clock in and clock out.
3. Mobile time clocks
It's about time that construction time clock software was updated with the convenience of mobile tracking technology. Today, web based software is available to allow construction workers to clock in and out via mobile devices. Detailed employee timesheets will track breaks, meals, and overtime to automatically create monthly payroll; some software packages are equipped with in-office and on-site messaging capabilities for improved communication.
Construction administrators and managers can benefit from the use of mobile software to monitor a "live timesheet" of all employees on-the-job on any given day. But what about employees without cell phones, smartphones, or tablets? Not to worry - they can still be clocked in and out through a supervisor's device each day.
Preventing time clock fraud at the jobsite
Another thing to consider on a busy jobsite is time clock fraud. Otherwise known as "buddy punching," this is the practice of one worker punching in or out for a coworker who didn't show up on time, or who left a little early.
On a busy jobsite, workers are scattered, and it may not always be easy for a foreman to verify who's on site at any given moment. A mobile time clock can prevent buddy punching and make sure you only pay your workers for the hours they put in at the site.
When using a mobile timesheet, the problem of time clock fraud solves itself. Employees may be monitored as they virtually "punch in" through a supervisor's smartphone or tablet each day; if employees clock in through individual devices, personal login information will be required.
Time clock pricing
Before you make a final decision in a construction time clock, it's important to consider price. How much are you willing to spend? Construction time clock prices will vary greatly, depending on your budget. A battery-powered clock may start as low as $399; a wireless web punch clock system may start at $99.99 (excluding Internet and software fees); mobile software may start at $16.99 per month with $20 setup fees per user.
While a straightforward battery-powered time clock may seem like your best bet if you're on a limited budget, it may be worth your while to invest in full-service technology in a wireless or mobile solution. A mobile time clock may cost more in the long run when you factor in monthly fees and individual user setup costs. However, its convenience and accuracy will quickly pay for itself to cut down on expensive overtime and manage every aspect of a jobsite remotely.
Ready to Compare Time and Attendance Systems Price Quotes?