Computer Time Clocks Improve Accuracy & Flexibility
Computer time clocks replace traditional time-clock methods such as the card-punch machine or even the old Excel spreadsheet with methods that track employee hours through specialized software. If you are still using an old-fashioned method of keeping track of your employees, switching to time-clock software will prove to be well worth the effort.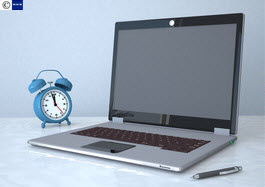 Benefits of a software model
Switching to a software service tends to save companies a great deal of money. With software that automatically takes care of the simpler tasks, company leaders are able to spend less time dealing with time sheets. Computer time clocks also tend to be much more accurate than old-fashioned methods, which makes it easier for businesses to avoid overpaying when employees arrive late, leave early, and fudge numbers on their time sheets in other ways, too.
Software time-sheet solutions also let you quickly tie time sheets into other business data as well. You can manage hours worked, employee addresses, position information, and time-related benefits, all within the same program. Most systems also allow you to easily export data to other systems in a number of formats, including Excel and PDF. If you have a compatible payroll system, you may even be able to communicate the data directly.
Time-sheet software also makes it easier to manage employees in unique or flexible work circumstances. If you want to be able to incorporate contract workers or manage distance workers, there are programs that will make that task easier. With cloud software, employees can log in from any computer and record their working hours, which is a great solution for people who are working at home or off-site.
Installation and other considerations
If you are considering buying or upgrading to computer time clocks, learn about your installation options and key features before you buy. Some time sheets let employees make detailed reports about their hours, while others are more general in their approach. Some are cloud-based, allowing for more flexibility, while others are designed to be used only with a company's intranet and offer greater security.
Focus on your goals when looking at these features. Do you need to make it easier for employees to enter complex time information that varies day by day? Do you want faster benefits and time-off request management? Would your employees benefit from mobile options that let them sign on with a smart phone, or is this unnecessary? You should also review your other software to make sure your new purchase will be as compatible with the other programs as possible.
Ready to Compare Time and Attendance Systems Price Quotes?