Kronos Time and Attendance System Show You the Big Picture
The Kronos time and attendance system simplifies the tedious and complicated task of monitoring employee hours. With easy to use time-tracking software and devices made to collect data, you can control the cost of labor for your company, improve productivity, and minimize compliance risk.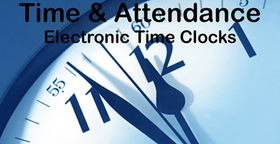 If you're thinking of investing in a time and attendance system for your company--whether your company is big, small, or steadily growing - this automated system offers some powerful solutions. Here's a quick rundown on a few of the most impressive:
Time management: Since this system is completely automated, labor costs are drastically reduced as pay and work rules are enforced accurately across the entire organization. Normally, such things as timecard tracking, approval processing, and data entry are labor-intensive and complicated. This reduces the administrative time that is normally required while simultaneously minimizing compliance risks and overpayments.
Data collection: Kronos provides several reliable data capture options, such as a fixed-mount time clock, a browser-based solution, a telephony system, and a mobile app. The data will be accurate and entered efficiently with any of these options.
Labor tracking: This feature provides accurate and detailed labor activity data when you need it, allowing you to find out how productive your work force really is.
Absence management: For both small and large businesses, cloud-based software keeps track of employee absences and minimizes their impact on your business. Whether planned or unplanned, an employee absence can have a domino effect on the company's daily productivity. This system lessens that risk by making it easier to confirm an employee's paid leave, time off, and accruals.
Scheduling: Kronos makes it easy to find out how to replace someone who has called in sick or find someone to pick up an extra shift. Perhaps you over-scheduled or accidentally paid someone who shouldn't have been paid. This helps you easily change schedules and avoid the overtime and over-staffing that can be costly to your business.
Labor analytics: This software shows you the bigger picture and allows you to discover patterns in your workforce that are easy to understand. What is the main cause of absenteeism in your company? Why does productivity differ so greatly between departments? With the software's configurable reports and drill-down capabilities that can isolate problem areas, you'll be able to answer these questions and access the tools you'll need to see the overall picture.
Kronos offers flexible and competitive pricing, coupled with various deployment options to fit the needs and budget requirements of small businesses and large enterprises.
Ready to Compare Time and Attendance Systems Price Quotes?