Verify Time and Attendance with Your Access Control System
To provide security and track the timeliness of employee arrivals in your workplace, you need to monitor access - a process that's become simple with a single cost-effective upgrade. Access control systems are designed to limit the number of unwanted visitors in a workplace. They also help you monitor time and attendance.
Here are some of the primary functionalities that make them worth the investment and, in some cases, even pay for themselves with the money they save on time theft.
Card readers and keyless systems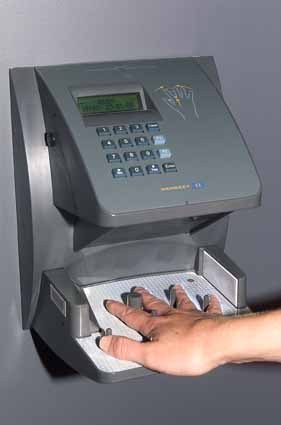 The ability to copy a key is all it takes to circumvent security in an old system. And even in a more innocent scenario, when a key is lost for example, the cost of rekeying old fashioned locks is still extremely expensive. The new standard in access control systems involves key cards that are assigned to each employee. When cards are swiped past a sensor, access is granted or denied depending on their individual status and clearance for each section in a facility - even on a room-by-room basis.
This feature increases safety considerably since no one can enter without a card. It also simplifies reporting, enabling HR and payroll to verify timecards, and eliminates the possibility for an employee to overestimate their hours worked. Plus, monitoring is handled in real time, so you can know exactly what's going on at any given moment.
Card readers and other access control equipment are available in small quantities for $100 to $500. Companies with larger needs can expect a discount in the equipment, with packages geared toward three sizes of business:
Small - about 70 readers
Midrange - about 250 readers
Large - 1,000+ readers
Fingerprint and photo ID systems
A more foolproof method to track time and attendance involves fingerprint scanning and photo ID systems. These methods ensure that the person entering is exactly who you have authorized. This option substantially increases efficiency in payroll and creates an even tighter level of security. It also eliminates the risk of key cards being passed around and the practice of buddy-punching, when one individual falsely logs in for another.
Upgrade: modern systems will also allow you to integrate a video component into this type of access control system. Doing so further enhances your control through real-time correlated video that compares the individual entering your building, or a particular component of it, against their photo ID on file.
Managing the software and tracking access
With the integration of access control software, management takes place through a single platform, often compiling the time and attendance and security issues for multiple locations into a unified program. Cardholders and credentials for multiple sites can be managed either centrally or at a remote site of your choosing.
Access can be tracked, monitored and controlled through a variety of features, including:
Area lockdown from a single PC or ID reader
Live video feeds that are easily viewed in the event of an alarm
Facility map with active icons that indicate system status, door status, live video, and employee photos (with location and movement) as they pass into a protected area
Comprehensive reports that take into account all recorded data, easily customized to detail a particular concern or incident
Information access
Just remember: physical access control is only one part of the issue. Controlling information access is important as well. By putting up password-only entry points in your computer system, you can prevent lower-level employees from accessing timekeeping and security-related functions.
Keeping payroll standards tight while solidifying the security of your business is essential as your company expands. And with the money it can save you through accuracy of time and attendance features, the cost will soon turn into a profit as the system pays for itself and then continues to monetize its investment every time an employee logs in after that.
Ready to Compare Time and Attendance Systems Price Quotes?