Automotive Air Compressors Provide Durability and Wide-Ranging Performance in Compact Designs
Within the automotive industry, few enhancements compare to a rotary screw air compressor. They have the unique ability to power an endless range of tools and equipment, shaving hours off of service-related improvements and repairs while boosting the quality of the finished product. As a result, they've become indispensable to most automotive shops, collision repair centers, gas stations, quick lube shops, and tire stores.
Most models used for automotive applications are portable, though some shops opt for a stationary air compressor when they need more power and have a facility capable of accommodating a larger unit. Common configurations include:
Common Automotive Configurations
Type
Horsepower
Tank Size (Gallons)
Capacity (@175 PSI)
Phase
Portable / Stationary
Estimated Cost
Rotary Screw Air Compressors
5 - 25 hp
80 - 120
18 -87 cfm
1
Portable
$5,800 - $11,000
Two-Stage Reciprocating Air Compressors
7.5 - 15 hp
80 - 120
24 - 50 cfm
1 - 3
Portable / Stationary
$1,900 - $7,600
Moisture-Free Reciprocating Air Compressors
5 - 15 hp
50 - 120
17 - 50 cfm
1 - 3
Portable / Stationary
$2,400 - $7,500
Purchasing recommendation: Gas stations, quick lube shops, and tire stores: Rotary screw air compressors, like the 15-hp/46 cfm model from Campbell Hausfeld, are ideal for smaller automotive operations given their combination of power and energy efficiency. The ideal range for automotive service shops starts around 5 hp and caps out around 25 hp. Capable of accommodating a wide range of air tools, the ideal models are those that have been designed with an airend that runs continuously, providing nonstop airflow while in use, shifting to idle pressure during periods of inactivity, then shutting off completely after the machine has been idle for a preset period of time (often 15 minutes). Providing minimal maintenance and maximum uptime, the airend design features the least number of interconnecting pipes and connections, boosting overall efficiency by eliminating potential leak points.


Purchasing recommendation: Dealerships, collisions repair shops, and automotive customization houses: Larger aftermarket automotive service providers, like body repair shops and customizers, require a special type of air compressor - one that filters condensation, dust, and other foreign particles from the airstream. Moisture-free automotive models, including the 10-hp/34 cfm model from Campbell Hausfeld, provide about the same range of output (5 hp to 15 hp) but are coupled with a finisher that refrigerates the air to remove moisture and provide a finish that's both smooth and free of contaminates. Moisture-free compressors are fully integrated and piped for a simple setup or relocation. The best option is the one that accepts a universal range of tools and attachments, like those listed below.
Air compressor accessories
The true mark of a quality automotive air compressor is the number of applications it's capable of completing. Shops both large and small maximize their investment by purchasing a single machine that extends service throughout their operation.
Popular air tools, including capacity requirements and cost, include: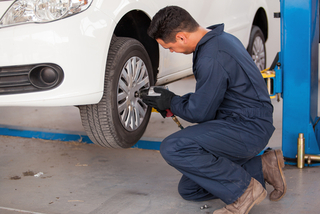 Air ratchets: Featuring ergonomic design and reduced weight to prevent fatigue, air ratchets break through tough nuts and bolts with a max torque of 60 ft/lbs. A common speed is 275 RPM and many feature a specialized design that protects the operator's hands from cold compressed air. Average prices are around $150.


Air grinders: With a max free speed of 22,000 rpm, air grinders feature variable speed adjustment for improved quality and ease of use. Sometimes requiring an operating pressure of around 90 psi, you may need to consider a larger rotary screw air compressor if you routinely do a lot of repair and refinishing. Expect to pay around $215 for an air grinder that includes a wheel guard, flange, nut wrench, side handle, and two grinding wheels.


Drills and drivers: Engineered with a low profile, many drills and drivers for the automotive aftermarket are designed with an angled head that enables the operator to work on a variety of surfaces and tight spots. Automotive drills and drivers commonly feature a keyed chuck, planetary gear drive, and paddle switch with a lightweight aluminum construction to prevent fatigue, often weighing less than 3 lbs. Similar to the air grinder, this tool often requires 90 psi and will mandate a compressor on the more robust end of the spectrum.


Air paint spray gun: Automotive spray guns feature an ergonomic design for comfort during extended periods of use and commonly include a one quart aluminum dripless vented cup to contain the mess. Their all metal construction provides lasting durability in high-volume auto body shops with a working pressure requirement that ranges between 60 and 115 psi. Expect to pay anywhere from $80 to $250 or more.


Tire air compressors: Often requiring between 15 to 25 hp in output and a working pressure of 175 psi, industrial air compressors intended for tire shops usually feature a two-stage pump, high-capacity cooling fan, and are crafted from cast-iron. The best models provide a super-low-speed, as low as 600 rpm, and a centrifugal unloader shown to extend the motor by starting the compressor unloaded. As listed above, two-stage models range between $1,900 and $7,600.
Ready to Compare Air Compressors Price Quotes?