Electric Air Compressors Bring Power and Efficiency Indoors
Designed for heavy shop or industrial use, an electric air compressor, like those produced by Ingersoll Rand, Grainger, Jenny, and Northern Tool and Equipment, provide compressed air for an extensive range of modern tooling. Commonly incorporated into automotive service and body shops, fleet maintenance operations, dry cleaners, and a limitless range of production and manufacturing lines, electrically-powered compressed air has the primary advantage of zero emissions. This enables it to be used indoors and other locations where diesel exhaust would be difficult or impossible.
With a durable cast iron framework, most are designed for 100% continuous duty applications that require extended airflow. Quality models feature individually-cast cylinders as well as an overhung crankshaft and single-piece connecting rod that collectively help to cut down on maintenance requirements and effort. Providing working pressures that range from 125 to 175 psi, an electric air compressor is capable of easily powering an extensive range of tools that require high air capacity and pressure.
Available in two main types - stationary mounted and portable - some of the most common configurations include:
Portable and Stationary Electric Compressor Models
Type
Horsepower
PSI
CFM
Portable/ Stationarty
Estimated Costs
Single Stage
3 - 5 hp
135
10.3 - 15.5
Portable
$800 - $2,400
Two-Stage
5 hp
175
15.8
Portable
$1,800 - $2,700
Single Stage
.5 - 5 hp
125
3 - 30
Stationary Mounted
$2,400 - $5,000
Two-Stage
2 - 25 hp
175
9 - 104
Stationary Mounted
$2,900 - $8,000
Duplex
3 - 50 hp
125
20 - 214
Stationary Mounted
$3,500 - $18,000
Portable vs. stationary mounted
An electric air compressor is among the simplest equipment to use - not to mention the most affordable. They provide pressurized air in any location with an electrical supply and are often preferable to diesel-powered models due to the fluctuating cost of fuel and the venting required for a diesel engine. That said, electric models are nearly impossible to use in remote or undeveloped areas.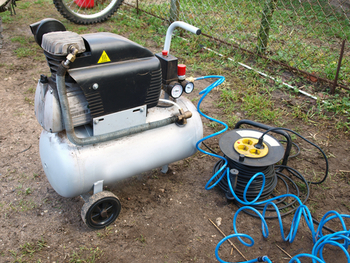 But convenience and emissions aren't the only difference. As indicated in the chart above, one of the primary benefits of a stationary mounted unit is a dramatic increase in power output, with many portable models tending to cap out at 5 hp.
Stationary electric air compressors, like the Duplex 2GT2B-60 model by Jenny, are built to withstand extended use for applications such as balancing, cutting, engineering, grinding, and metal fabrication. They're belt-driven and often include a large flywheel on models in the higher end of the spectrum that provides enhanced cooling and easier start-up. Specially-designed unloading valves further assist in start-up, and it's not uncommon to find a magnetic starter on units that pump out 5 hp and above. For safety, these units also feature an auto Start/Stop control that safeguards the compressor with a pressure unloader that's set at 105 - 125 psi for single stage models and 145 - 175 psi on two stage units.
For smaller applications like woodworking, spray painting, or dry cleaning, extended output isn't always a primary concern. Within these settings, small portable electric air compressors, like those made by Ingersoll Rand, Northern Tool and Equipment, Grainger, and Dewalt, provide ample horsepower while remaining highly economical.
For example, the 3-HP electric air compressor from Makita features a cast iron cylinder, a 5-gallon tank, and only weighs 88 pounds. Mounted on two wheels with an easy handcart design, it provides 6.5 cfm at 90 psi and is small enough (29" L x 19" W x 19.5" H) to be positioned in even the most cramped work environments.
Ready to Compare Air Compressors Price Quotes?