Industrial Air Compressors Boost Productivity for Assembly Lines and Craftsmen Alike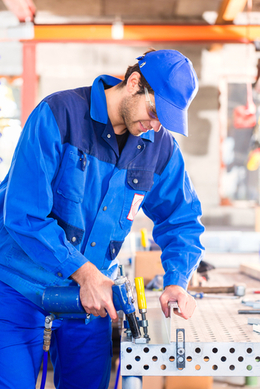 Pneumatic tools are increasingly preferred to their manually-operated counterparts for the ability to save countless hours on each job, while their size and weight reportedly allow workers to use them for extended periods with less fatigue that electrically-powered tools. When integrated into an assembly line or manufacturing process, this savings becomes exponential, cutting down on manual assembly and the time required to produce a finished product.
It's a technology that has also led to customization of design, tailoring each air compressor to a specific industry or use. Within these applications - ranging from industrial fabrication and machining to smaller artisan operations like woodworking - the most important consideration is finding a balance of compressed air delivery and drying systems. Doing so not only produces the optimum result in terms of quality, it also guarantees the highest level of energy efficiency, eventually paying for itself through cost-effective operation.
Popular industrial manufacturing applications and their recommended air compressors include:
Industrial and Manufacturing Air Compressors
Application
Type
Horsepower
PSI
CFM
Portable / Stationary
Estimated Cost
Woodworking, Fabrication
Two-Stage Reciprocating Air Compressor
5 hp
175
15.8
Portable
$2,500
Woodworking, Fabrication
Electric-Driven Single Stage Air Compressor
3 - 5 hp
135
10.3 - 15.5
Portable
$800 - $1,400
Woodworking, Fabrication, Machine Shop
Rotary Screw Air Compressor (Small)
5 - 40 hp
100 - 210
16 - 212
Stationary
$4,200 - $27,600
Fabrication, Machine Shop
Rotary Screw Air Compressor - Direct Drive (Mid-Range)
20 -200 hp
75 - 150
14.3 - 998
Stationary
$16,500 - $24,300
Fabrication, Machine Shop
Rotary Screw Air Compressor (Large)
250 - 500 hp
109 - 125
1466 - 2444
Stationary
$24,000 - $90,000
Energy use and total cost of ownership
With growing energy costs and consumers demanding more environmental responsibility from the companies they purchase from, one of the most important factors when purchasing an air compressor for a manufacturing process is its energy efficiency.
Directly impacting the total cost of ownership, energy consumption can increase by as much as 15% while reducing a tool's life cycle by 20% to 30% when operated outside its guidelines for peak efficiency. When comparing models, be on the lookout for those that offer energy efficiencies through user-defined variable speeds and automated power-saving features that shift the compressor into low-power mode when idle.
Choosing a compressor for your application
Your manufacturing process will dictate the specific capacity (cfm) and working pressure (psi) requirements for cost-effective operation. With that in mind, here are a couple recommendations based on specific applications: machines shops and woodworking.
Machine shops
Rotary screw air compressors are built to withstand extended use for applications that include balancing, cutting, engineering, grinding, turning, and metal work. They feature an integral gear drive system and digital controls that monitor performance in real time. For operations of this size and scope, look for a compressor that comes with an extended coolant system and is backed by a long-life guarantee (8,000-hours or two years would be one popular example). The 250-500 hp rotary screw air compressor from Ingersoll Rand is a great example.
Durability is often a concern within these operating environments. So make sure the compressor you select provides at least 250 hp and can operate in extreme ambient temperatures - 115 to 122 degrees F are currently at the high mark of this range. In terms of cost-effectiveness, the best choice at this level is a compressor that features a two-stage airend. This compresses the air in two steps, as opposed to just one, and has been shown to cut energy consumption by up to 15%.
Woodworking
The great thing about modern air compressors is that they accommodate a limitless range of pneumatic tools, including:
Air belt sanders
Air caulk guns
Air disc sanders
Air drills
Air files

Air grinders
Air nailers
Air polishers and buffers
Air routers
Air saws
That's great news if you're an individual craftsman or operate a small woodworking operation! By selecting the best combination of features and capacity, you can power just about any tool in your shop with a single air compressor. Look for a machine like the Quincy QR-25 that provides at least 1 to 3 hp and 3 to 100 acfm.
Depending on your setup, you may want the versatility of a portable unit. In these cases, look for one with a 50 to 60-gallon tank, enabling you to shift it around to accommodate larger pieces. If mobility isn't a concern, consider a unit with a tank that allows between 80 to 120 gallons of fuel. On models that allow for 100% continuous duty, these larger tanks boost your speed and productivity in equal measure.
One final bit of advice, especially for individual craftsmen and operations without a dedicated maintenance staff: when shopping around, pick an air compressor that's designed with an intake filter and oil port built into the exterior of the motor's frame. This will save considerable time during maintenance and repairs.
Ready to Compare Air Compressors Price Quotes?