Medical Air Compressor Systems Address Critical Care in Limited Space
Air compressors designed specifically for the medical industry are noticeably different than those built for manufacturing or construction. Often nearly 40% smaller than other units, they're compact in design and semi-portable, making them easy to integrate into a surgical facility or dental office where space is limited.
Engineered to provide compressed air for delicate, precise tooling and procedures, medical air compressor systems feature substantially lower outputs than larger machines. For example, common applications and their respective configurations include:
Medical Compressor Uses and Specs
Application
Horsepower
Capacity
Working Pressure
Portable / Stationary
Estimated Costs
Dental Practices
1 - 25 hp
3 - 95 cfm
20 - 500 psi
Portable
$4,800 - $8,500
Veterinary Clinics
5 - 20 hp
17 - 80 cfm
175 psi
Portable
$3,200 - $6,000
Hospitals and Health Clinics
5 - 15 hp
17 - 206 cfm
175 psi
Portable
$4,100 - $6,000
Laboratories
450 - 1500 hp
2060 - 24720 cfm
2.9 - 13.8 psig
Stationary
$20,000 - $340,000 plus
Specialized filtering
Medical procedures require constant, reliable air pressure. On top of that, the airflow has to be 100% pure, free of both moisture and contaminates. So medical air compressors often incorporate a multi-stage filtering process that purifies the air as it passes through three or four of the following stages (depending on application requirements):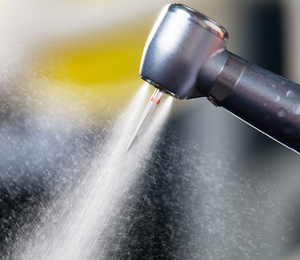 Stage 1: Prime efficiency coalescer with a filtered differential pressure gauge
Stage 2: Air cooler with purge control that minimizes the dew point up to - 40 degrees C
Stage 3: Prime efficiency particulate after filter with pressure regulators that sustain constant discharge pressure - adjustable to intended use
Stage 4: Carbon filter that eliminates any remaining volatile organic compounds and reduces odor
The cost-effective choice for clinical settings
Medical complexes and similar health-related service locations require specially-designed compressors that are NFPA 99 compliant. Often weighing as little as 11 lbs., their mobility enables medical staff to easily move the units during a procedure, if necessary, then reattach them to a new location through suction feet or wheel brakes, preventing the compressor from shifting during use.
Additional safety features on medical air compressors include an automatic resetting thermal limit switch that prevents the machine from overheating and safety straps that secure any cords during transport or when not in use.
Purchasing recommendation: dental practice, health clinic, or veterinary hospital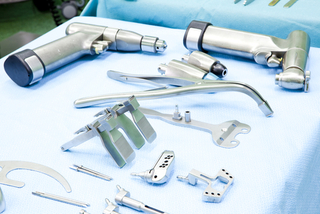 Whether it's critical care or an outpatient procedure, many medical services require a low-level, uninterrupted source of air or vacuum system. Keep in mind, this type of compressor is designed for singular use within an operating room or dental office.
For these applications, you'll need an NFPA 99-compliant model that provides anywhere from 2 hp to 20 hp, like the QVMS from Quincy. Modular design is often used for this type of air compressor, including a one-sided access panel that ensures quick service and maintenance even in tight, enclosed rooms.
Cost-effectiveness is also a key concern for most hospitals and large surgical centers, especially when incorporating multiple units into a facility. Look for compressors that feature energy-friendly airends that revert to idle pressure during periods of inactivity and power down after remaining idle for more than 15 minutes.
Purchasing recommendation: laboratories and testing facilities
While a clean air source is just as important to labs and other testing facilities, these applications also require a higher range of power output, starting around 20 hp and going up to 1500 hp and higher, depending on the machinery involved.
For these applications, a medical air compressor system that features an oil-free air supply is the best option. V-belt driven oil-less reciprocating compressors, like the ZB 100-160 VSD by Atlas Copco, should be certified under ISO 8573-1 CLASS 0 (2010), ensuring the air supply is absolutely free of contamination. Air-cooled, they require absolutely no oil and include a magnetic bearing design and turbo compression that produce high air volume while minimizing energy consumption.
For the simplicity of monitoring and maintenance - an especially useful feature for larger facilities - look for a compressor that offers Ethernet connectivity, providing remote access and adjustment on all operating parameters.
Ready to Compare Air Compressors Price Quotes?