There's No Job Too Big (or Small) for a Portable Air Compressor
Towable air compressors are available in outputs that range from 185 cfm to a whopping 1600 cfm. This broad design has seen them integrated into a wide variety of industrial applications, enhancing productivity in almost any working environment. And within this spectrum, many landscaping, automotive, and construction jobs attain ample levels of output through small to mid-range models.
Typically available in single axle and tandem axle, automotive air compressors and construction air compressors are usually mounted atop 2 to 6 wheels. On the smaller handcart models, often employed for landscaping purposes, wheels are anywhere from 6" to 12" in diameter. This allows easy positioning at exterior locations or within the interior of a shop and greatly simplifies transportation from one location to the next. Larger models use standard or heavy-duty tires and attach to a truck or similar vehicle through a trailer hitch. Specialty models include four-wheel steering capability and the absence of running gear to further accommodate a wider range of terrain and location restrictions.
Popular applications and their most-commonly used specs include:
Popular Portable Models
Function
Engine
Tank Size (Gallons)
ACFM
PSI
Wheels
Transportation
Estimated Cost
Automotive
Standard
Diesel
30 - 120
24 - 50 cfm
175 psig
2
Manual
$1,900 - $7,600
Heavy Duty
Diesel
80 - 120
18 - 87 cfm
100 - 150 psig
2
Manual
$5,800 - $11,000
Construction
Standard
Diesel
30 - 180
210 - 375 cfm
100 - 150 psig
2
Hitch Mount
$8,000 - $16,000
Heavy Duty
Diesel
80 - 180
720 - 825 cfm
70 - 150 psig
4
Hitch Mount
$32,000 - $42,000
Landscaping
Standard
Diesel
2 - 15
.7 - 4 cfm
40 - 200 psi
2
Handcart / Manual
$60 - $420
Heavy Duty
Diesel
20 - 80
6.3 - 15.8 cfm
100 - 175 psig
2
Handcart / Manual
$200 - $1,500
Designed for convenience
Portable compressors, like the 15-hp/46 cfm model from Campbell Hausfeld or the Tool Shop 11-Gallon automotive air compressor by Menards, streamline the productivity of a repair shop or specialty paint operation by immediately boosting both output and cost-efficiency.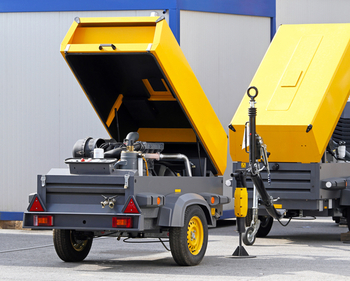 Most models accept a full line of air tools through a universal coupler that enables you to quickly swap one instrument for the other with the simple twist of a connection. The best models for smaller shops are those that feature an airend that runs continuously. This design provides nonstop airflow while in use then downshifts to idle pressure during periods of inactivity, powering down completely after the machine has been idle for 15 minutes. A broad level of power in combination with energy savings enables this type of model to reportedly pay for itself rather quickly, especially when compared to standard tooling.
On larger models, the rotary screw design features electronic engine control and a pneumatic inlet valve. This provides maximum efficiency by enabling the operator to manage and adjust the inlet from 0% to 100% in real time. Included on diesel air compressors like the Sullair 1600, this feature monitors all internal processes, including
Discharge pressure and temperature
After-cooler air temperature
Engine speed
Voltage
Fuel consumption
Installation
Though this will vary dramatically depending on intended use, there are a few things to be aware of when installing a portable air compressor into a semi-permanent location like a tire shop, gas station, or quick lube center.
Above all, consider convenience. When integrating an automotive air compressor into your operation, you may need a primary line in a centralized area as well as an additional line to pipe air onto a back pad or similar exterior location. With a 1 to 2 splitter in place (sometimes known as a tee air line fitting), plumb the outside line through the wall and terminate it on the exterior with a quick coupling that accepts an additional air hose. Remember to allow enough line inside to avoid pulling or strain to the plumbed line should you need to reposition the air compressor within the shop. Depending on your volume and available space, you may even want to plumb a retractable air hose reel from the ceiling to prevent hoses from draping over your work surfaces.
The best approach is to plan ahead. If you think you may incorporate something like a blasting cabinet at some point in the future, add a tee fitting and a shutoff valve along the wall now and you'll be ready to go when the time comes.
Note: For optimal safety, it's best to include a shutoff valve at every point of operation.
Ready to Compare Air Compressors Price Quotes?