Compact Power or Heavy-Duty Accessibility with Sullair Air Compressors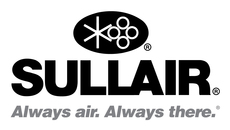 Sullair got its start with portable air compressors in 1968 and, with the success that followed, introduced a line of rotary screw compressors shortly thereafter. Five decades later, their network includes manufacturing facilities in the United States, China, and Australia. As the Sullair name spread throughout the world, they responded to customer demand by developing a variety of specialized air treatment systems geared toward labs, medical facilities, and the automotive industry, as well as heavy-duty portable air compressors that can be transported to almost any location for a variety of construction purposes.
Providing both clean and dry air for sensitive jobs, as well as models that are two-stage, encapsulated, open-frame, or oil-free for heavy-duty applications, Sullair's portable and stationary air compressors are backed by ISO 9001 certification, guaranteeing that all quality standards are consistently met.
Some of the most popular configurations include:
Sullair Product Offering by Use
Function
Horsepower
ACFM
PSI
Portable / Stationary
Estimated Costs
Automotive Repair and Service
5 - 20 hp
17 - 80 cfm
125 - 175 psig
stationary
$8,000 - $13,000
Construction

61 - 540 hp
185 - 1600 cfm
100 - 200 psig
Portable
$12,000 - $200,000
Commercial Office
100 - 600 hp
500 -3000 cfm
100 - 175 psig
Stationary
$50,000 - $120,000
Industrial Manufacturing
100 - 600 hp
495 - 3000 cfm
100 - 175 psig
Stationary
$46,000 - $120,000
Commercial Office / Manufacturing
125 - 350 hp
457 -1580 cfm
100 - 175 psig
Stationary
$54,000 - $87,000
Stationary air compressors
Stationary air compressors, like the S-energy line from Sullair, are available in a variety of small configurations that are compact yet tough, making them perfectly suited to smaller automotive repair and service facilities. Their capability extends from 17 cfm to 80 cfm, maximized with a low-restriction inlet valve.
Focused on sustainability, the air-cooled design features long-life bearings, rotors, and consumable parts - ensuring a cleaner, safer work environment that reportedly embodies the "smallest footprint in its class," according to information available through the manufacturer. Tier 4 compliant, this series has also been shown to limit noise, providing one of the quietest models available at 76 dba from just over 20 feet. Plus, maintenance is easily completed through the one-sided access panel.
Towable air compressors
With mounting options that range from single-axle and tandem axle to four-wheel steerable or those without running gear, Sullair's portable air compressors are available in five different categories and broken down by their cfm output, ranging from 185 cfm to 1600 cfm.
Engineered for a variety of on-site construction or manufacturing needs, they incorporate a Caterpillar or John Deere engine into their design. Mid-range models vary in emissions technology from Tier 2 to Tier 4 outside the United States, but are only available as Tier 4 within the country. The rotary screw design also features electronic engine control and a pneumatic inlet valve that has the capacity to manage inlet from 0% to 100%. They also include the patented COMPASS Controller that monitors all of the compressor's processes, enabling real-time adjustments for maximum efficiency on indicators that include:
Discharge pressure and temperature
Ambient air temperature
After-cooler air temperature
Engine speed
Volts
Fuel usage rate
Training and additional product lines
Currently owned by The Carlyle Group and BC Partners (both private-equity firms), Sullair is dedicated to the usability of their products as well as the specialized knowledge of their representatives and channel partners. To achieve this goal, all three sites boast comprehensive training centers that foster ease-of-use through a variety of hands-on trainings - each provided in a variety of languages.
In addition to compressors, Sullair produces complementary products that include:
Compressor fluids
Filters
Vacuum systems
Air tools
Flow controls
Air and water separators
Ready to Compare Air Compressors Price Quotes?