Are Partition Walls for the Office a Good Idea?
If you're looking for a way to spruce up a commercial office space without spending a lot of money, you might consider partition walls. Used for the office in a variety of ways, they offer a number of cost-saving benefits.
Partition walls are popular for their ability to provide versatility and flexibility, quickly transforming a large open workspace into multiple room setups, further maximizing office space to create a variety of work surfaces and environments. Commonly used to create an acoustical barrier for open-plan designs, partition walls can either operate on tracks mounted to the ceiling through a self-standing design, enabling them to accommodate carpet, cement, or any other floor condition. In addition, they're designed in a range of custom heights (all the way up to 50' high) to satisfy practically any ceiling requirement.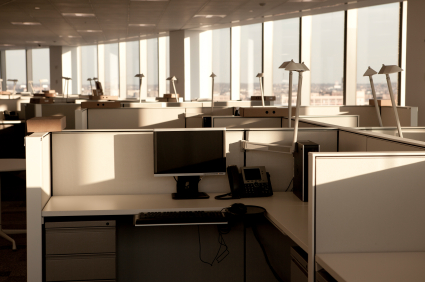 Easy to store, and often concealed pushed against the wall or hidden in a custom "closet" at the end of a room, partition walls are the fastest, most cost-effective way to divide large conference rooms, rec centers and multi-purpose areas, hospitality suites, and convention facilities.
What are they made out of?
Typically weighing 6 to 12 lbs, partition walls can be constructed from a variety of materials including gypsum, moisture resistant (MR) Board, glass, medium-density fiberboard, and steel.
They can be left unfinished or include facing in a wide selection of attractive colors and materials like vinyl, carpet, fabric, and even material you supply. This customization enables you to easily match your existing interior design and the partitions to blend seamlessly into your office landscape.
How are partitions used in the office?
Installed quickly and far less costly than traditional office expansions, there are several different ways partitions can be used in the office – with many offices and facilities highly creative in the way they choose to install them.
Popular uses include:
Partition walls are commonly used to build individual offices out of large spaces.
These walls work well to make conference rooms and lunch or break rooms.
When working in a large warehouse, partitions are often used to make offices.
You will often find that these walls are used to make reception areas.
Many use partition walls to make administration areas where copy machines, fax machines, and office supplies are stored.
Advantages of office partition walls
Cost: One of the biggest advantages of partition walls for the office is the cost. Typically, you will be able to save a lot of money when you install these types of walls instead of actually expanding your office space with a construction project.
Speed: Another great advantage is that these walls can go up very quickly. So quickly, that they can actually be up in a matter of days, as opposed to months with traditional construction.
Customizable: You can also relocate them if you need a change or rearrangement. In addition, they are available in many different colors and styles.
Eco-friendly: In today's world, being friendly to the environment goes a long way with customers. And office partition walls are eco-friendly.
Research and installation
It's important to do your research when it comes to partition walls for office use, comparing a number of stylistic options, price points, and sellers.
And don't forget to account for installation. Self-standing units are easily assembled and positioned. But partition walls that operate on tracks (especially tall components) often require specialized installation if you don't have in-house facility services. This makes a quality seller that much more important.
Ready to Compare Interior Modular Construction Price Quotes?