Introduction to Interior Modular Buildings
Interior modular buildings are factory-built structures that are installed within an existing, larger building. They're quick to install, easy to move, and last a long time. This type of structure is good for pharmaceutical and biomedical fields as well as industrial settings that want to add to their current office space without breaking new ground. Interior modular buildings are also useful as supplements to existing buildings for storage, paint enclosures, sales offices, shelters, or bathrooms.
Because up to 90% of the work in creating a modular building is done at the factory, a vendor can build an entire floor of interior modular buildings in just a few days without disrupting your current work environment. They're built using standard construction materials like lumber and drywall and include interior and exterior finishings: walls, roof, doors, wiring, carpeting, and more.. The mostly-finished building is then delivered via flatbed trailer or trailer hitch and installed at your site.
Modular Building Types
Modular buildings vs. typical construction
Interior modular buildings have some key benefits over typical construction. Because most of the work is constructed in the factory, it is a much cleaner process. They're designed to be flexible, allowing easy installation and relocation. You also don't need an architect to design the building - a seller should be able to show you the ready-made configuration that would work best for your business.
Keep in mind that while you can customize your building with different colors and construction materials, it may not have the same slick or professional look that you would expect from typical construction.
Types of interior modular buildings
Modular buildings usually have interior ceiling heights of no more than 8', because they have to be transported on the road. Similarly, each section of a modular building has to be between 10' to 18' wide and 36' to 76' long, for transportability. However, the construction methods involved allow them to be seamlessly assembled into much larger buildings.
Here are some of the most common examples of interior modular buildings:
In plant
Modular in plant buildings are flexible structures that allow you to interchange wall panels and steel studs to create flexible space in a power plant. The walls are up to 18' wide X 3" thick and are strong enough to support load-bearing roofs without costly support columns. A modular in plant building is made up of many different materials including pre-cut and pre-installed panels, glass, ceilings, lights, and a steel deck. It takes about four to eight weeks to get the materials ready to put the building together and just a few hours on the day of delivery to install it.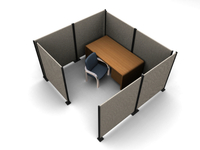 Partitions
These are durable and cost-effective panels to allow you to section off rooms for holding multiple events. The fire-resistant partition helps reflect sound so that it reaches the back of the partition but won't travel beyond the structure. The walls are self-supporting so you can move them anywhere, and also demountable allowing you to add, remove, or transport sections at will. You can also customize the walls to feature dry erase panels for project management.
Machine enclosures
These buildings are best for industrial plants and power stations. They surround your equipment to limit machine noise and protect employees from dangerous particles and debris. They are available in sizes to cover even the largest equipment. Machine enclosures include HVAC . You can also expand the entrance and exit of a machine enclosure to easily transport and remove large equipment from the area.
Mezzanines
Mezzanines are perfect for businesses that need all the space they can get. It allows you to create a makeshift warehouse or general storage space within your existing space. Mezzanines are easy to install and can be included in any large building with more than one story of vertical space. They feature wide spans for maximum work areas and can even be designed to withstand seismic shifts in certain regions of the country.
Interior Modular Buildings Considerations
Here are some things to look for when selecting your interior modular building:
Sound control: If you are looking to reduce noise, make sure joints and gaps that connect the wall panels are sealed. Also, the wall panels and ceilings should be able to absorb acoustic waves. Fiberglass insulation and deck plugs will help muffle some of the outside noise as well.


Panel layout: Check the local fire codes to determine how doors should swing open. When installing floor-to-ceiling walls of an interior modular building, make sure that one of the posts is made from two pieces and that the post doesn't have electrical outlets. Also, when cutting panels for conveyors or consoles, make sure to oversize the cuts by one inch for form fitting.


Electrical needs: List the equipment you will use so you know how many outlets you will need throughout the building. It is important to know the approximate amps you will need, which is typically listed on equipment labels. Be sure to get more amps than you need to avoid power outages. You should also connect outlets to separate circuit breakers to limit the risk of overloads.


HVAC: You may need additional cooling methods if you use a lot of equipment that gives off heat. To make your HVAC more efficient, get the best fiberglass insulation for ceiling tiles and door sweeps to ensure the bottom of a door is sealed when closed.


Installation: Make sure the ground where you will attach the building is level, particularly areas where anchors and structures need to be attached to the floor. You should also remove any debris from the ground you will build on and provide plenty of overhead clearance for ceilings.


Tax benefits: You may want to factor in the tax advantages of leasing vs. purchasing. Modular buildings are actually considered equipment and not buildings so you are not taxed for commercial property. Also, the depreciation rate of modular buildings is rapid - only seven years vs. the 39 years for standard construction. Make sure you check with your accountant to see what tax advantages you are eligible for.
Interior Modular Building Pricing
Make sure to budget about $2,500 to $8,000 for your interior modular building. The costs for modular buildings can vary from $35 to $200 per square foot. The price can be impacted by many factors including building size, material quality, customization options, and complexity of the buildout.
Modular buildings that don't have very complex buildout requirements will fall on the low to mid- end of the scale. Mezzanines are typically on the lower end since they are used primarily for storage space. On the high end, sophisticated buildings with extensive HVAC, wiring and/or high-end building material quality will result in building costs that fall on the high end of the spectrum.
Pricing also varies according to the region of the country. It can be difficult to take advantage of regional differences however as the shipping costs can be prohibitive.
Interior Modular Building Buying Tips
Interior modular building purchasing checklist
What do I need an interior modular building for?
How much of a budget will I need for this purchase?
How large does my interior modular building need to be?
What is my timeframe for getting a building installed?
Have I ensured that I have the legal permits to construct a prefabricated building on my premises?
Will I stick with standard options from the factory or will I need specific add-ons?
Do I purchase direct from the manufacturer or from a licensed seller?
Will I buy or lease the structure?
Will I add to my interior modular building in the future?
Can the seller provide me with the blueprints of my interior modular building?
Interior modular building tips
Cheapest doesn't mean best. If you receive multiple bids for an interior modular building, be wary of choosing the lowest priced bid. It is critical that you ensure that bids are truly comparable - quality of materials and fixtures, HVAC, shipping and installation - before choosing solely based on price.
Waiting is the hardest part. Even though a building may be ready for shipping as soon as a week after you have ordered it, it can take several weeks for the appropriate permits to be issued. Once the permit-related hurdles are crossed, the building modules can be delivered and assembled.
Who gets your business? When it comes time to buy or lease a modular building, you can turn to modular building sellers or manufacturers. Modular building sellers broker most of the buildings sold and leased today. They lease already-constructed buildings that they hold in inventory or turn to modular builders for their construction. Building manufacturers known as "integrated seller manufacturers" also sell directly to end-users. While many building manufacturers previously relied on modular building sellers to sell their construction services to end users, some have recently turned to selling to customers directly in an effort to better control their revenues.
Ready to Compare Interior Modular Construction Price Quotes?