Pricing for Small Storage Containers (20' Long)
We regularly survey BuyerZone users to ask how their purchases went. We've provided a sampling of responses from businesses that bought small storage containers (20' long). You can also read responses from companies who purchased large containers (40' long) or specially-sized containers.
20' storage containers (1,170 cubic feet) are best if you frequently move materials in and out of the unit, or need to easily reach items stored in the back. You can also save space by stacking two 20' storage containers on top of each other. As you'll see with some of the prices below, you can earn better rates if you purchase multiple containers.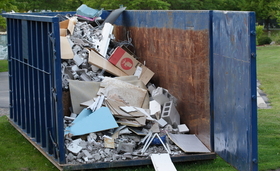 Storage container vendors typically offer three pricing options. If you can afford to spend a few thousand dollars up front and intend to use the containers for several years, new containers are the best choice. Cost-conscious businesses can find quality used containers that have been fully refurbished for a fraction of the cost. If you only need containers for a few weeks or months, you can rent containers and have them picked up from your location when you're done.
With all purchasing options, you need to consider other expenses which can add to your costs like delivery and installation, or add-on features such as extra doors or custom paint jobs.
New 20' storage container prices
"$1,999 each for 20' units. I bought two and picked them up myself." - General contractor, Jefferson City, Missouri
"$20,000 for four One Trip storage containers. We've had success working with them in the past, shipping was included" - Wood Working and General Contracting, Shelby, Montana
"Brand new 20' storage container with fresh paint and locks installed - $2,900." - Packing Facility, Elyria, Ohio
"20' with double-end door. First price was quoted at $2,250 delivered. Second price was $2,435 delivered." - Homeowner, Jamestown, California

Storage container pricing

Read other BuyerZone storage container pricing articles:

"$3,800 for two grade A 20' containers - painted and delivered" - Manufacturer, Warminster, Pennsylvania
"I purchased two 20' containers with custom paint preferences, delivery, and set up from a local container company for a total fee of $2,200. Delivery was made within three days from ordering which was the main selling point." Retailer, Tulsa, Oklahoma
"Four 20 foot long containers at $1,400/each for container plus $450/each for paint plus $100/each for added lock box plus $600 shipping = $8,400 total." - Construction contractor, Fremont, Ohio
"I paid $2,050 for a 20' storage container, delivery included." - Transportation services, Hereford, Arizona
"$3,000 for a 20' seaworthy container." - Graphic designer, Seattle, Washington
Used 20' storage container prices
"20' container refurbished and painted for $2,413.60." - Small business owner, Surprise, Arizona
"We bought three 20' Grade A (wind and water tight) storage containers - $3,900." - Construction/ Demolition, Winnemucca, Nevada
"20' freshly painted storage container delivery included - $1,600." - Building Surveyor, Boulder, Colorado
"Two each, 8' x 20' used storage containers, operable doors, good seals, water tight, vermin proof, delivered: $4,500." - General contractor, Sierra Vista, Arizona
"8'x20' double-door storage container, used, good condition. $1,450 plus $350 shipping." - Business service provider, Hoquiam, Washington
"$1,800 and $1,700 for two 20' containers (reconditioned and repainted). $100 delivery fee." - Salesperson, Severn, Maryland
"8' x 8' x 20' storage container. 5 years old in excellent shape, with doors on both ends for $2,800." - Construction business owner, Scottsdale, Arizona
""$2,300 for a used 20' container. Decision came down to proximity to dealer. I purchased locally and hauled myself, saving on delivery charges." - Construction manager, Central City, Iowa
20' storage container rental prices
"20' storage container with additional weld-on lock box installation- $75 per month pick up and drop off included" - Landscaping Company, Princeton, New Jersey
"8' x 20' shipping container - $55 per month through local supplier. Fresh paint with the locks we wanted delivered." - Cleaning company, Newport, Tennessee
"8' x 20' storage container - $65 per month for two months $135 for delivery and pickup from Advanced Mobile Storage. $400 total, we will be doing business with them again." - Construction Foreman, Phoenix, Arizona
"20' shipping container rental$90 per month for a six month rental. We had additional locks, and insulation installed as well while we temporarily did business in this area." - Seafood Shipping, Newport, Oregon
"$86 per month for a 20 ft. onsite container." - General contractor, Palo Alto, California
"Renting a 20' container for $60 per month." - Construction facilities manager, Milwaukee, Wisconsin
"Month-to-month rental for an 8' x 8' x 20' unit to be delivered to site and picked up when no longer needed. $528 to deliver and pick back up (price for both combined) - $80 a month to keep the unit on site." - Church manager, Harrison Michigan
"$75 per month for a 8' x 20' storage container." - IT professional, Reading, Pennsylvania
Want more information on choosing a storage container? Read our Storage Containers Buyer's Guide.
Information was provided by BuyerZone.com users. Quotes have been edited for clarity only.
Ready to Compare Storage Containers Price Quotes?