Introduction to Tractors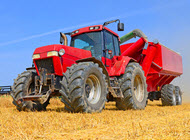 Commercial tractors are best known for providing the farming power that feeds billions of people around the world. However, tractors can be fitted with many types of accessories that let them perform a wide range of tasks.
Tractors are used extensively in mowing and land-clearing applications. In fact, the common suburban riding mower is basically a scaled-down tractor. They're also used in construction, landscaping, livestock operations, and industrial settings. This guide primarily covers topics pertaining to small- to medium-sized tractors, from around 20 to 80 horsepower.
Getting the right tractor is important: it's an expensive purchase and one that you can easily last 10, 20, or 30 years or more. This BuyerZone Tractors Buyer's Guide will help you through the process, answering questions such as:
How much horsepower do you need?
What features are most important?
Which attachments are the most useful?
How can you choose the right dealer?
How much you can expect to pay?
Basics of Choosing a Tractor
Start choosing a tractor by determining if one is actually right piece for you. Tractor capabilities overlap with those of skid steer loaders, mini excavators, and loader/backhoes. There are two main points to consider when choosing which type of equipment is right for you:
Flexibility. Skid steer loaders and tractors are designed to power many kinds of attachments, while excavators and loader/backhoes are dedicated to the specific tasks of digging and loading. As a result, the specialized machines are more efficient at their specific jobs, but the generalists are useful in more ways.


Surface impact. Skid steers and excavator tracks can wreak havoc on grass or loose surfaces. In contrast, even fairly substantial tractors equipped with the right tires can work on these types of surfaces without doing noticeable damage.


Coverage area. Since they can move at faster speeds, tractors are more appropriate than skid steers for work that involves covering a lot of ground: mowing or plowing large fields, for example.
If a tractor doesn't seem like the right machine for you, read our Skid Steer Loaders Buyer's Guide or our Mini Excavators Buyer's Guide.
What is your application?
Once you decide that a tractor is the right purchase for you, think through the specifics of what you'll need it do and the environment you'll be using it in. Some points to consider:
What kinds of surfaces will you be using it on? Landscaped grass, loose gravel, muddy fields, pavement?
Will it be used mainly on flat ground, or hilly terrain?
What attachments will you use? (More on choosing attachments in Features.)
Are there any limiting factors on the size or weight of the tractor? (Gates, garage doors, narrow paths, small bridges, trailers.)
Do you need to drive it on open roads or over long distances?
Will the tractor be used day or night? In cold, hot, rainy, or all weather conditions?
Knowing the answers to these questions will help narrow your choices as you begin to talk to tractor dealers.
How Much Horsepower You Need
Once you have a handle on the types of jobs your tractor will be tackling, you can work with a seller to determine what horsepower you need. Horsepower is the most basic distinction between tractor models: it dictates what work the tractor can perform, what types of attachments it can run, and, to a large degree, how much you'll pay.
Tractors with less than 25 HP make up the small end of the market. They're capable of handling most basic lawn work, but often can't provide enough power for more demanding jobs like tilling or heavy brush mowing. Between 25 and 65 horsepower is a comfortable middle ground that features tractors with capabilities suited for ranchette communities, horse farms, nurseries, and many commercial uses.
Above 65 HP, you get into tractors designed for strenuous agricultural use, such as tilling fields and baling hay. The largest tractors for commercial farming feature 200 HP engines or larger.
Be aware: in some tractors, the horsepower available to attachments through the power take off (PTO) connection is less than the overall engine horsepower. Some attachments have more specific HP requirements than others, so make sure you check these ratings carefully.
Once you know the general range of horsepower you're looking for, the best way to narrow it further is to talk to a seller who carries a wide range of different brands and models of tractor. The best sellers, like those on the BuyerZone network, will ask you specific questions designed to help them determine exactly how much power you need.
When it comes to tractor horsepower, there are problems associated with both overbuying and underbuying. Buy a tractor that's too small and you may not be able to complete the jobs you have in mind. Buy one that's too large, and you'll be wasting money, as well as increasing the turning radius, clearance requirements, and damage to the ground.
Tractor Features
Once you decide on a base model tractor, there are several important features you should consider.
Four wheel drive
sellers estimate that 90% to 95% of the small to medium-sized tractors they sell are four-wheel drive (4WD) models. The reasons are simple:
4wd is critical if you want to use a loader on the front of the tractor
Tractors with 4WD have substantially better resale values
Tractors are often used on surfaces with poor traction, where 4wd is a huge benefit
For basic mowing on relatively level ground, 4WD doesn't really offer any advantages, and it may do even more damage to finished lawns than 2-wheel drive tractors. The only time 2wheel drive is clearly a better choice is when driving the tractor for long distances at road speeds. However, if you need to transport your tractor over long distances on a regular basis, you'd be better off buying a trailer and transporting it that way.
Performance and maintenance requirements are about the same in both options. In almost all cases, the bigger price tag of 4WD tractors is worth the investment.
Enclosed cabs
As in other types of small construction equipment, enclosed cabs are becoming a more popular option with new tractors. Enclosed cabs can greatly increase operators' comfort level when working in scorching sun or freezing temperatures.
Like 4WD, cabs add a significant amount to your initial purchase price, but also boost the resale value down the line. They can be fairly basic - an enclosure and a heater only - or totally decked out, with air conditioning, a stereo, and other comforts.
Enclosed cabs are not available on all tractors. Because of the power draw of the AC units (3-4 HP), they're less common on tractors under 25 horsepower. And not all manufacturers offer cabs on all their models. But if your tractor will see a lot of use in very hot or cold weather, the extra investment in an enclosed cab can greatly increase their comfort - and therefore their efficiency.
Transmissions
While manual transmissions used to be the standard for tractors, other options are gaining in popularity. In particular, the hydrostatic transmission, which allows clutch-free operation in a range of speeds, has become far more common than in years past.
Hydrostatic transmissions are the best choice if the primary operators of the tractor aren't familiar with using manual transmissions. However, they're more expensive, and they reduce the available horsepower slightly when compared to manual transmissions. If your operators are comfortable with using a clutch, you can save some money and get a little more power out of your tractor by choosing a manual transmission.
Safety (ROPS)
All new tractors are required to come with rollover protection structures (ROPS) that greatly improve safety. When used in conjunction with a seatbelt, ROPS prevent the tractor from crushing the operator in a rollover accident.
Another safety feature to look for is an operator presence switch. These systems can detect the operator's weight in the driver's seat - and if there's no one in the seat, they automatically shut off the engine.
Most tractors will have basic lights and flashers for road operation, but you should check local regulations for any rules about driving tractors on public roads to see if there are more specific requirements.
Tires
Your application will also determine what type of tires you should choose. Tractors can use many types of pneumatic tires: agricultural tires for working in loose dirt; industrial tires for heavy mowing and loader work, or turf tires that reduce damage when mowing finished lawns. Your seller should show you several types of tires that appropriate for your use.
Tractor Attachments
While the tractor itself provides the power to get your job done, the attachments are what actually do the work. As one seller told us, a tractor without attachments is basically a slow ride to the mailbox. Buying the right attachments for the job you need to do is an essential part of a tractor purchase.
The most common type of application is moving materials around, and for that job, a front-end loader is a great choice. A simple scoop on two arms, a loader can be used for carrying dirt, rocks, mulch, or other loose materials; for leveling and landscaping work; and for carrying heavy items.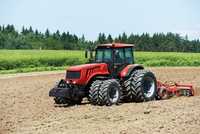 Unlike most attachments, this popular tool connects to the front of the tractor, instead of the back, meaning it can be left on while using the back end for other attachments.
Some popular attachments:
Box blades are used to scrape or push earth, for grading, leveling, or bulldozing applications.


Mowers come in many types: rough cut and brush mowers for cutting through heavy growth and finish mowers for more detailed work.


In agricultural use, tillers, plows, and disk harrows are excellent tools for preparing fields.


If snow is an issue in your location, front-end plows and blowers turn your tractor into a snow-removal machine.


Backhoes provide serious digging power - but at a high cost: they're among the most expensive attachments you can buy. Not all tractors can support backhoes, either.


Other attachments include landscape rakes, spreaders, forks, grapples, and hay bailers.
Connecting attachments to your tractor
Most attachments connect using a three-point hitch at the back of the tractor. This lets them use the power take-off unit (PTO) as a power source. Almost all tractors use a standard 540 RPM PTO and three-point hitch, which means attachments are generally interchangeable between different tractors. Verify that the horsepower rating of your PTO is enough to run the attachments you plan on using.
1000 and 2000 RPM PTOs are also available, but unless you need a specialized attachment that only works at those speeds, they're not important. Some tractors have a PTO located in the middle of the tractor, beneath the operator. This can be helpful for precise mowing, but it's not very common.
Choosing a Tractor Seller
Buying a tractor involves more than just choosing the right model and the right attachments: you have to choose a tractor seller you can work with for the long term. Like any piece of heavy equipment, your tractor will wear and eventually break, making your relationship with the seller important.
Having warranty coverage on your tractor isn't worth much if the dealership can't do the work you need. Ask potential tractor sellers about their service policies:
What kind of parts inventory do you keep on hand?
How many technicians do you have? What is their training and experience like?
Do you do on-site service if my tractor needs repairs? What about scheduled maintenance?
Do you have guaranteed response times?
Do you provide loaners if my tractor needs to be taken in for service? Will you pick my tractor up if it needs to go in for extensive work?
You should visit the seller's facility. Simply seeing the parts warehouse and service areas can give you a good sense of their capabilities.
Regular maintenance
Relatively simple tasks like changing the oil, replacing filters, and lubricating joints are an essential part of extending your tractor's lifespan, and many tractor owners choose to take care of routine maintenance on their own. But in addition to repairing breakdowns, your seller should also help with this type of preventative maintenance.
They should provide you with a detailed maintenance manual, and walk you through the basic maintenance procedures if necessary. They can also be your source for the parts and supplies you need to keep the tractor running smoothly.
Handling this routine maintenance isn't difficult, but it does require that you stick to a schedule. Because regularly scheduled maintenance is so important, it can make sense to purchase a maintenance contract. For a small yearly fee, the seller will make sure all required maintenance is done right and on time, either at your location or theirs.
Other considerations
Many tractor manufactures have been around for decades. While newer or lesser-known brands may be cheaper, choosing a brand with longevity helps unsure that you'll be able to find parts when you need them.
Better sellers will let you take a tractor for a demo at your own site. This is a great way to evaluate different models: you'll be able to get a feel for how well each performs in your specific applications. You'll also be able to directly evaluate subjective issues like visibility and ease of use.
Lastly, don't underestimate your personal reactions. Choose a seller you feel is honest with you and easy to work with: those impressions are often good indicators of how the seller will treat you in the long run. If the seller aggressively starts selling you on a tractor without trying to determine your needs, you may want to keep moving. Quality sellers want to put you in the right tractor, knowing that if you're satisfied with your purchase, you'll eventually come back.
New and Used Tractor Pricing
Before you get sticker shock, remember that tractor purchases are long-term commitments. With proper maintenance, you can expect a tractor to last 20 or 30 years - and decades longer if it's not used frequently. When you consider their life spans and the amount of work they do, tractor price tags will seem much more reasonable.
At the low end of the commercial equipment range, base model small tractors around 25 HP with no attachments can be found for under $10,000. Expect to pay between $12,000 and $15,000 for a 25 HP tractor with one or two common attachments, such as a loader and a mower.
Well-outfitted 40 HP machines are typically around $20,000 to $25,000, and 60 HP models are more like $30,000. These prices include an enclosed cab and 4wd - two expensive but worthwhile options. At the high end of the scale, 100HP tractors can run up to $50,000 or $55,000 with a cab and 4wd.
Attachments priced separately can vary quite a bit, as well. Simple box blades or rakes are only a few hundred dollars, while loaders can cost $3,000 to $5,000 and up. Backhoe attachments can be over $6,000 on their own.
Because of the significant purchase prices, most buyers finance their tractor purchases. This is almost always done through the sellership, so get a quote for financing as part of your comparison shopping. In some cases, you may be able to get a better financing deal through a credit union or other lender.
Avoid the temptation to save money by underbuying: saving $2,000 or $3,000 on your initial purchase is insignificant when broken down over the lifespan of the tractor. Once you have the tractor, you may find more uses for it that you never anticipated, and having a little extra power can be a real boon.
Most new tractors come with two to three-year warranties that cover all major systems against breakdowns.
Used and gray market tractors
Because tractors are so reliable, there is high demand and not much supply for used equipment. Used machines that are in good shape don't sit long on seller lots - and used machines in rough shape are not worth buying.
If you can find a used machine that meets your needs, you may be able to get a good deal. However, by the time you include a warranty and financing charges, the total price could be close to that of a new tractor.
Do make sure the seller will sell you a warranty with a used tractor - even if it's only 30 or 60 days, that will protect you from any serious problems that crop up when you start putting the tractor to work. And when buying, remember not to judge a tractor by its cover - a new paint job can make lemons look a lot more attractive.
Another tempting way to save money is by buying a "gray market" tractor. These are usually imported machines designed for use in other markets, being sold semi-legally here. While they can be much cheaper than standard tractors, there are a couple of significant drawbacks.
One is that the PTO systems are not always compatible with US standards. For example, PTO shafts rotate the opposite direction in Japan, making it impossible to use standard attachments with those tractors.
A second issue is the availability of parts. Even if you're buying a brand-name tractor, it can be difficult or impossible to find replacement parts here if it's a model designed for use in other markets. For these reasons, buying gray market tractors is not a good business investment.
Ready to Compare Tractors Price Quotes?