WJ20 Low Volume Mailing Machine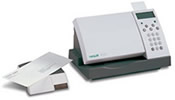 With the WJ20, you always have the correct postage for your everyday letters and parcels — day or night — right at your fingertips! Never stand in line for postage again.
Small and easy to use; fits anywhere in your office.
Processes 20 envelopes or labels per minute.
Prints your logo, eight standard ad dies or two custom messages next to your postage.
Uses SmartCard technology for effortless postal rate changes, ad dies and message uploads.
Electronic Tele Meter Setting (TMS) service for convenient postage replenishment without ever having to leave the office.
Ultra-secure Information-Based Indicia (IBI) technology protects postal funds.
Tracks postage usage with report printout feature.
Related Products
Hasler also offers a full range of related mail processing products for a complete, integrated end-to-end solution. Whatever your needs, Hasler has the solution from start to finish.
More Hasler postage meters information
Ready to Compare Postage Meters Price Quotes?