Hasler WJ185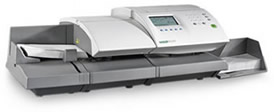 The WJ185 is a proven performer that processes mail at a speedy 185 letters per minute. This versatile system automatically feeds and seals mail items up to 5/8" thick. Its sleek, compact size is designed to fit into any mail office environment. It even helps you keep track of postage expenses for up to 500 accounts! And you can combine Hasler's WJ185 with the Dynamic Weighing Platform (WJDWP) to get more productivity from your mail center by eliminating sorting and weighing mixed-weight mail by hand.
Saves time and increases productivity by programming up to 10 different jobs in memory.
Automatic feeding and sealing with instant thickness adjustment up to 5/8".
Automatic date advance insures accurate accounting information.
Automatic tape advance increases efficiency.
Comes standard with five ad dies and five presort mail class dies, with the ability to add up to four additional custom ad dies and four additional mail class dies.
The HP digital inkjet cartridge yields a high number of imprints and is very easy to change.
Hasler's Tele Metering Settings (TMS) makes replenishing postage funds quick and easy.
Password security ensures total asset protection.
More Hasler postage meters information
Ready to Compare Postage Meters Price Quotes?