IM330 Postage Meter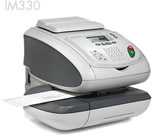 The IM330 makes it simple to weigh, rate, post and track your mail with accuracy. And, it's amazingly easy to use, with a level of convenience that more than meets your mailing needs. The IM330's smart and user-friendly technology starts with the powerful, semi-automatic feeder and integrated weighing platform. Its features, functionality and desktop data access will simplify your mailing tasks and provide effective control of mail-related costs. all at the touch of a button.
Built-in 2 lb. weighing platform
Processing speed up to 35 letters per minute (lpm) and departmental accounting with 10 standard accounts
Automatic thickness adjustment up to 3/8"
Easy rate selection using the built-in "Rate Wizard"
Semi-automatic feeding with "Smart Start" technology
Postage replenishment through TotalFunds
Ability to view mail data online via "My Account"
Over 140 USPS® rates and services
Related Products
Hasler also offers a full range of related mail processing products for a complete, integrated end-to-end solution. Whatever your needs, Hasler has the solution from start to finish.
More Hasler postage meters information
Ready to Compare Postage Meters Price Quotes?